Steem-Roller.com (SR) will be receiving an update patch on December 1st, 2019 to implement a bunch of new functions on the site as well as switch over to a new GUI which will do away with the older looking blue styled interface currently shown on the site, add a faucet to collect free STEEM every 5 minutes, a real-time chart to help users visualize their session profits, implement a delay on rolls < 0.001 STEEM to ensure responsive gaming for gamblers betting higher amounts and a number of other tweaks to the back end and front end of the site. This patch has been a long time coming and quite excited to see a new STEEM faucet get launched, allowing anyone to receive some FREE STEEM as long as they have an account on Steem-Roller.com (SR), which are free to anyone with no actual STEEM account required.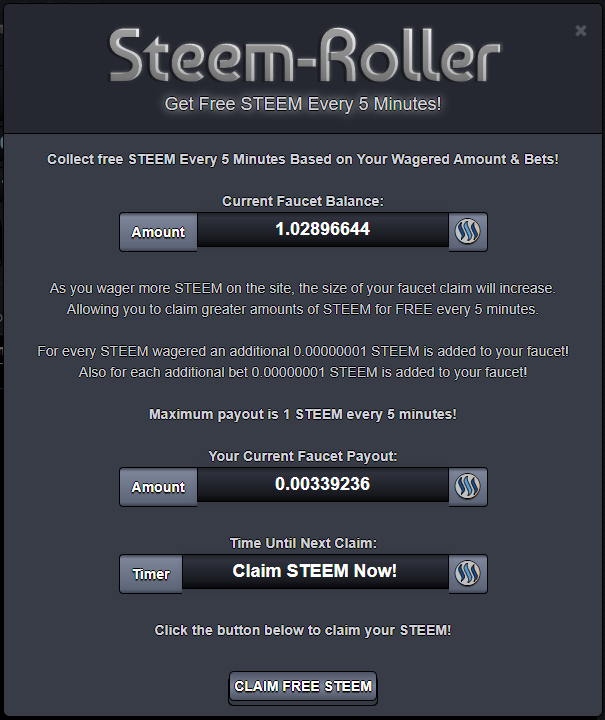 With the upcoming v0.7.3 patch coming at the start of December a delay will be introduced to any bet less than 0.001 STEEM on the site in order to make sure that players betting amounts that aren't trivial "dust" amounts the fastest, most responsive gaming experience. One complaint that has been raised during the beta testing / development of SR is that users seemed quite perplexed as to why the site allowed bets less than 0.001 STEEM and wished that they could somehow filter the smaller bets from showing up in the "All" Tab. A new option on the options tab allows users to set the limit of if a bet is shown on the "All" tab, with bets below the user set threshold being filtered out.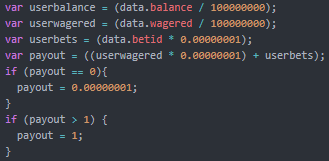 ( the code that dictates that amount your faucet payout will be )
In addition to the bet filtering for the "All" tab an 800 millisecond delay has been added to the callback of any bets wagering less than 0.001 STEEM which should in theory deter folks from spamming STEEMtoshi (0.00000001) bets in order to rank up their faucet payouts. The main way to level up the faucet payouts is intended to be by wagering STEEM, which each STEEM wagered permanently increasing your 5 minute faucet payout by a STEEMtoshi. Each bet also permanently increases your faucet payout by a STEEMtoshi as well, so these two ways combined will dictate how much free STEEM you can collect every 5 minutes on the site.
What's Left to Develop Before December 1st?
The main concern left before pushing this update out is making sure the mobile or tablet views work better than they currently do in order to not deter folks from using the site due to them using a lower resolution display. While in no way, shape or form is my mobile/tablet site presentation anything to be excited or brag about, but I'll keep plunking away at it up until the release of this patch on the 1st in order to hopefully avoid any strange display bugs. As a large portion of people online use a mobile phone or tablet to browse it is imperative that the mobile rendering of the site doesn't cause issues.
One Week Left to Take Advantage of Fast "Dust" Rolls...
Only 1 week remains before the v0.7.3 update which will slow down dust betting. So you've got a week to come and spam STEEMtoshi bets in order to get an increase on your 5 minute STEEM faucet. After the 1st of December 2019 all bets < 0.001 STEEM will be subjected to an 800ms delay on callback when you roll so the rate of betting will be slowed (unless betting > 0.001 STEEM). Depending on where you're located in the world some users average anywhere between 3 to 15 bets per a second.. So if you're interested in quickly leveling up your faucet payouts this is your last chance to get in those fast, sub STEEM bets before the opportunity fades.
---


Looking for an Affordable, Secure & Reliable Server Host for Your STEEM Witness Server or Other Web Related Projects? Check out Privex.io!