WELCOME TO THE STEEMCHURCH INTERNATIONAL MINISTRY BLOG
Bless all the friends and brothers who are always with us, today with great news for the community in general, we are expanding the territories in the way of asking and answering questions on a decentralized platform fed on the Telos blockchain.
This platform drives conversations in question and answer posts. It's simple, it solves the needs of the user or community that other content may not address.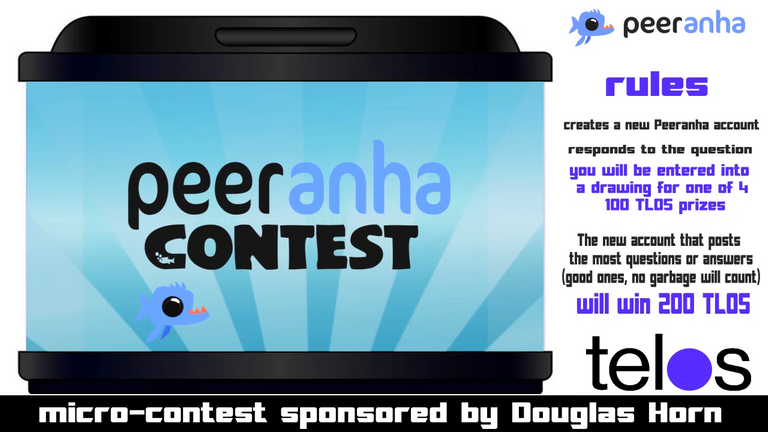 Image created by @edxserverus
Twitter: @DesignsTelos
The Telos community, in order to promote the adoption of this application, is supporting a contest for the creation of the Peeranha account, for the next 24 hours, anyone who creates a new Peeranha account and answers this question ( https://peeranha.io/questions/68719476451) will participate in a raffle from one of the (4) 100 TLOS awards. The new account that publishes most (good) questions or answers will earn 200 TLOS.
By Douglas Horn
---
---
For people who are not yet familiar with the application and wish to create their accounts, they can obtain more information at the following link:
https://steemit.com/steemchurch/@steemchurch/a-new-tool-joins-the-crusade-for-freedom-get-to-know-peerahna-io-is-a-decentralized-question-and-answer-website-built-on-the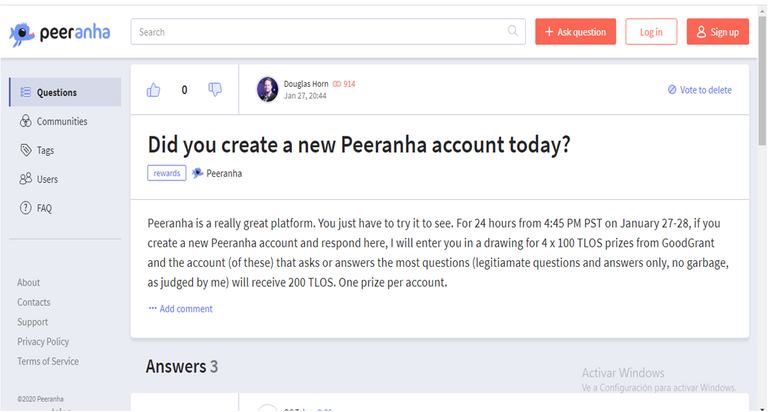 You can invite your family and friends to participate and interact with the application, it is a simple tool, with a user-friendly interface.
For any questions about the registration or configuration of wallet we have enabled our telegram channel,Situation Room "S.C TELOS":
https://t.me/joinchat/JfcYQRZKH3Fu0M9kIzcjjw
Any question? https://peeranha.io
@HelloTelos
@peeranhaio
Watch video

Telos Update
Start learning about Telos at the Telos Foundation site below. For your SQRL link, scroll down the homepage. Scatter is also a secure application for transacting on the Telos blockchain.
https://www.telosfoundation.io/
If you are a new user of our community or have not entered Telos, you can do so through the following form.
https://goo.gl/forms/TOJ4cCDiMT4KlM0g2
We thank all those people who have contributed to our community to grow @pennsif, @luppers, @redes, @hanshotfirst, @theycallmedan, @redpalestino, @wilx,@curatorhulk,@ripperone,@penguinpablo,@newhope,@jackmiller.
EXPRESS THE LOVE OF JESUS THROUGH: