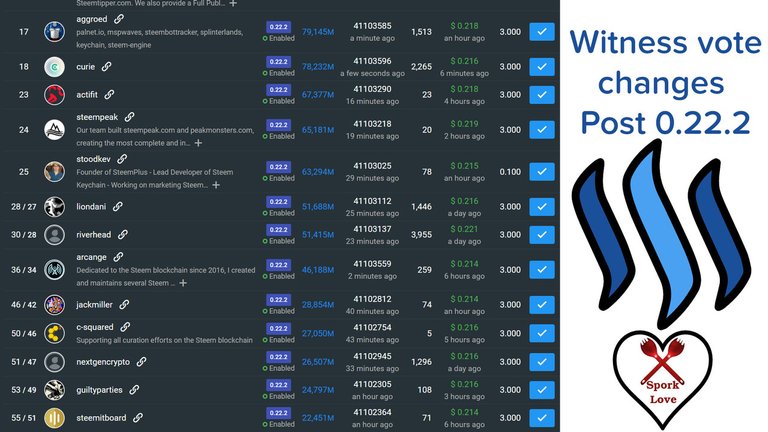 If you are not aware, an update has been put in place with the top 20 witnesses that stops the ninja mine from Steemit's stake from voting. As far as I can tell it can still be used for delegation and powered down. But cannot be used to vote for witnesses and possibly not able to vote on content at all like posts and comments.
For more info on this change, @aggroed hosted a town hall meeting discussing this change, links below.
https://steempeak.com/steem/@aggroed/minnow-mayor-town-hall-softfork-0-22-2-discussion
I decided to go through my Witness list looking at the @steempeak Approve witness tool for my account.
After removing those not on 0.22.2 and a disabled @helpie witness I had 12 votes left to hand out.
Outdated price ticker by many months but with softfork 0.22.2. Could not vote for this witness.
Making sure they had current price tickers and were enabled I got to picking my new witnesses to vote for.
Added the following witnesses to my approved list.
@isnochys
@mahdiyari
@kyle
@dmitrydao
@fyrst-witness
@guiltyparties
@liondani
@riverhead
@stoodkev
@jackmiller
@drakos
@nextgencrypto
I left three Witnesses on my approved list that were not on the 0.22.2 change. Those witnesses are:
@enginewitty
@techcoderx
@yehey

Hopefully they will update their servers as soon as possible.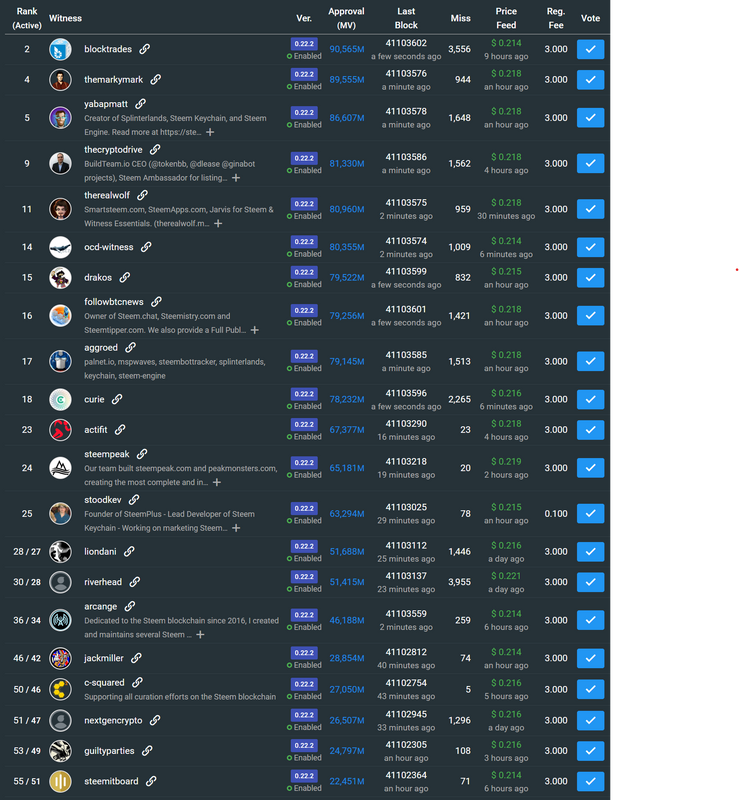 Thats my @steempeak witness page looked like after taking out old witnesses and those not currently supporting the 0.22.2 fork. I am glad to be part of a proof of stake Blockchain. I am holding 141,362,452 VESTS and I should use it responsibly. Keeping the blockchain from being taken over using a stake that was meant for other things is important to me. So these changes needed to be done. Hope to see Steem become more decentralized. And looking forward to helping build servers were there is a need in the network.
---
Addresses below to help me buy better camera equipment and support me to travel to locations to do photo and video and overall great blogs in new places. I would be happy to list some of the contributors in my posts for donations that help me along the way.
| Coin | Address |
| --- | --- |
| BTC: | bc1qhfmvd2gywg4fvrgy2kkkkyqta0g86whkt7j8r7 |
| LTC: | ltc1qdyzm5cwgt8e2373prx67yye6y9ewk0l8jf3ys9 |
| DASH: | XkSqR5DxQL3wy4kNbjqDbgbMYNih3a7ZcM |
| ETH: | 0x045f409dAe14338669730078201888636B047DC3 |
| DOGE: | DSoekC21AKSZHAcV9vqR8yYefrh8XcX92Z |
| ZEN: | znW9mh62WDSCeBXxnVLCETMx59Ho446HJgq |