This was an old project that i think nobody expected to die like that within a day with no signs of anything going wrong. But this is crypto, you never can be sure what happened.
AMP is an old coin (5 years old) that even was at Poloniex at one point and it had HyperSpace blogging platform connected to it where you were also earning from votes on your posts.
It looked and worked different than Steemit - but the main part. You couldn't withdrawal as they were saying they will open withdrawals later.
Most of you don't know but initially on STEEM when it launched we also been earning but for 1 month or more (don't remember) it also was not possible to withdrawal. Here it took years though and now its dead and we still cant withdrawal. The coin is dumped almost to zero though so who cares.

I was posting there sometimes but not too often still after this year+ added up to a bit.


AMP Markets

If you have any left you have just 1 exchange to dump and who knows if deposits even still work.
Letter from them AMP/HyperSpace: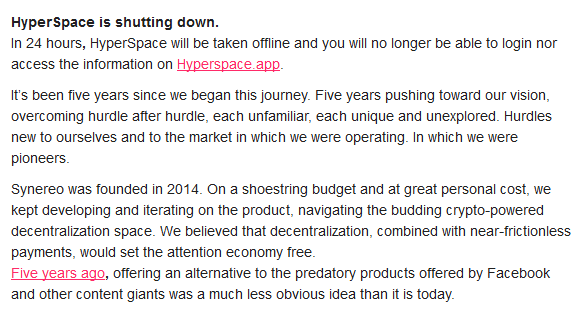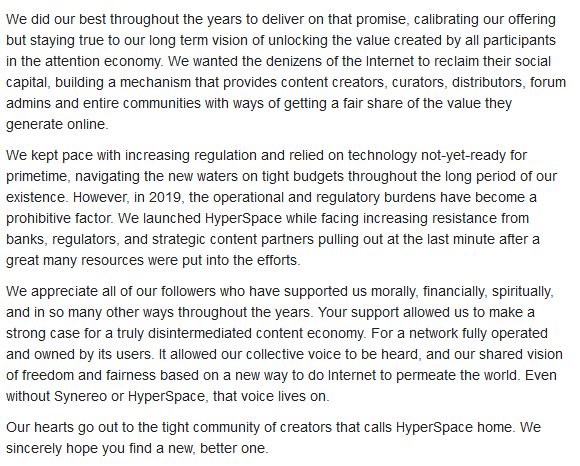 So if for so many years they couldn't open withdrawals on platform something is wrong.
Okay, to be fair i know the portal didn't exist for 5 years, but sounded more dramatic.
DOWNLOAD FREE EBOOK - PASSIVE INCOME FROM CRYPTOCURRENCY HODLING