Nah, it's not that bad... Pic source
The blockchain currently has around 1.33 million accounts. Those accounts were registered at some point in time between the start of the blockchain in 2016 and now, with creation rates varying with STEEM price, publicity and so on. The graph below shows how many accounts were created per month since the blockchain exists: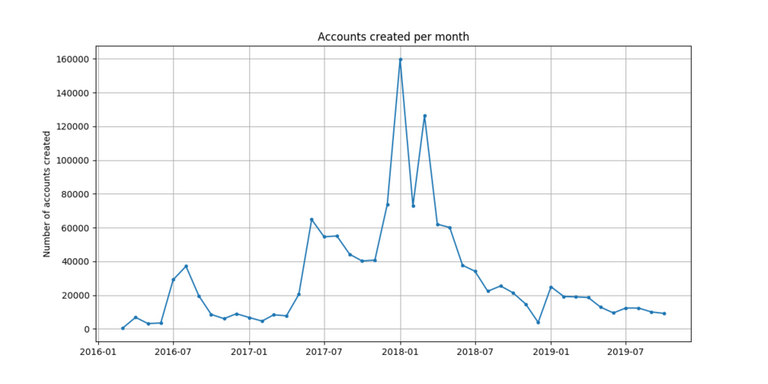 There are a couple of peaks in this graph: The first bigger wave of new accounts was in mid 2016, followed by another peak in mid 2017. The highest number of new accounts per month was recorded in early 2018, certainly boosted by the high STEEM price at that time. Since mid of 2018, the number of new accounts per month is gradually decreasing. The dip in December 2018 is when Steemit stopped creating new accounts for a couple of weeks and clearing the backlog in Jan. 2019. In October 2019 we had 9187 new accounts created.
Clearly not all accounts on the chain are 'active', a lot of them are unused or powered down. From all 1.3M accounts:
around 52.2k accounts have voted within the last 6 weeks
around 22.5k accounts made a comment or a root post within the last
6 weeks
around 19.0k accounts made a root post within the last 6 weeks
On top of that, users typically have more than one account, especially since the SteemEngine tribes are around. So the actual number of people using Steem is probably significantly lower.
With a mix of accounts from around 3.5 years of blockchain, it is interesting to see when the accounts who are still active were created.
The following plot shows the creation dates of those 22.5k accounts who at least made a comment within the last 6 weeks.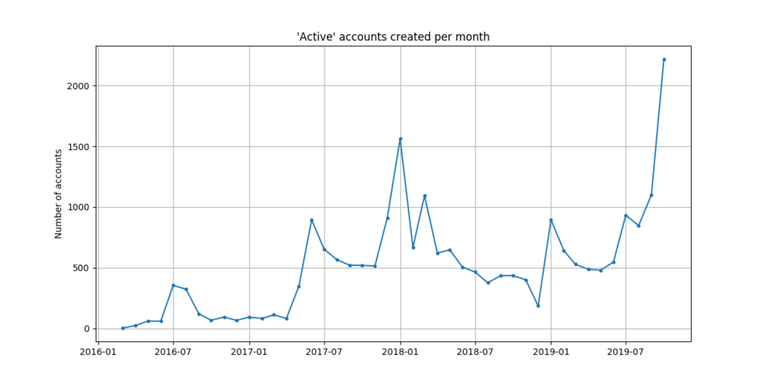 If you compare this graph to the total account creation graph above you might notice some similarities. It shows the same peaks, especially for accounts that around for a year or longer and
We can plot this differently: let's take the number of 'still-active' accounts per month over the total number of accounts created in this month: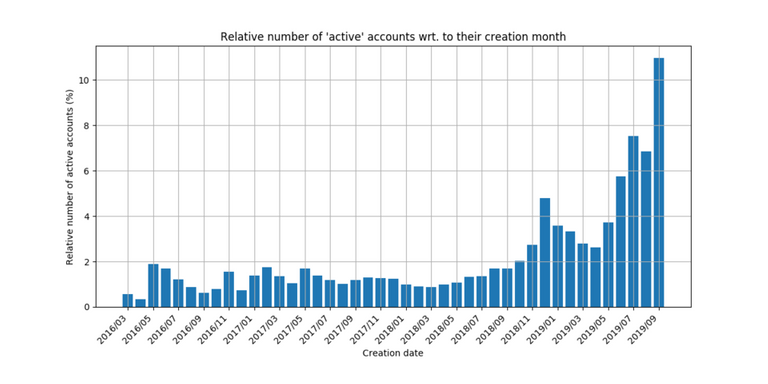 What's interesting here: The previous peaks are almost gone and the distribution is mostly flat between 1-2% for accounts that were created a year ago or earlier. This means, that independent of the account creation waves, around 1-2% of all accounts remain active! I would have expected a lot more inactive accounts from the strong inrush phase in early 2018 for example.
Another interesting thing here: the peak in December 2018. This is where Steemit did not create new accounts. This suggests that accounts created by others than Steemit have a higher retention rate. And we've seen this before with other analyses.
TL/DR: 1-2% longer-term retention, but comparably stable with respect to account creation time. And Steem is not only about posting anymore, quite some accounts do well with playing various games on the chain. Nevertheless, my feed is drying up from time to time, need some new accounts to follow...