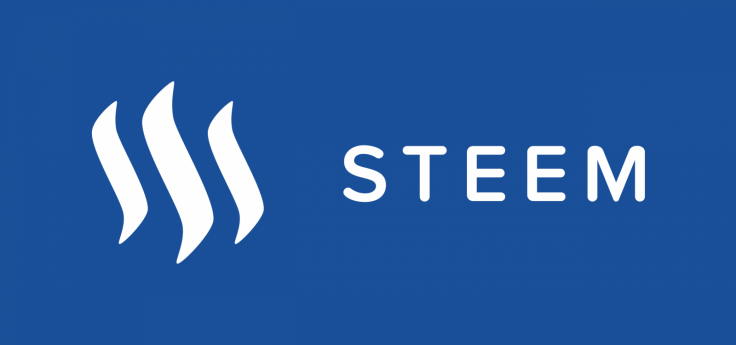 ---
"Justin Sun has seized control of the Steem blockchain – with the apparent help of several prominent crypto exchanges."
He seized nothing, because the community is taking back the control over STEEM blockchain.

https://steemit.com/steem/@theycallmedan/call-to-action-earn-upvotes-to-vote-for-witnesses
Get ready for a rebellion of apocalyptic proportions.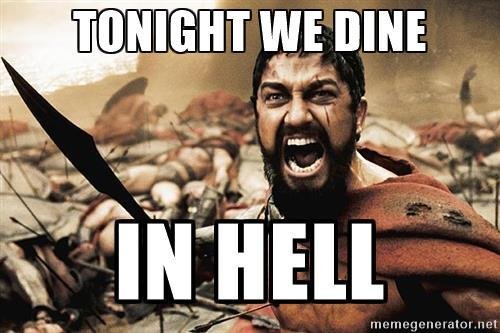 STEEM decentralized management in form of witnesses voting is elected by entire community.
STEEM do not accept centralized dictatorship brought by Justin Sun and his cronies.
TRON performed a coop not on some shit coin and some irrelevant web page.
TRON attempted to dethrone the democracy and take hostage a community of international writers, programmers, crypto enthusiasts, artists, musicians, traders, long term investors, sponsors and net workers which has been built steadily through 4 years of STEEM existence.
TRON failed miserably. Justin Sun experiences a backlash from the entire crypto sphere.
Two of the exchanges who helped him organize this coop decided to peace out because of the riot.
The best next investment Justin Sun could possibly accessorize with his level of deceit is to bag it for Amazon Rainforest to monk around and bead about.
NED SCOTT is a traitor. He can join Justin Sun is this worthy quest. Maybe he finds a date. I heard the marmosets are very attractive.
Justin Sun comment section: If you wonder what true supporters of STEEM comment, just look it up. It sounds like this.
ON READCASH
Justin Sun's hostile attempt of Orwellian takeover causes riot among STEEM users
With what has been said to be a hostile and unethical takeover, the new STEEM is set to a poor start, and Justin Sun invited upon himself an ire of almost everybody involved with the STEEM project, and wider. Vitriol flows in abundance. - "Justin Sun is a criminal and should not be trusted."
ON MEMOCASH
https://memo.cash/post/b4fa2efb601ea7e3735a8ad840d1dd8d3c2e397990928dd354de218df7fbe5a8
Justin Sun is a scammer who rigged STEEM's vows.
ON TWITTER GASLIGHTING AND LIES
Justin Sun calls genuine elected Steem witnesses "hackers".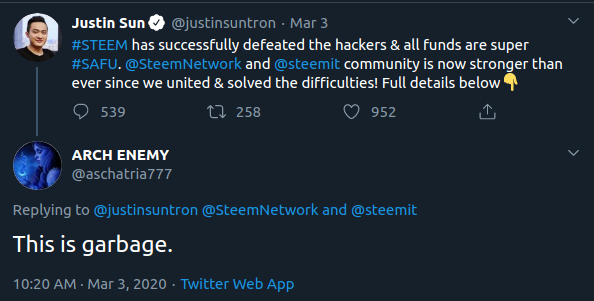 Tron uses their cronies to gaslight public opinion on Twitter. We need condense effort to oppose the lies spread by the douches, amateurs and yesterday's accounts.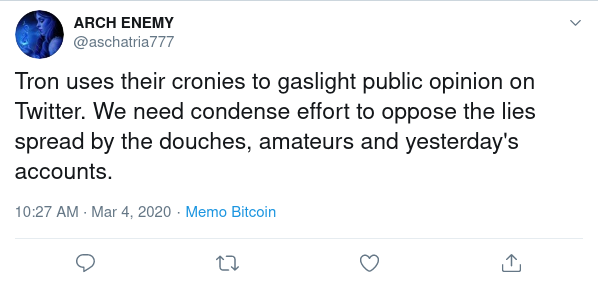 Don't try to persuade these accounts, simple leave an info under their none-sense, block them and keep going.
---
ON STEEM KOREAN PROXY ACCOUNT BETRAYS COMMUNITY
ALSO - NOT ENOUGH! - AN ACCOUNT TRIES TO BLACKMAIL WITNESSES
proxy.token who just voted on #TRON dictatorship trying to blackmail real #STEEM witnesses w/ list of demands.
https://steempeak.com/hive-101145/@sct/proxy-token-proxy-token-witness-voting-policy

Links:
---
This is NOT #STEEM against #TRON
This is not chain against chain
This is Republic against Evil Empire
Boycott Orwellian dictator
Future is ours
Full STEEM ahead
---
Vote real witnesses
Steemian
https://steemian.info/witnesses <--- fakes are red, real ones are blue
Steempeak
https://steempeak.com/me/witnesses <--- fakes are blue, real one are gray
---
What more can you get from me?
The internet is such a great way to connect, and all that you use on it exists in the paid alternative. So, swap your old free apps and webs for the ones that will value your content and pay your time.