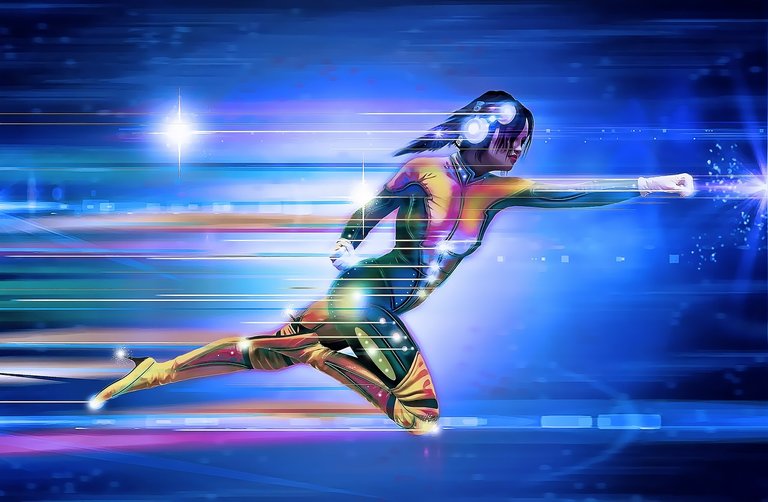 ---
English version in the footer
---
Un saluto a tutti,
ne ho già parlato tempo fa, le Scot Tribes sono una delle novità più interessanti di Steem e infatti hanno riscosso un grosso successo. Ma hanno anche un grosso difetto, cioè una delle procedure più lunghe e macchinose per il claim e lo stake delle rewards.
O forse dovrei dire avevano.. perchè finalmente qualcuno ci ha pensato e ha risolto il problema, fornendoci uno strumento che permette di effettuare queste procedure in modo semplice e immediato.
Sto parlando di @steemchiller e di SteemWorld (basta mettere il vostro username dopo il @ )
In questo articolo vi spiegherò passaggio dopo passaggio come fare per fare il claim delle rewards e successivamente lo stake solo di quelle che vorrete bloccare, grazie a un utilissimo elenco in cui potremo spuntare i token da mettere in stake.
Vi preannuncio che sarà fondamentale essere muniti di Steem Keychain (disponibile per Chrome, Brave e Firefox), utilissima interfaccia che permette di effettuare operazioni sulla blockchain senza dover inserire ogni volta le nostre chiavi private garantendoci un alto livello di sicurezza.
---
Il primo passaggio da fare è quello di andare su SteemWorld inserendo il nostro username e selezionare la voce Balances (vedi figura seguente):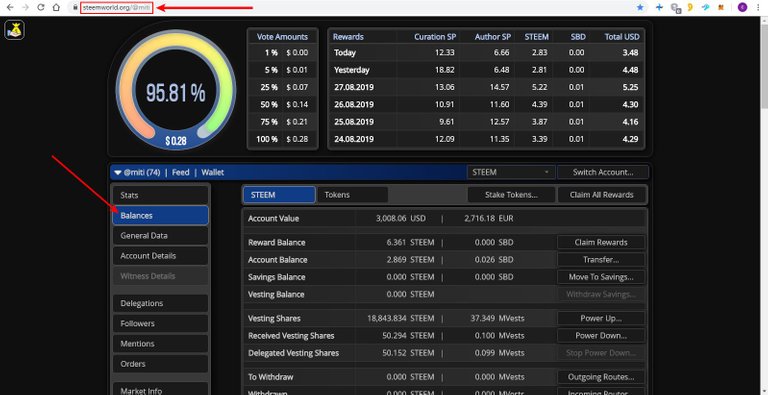 Successivamente andremo a selezionare la voce Tokens e Claim All Rewards (vedi figura seguente);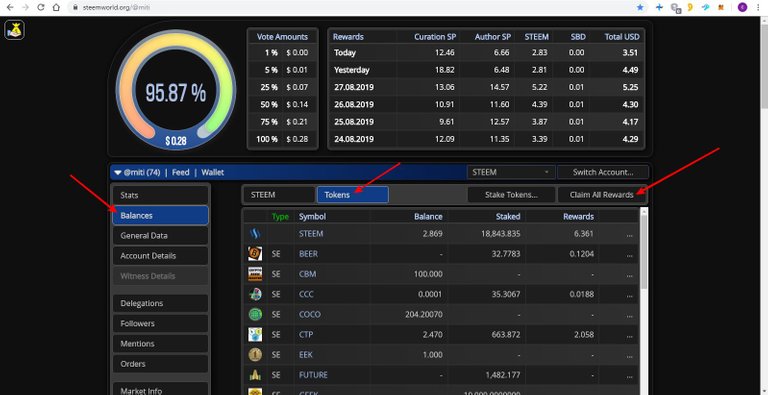 Si aprirà un menù nel quale dovremo dare l'autorizzazione a Keychain a procedere con il claim delle rewards (vedi figura seguente):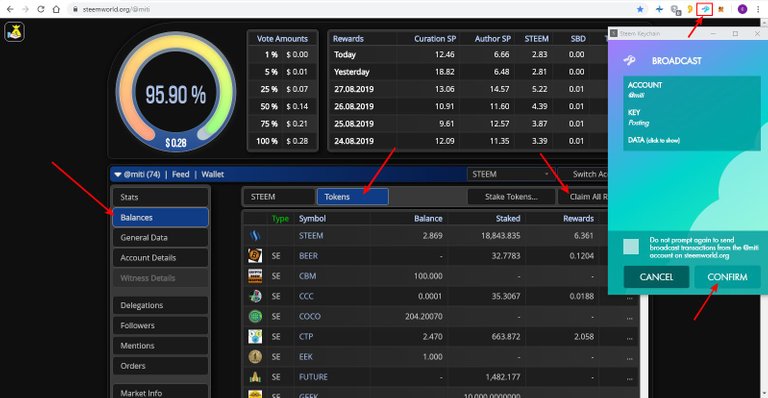 In questo modo avremo effettuato il claim di tutte le rewards in qualche velocissimo passaggio. Basterà attendere un minuto (il tempo che steem engine interagisca con la blockchain di Steem ed effettui l'operazione) e il Claim sarà stato completato.
Andiamo adesso a vedere insieme come effettuare lo stake dei token che ci interessa bloccare.
Il primo passaggio è quello di selezionare la voce Stake Tokens che ritroviamo sempre nella stessa pagina Balances / Tokens (vedi figura seguente):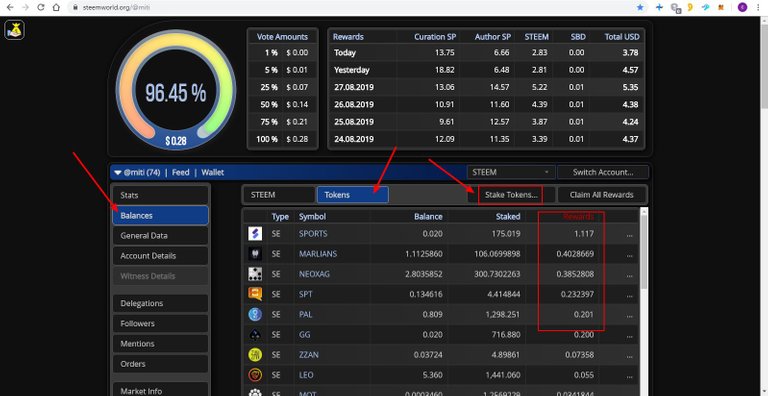 Si aprirà un menù nel quale sarà possibile spuntare le caselle appartententi ai token di cui vogliamo effettuare lo stake e premere OK (vedi figura seguente):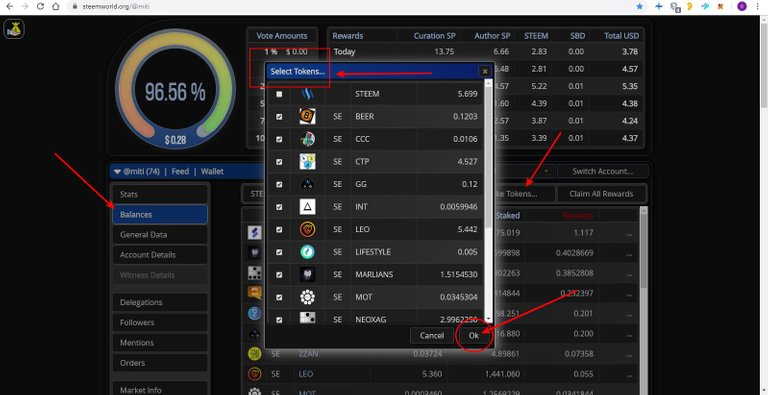 Una nuova finestra ci chiederà la conferma ad utilizzare Keychain per effettuare lo stake, quindi premiamo ancora OK (vedi figura seguente):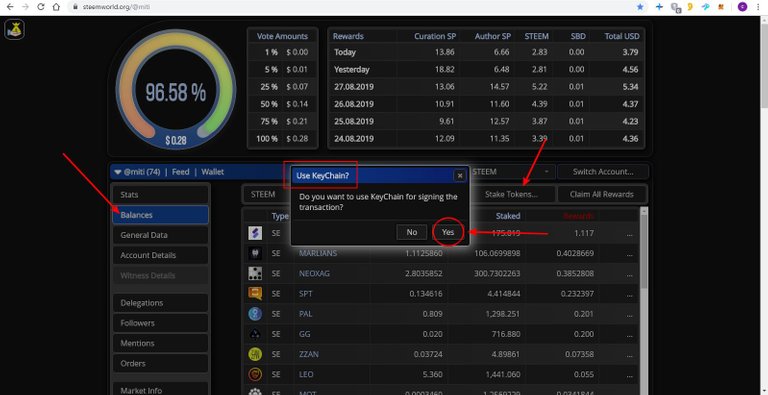 Ancora una volta si aprirà la finestra di Steem Keychain che ci chiederà conferma ad effettuare l'operazione, quindi premiamo su CONFIRM (vedi figura seguente)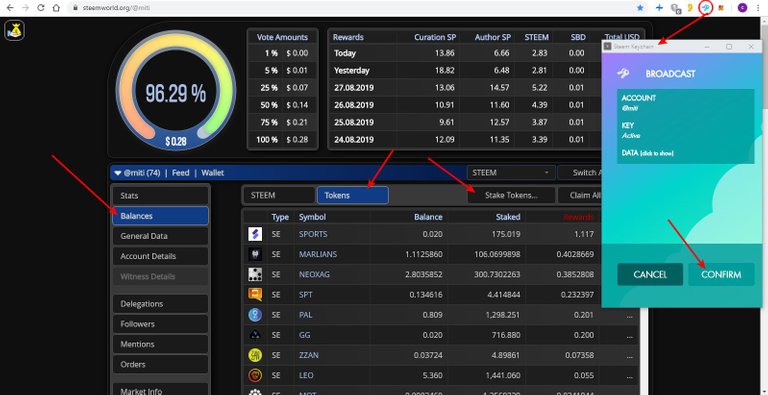 Abbiamo già finito! Come confermato da un messaggio di SteemWorld e dalla finestra di Steem Keychain, lo stake è stato effettuato con successo (vedi figura seguente)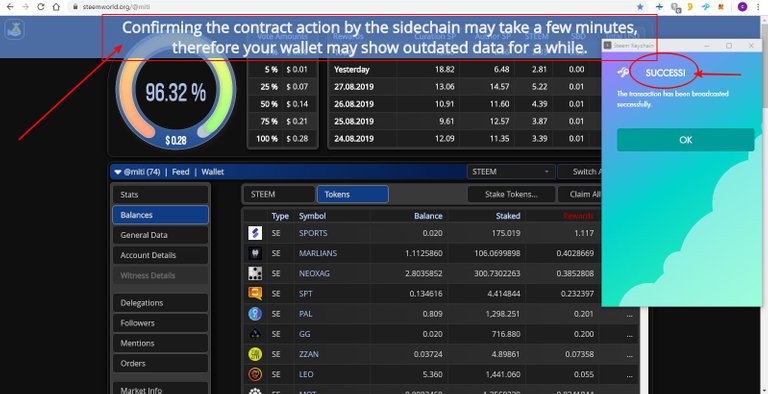 Dopo un minuto o poco più (ancora una volta a causa dell'interazione tra Steem Engine e la Blockchain di Steem) avremo i nostri token messi in stake. Ne avremo conferma guardando alle Account Operation dove cliccando sull'operazione Custom JSON vedremo quanti e quali token sono stati messi in stake (vedi figura seguente).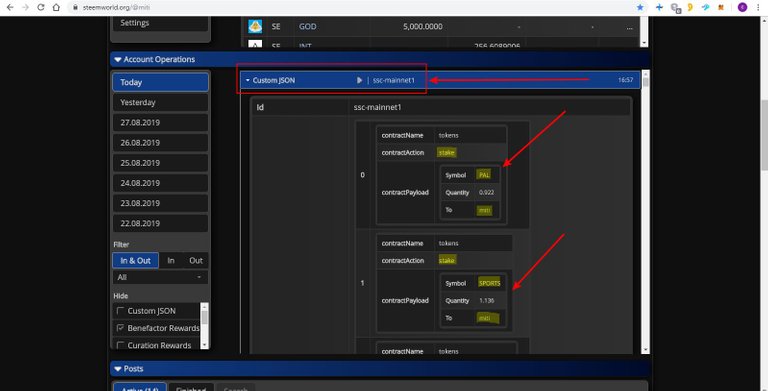 ---
Bene, questo è tutto! Come abbiamo potuto vedere in questo tutorial, fare il claim e lo stake delle rewards dei token delle Scot Tribes di Steem Engine sarà semplice e veloce in quanto ci porterà via in totale al massimo un paio di minuti, mentre prima dal sito di Steem Engine impiegavamo forse lo stesso tempo per effettuare il claim e lo stake di un solo Token!
Spero di esservi stato utile!
Un saluto a tutti
Carlo (@miti)
---
Disclaimer: I contenuti di questo articolo non intendono in alcun modo costituire sollecitazione al pubblico risparmio oppure consulenza all'investimento di nessuno strumento finanziario.
---
---
---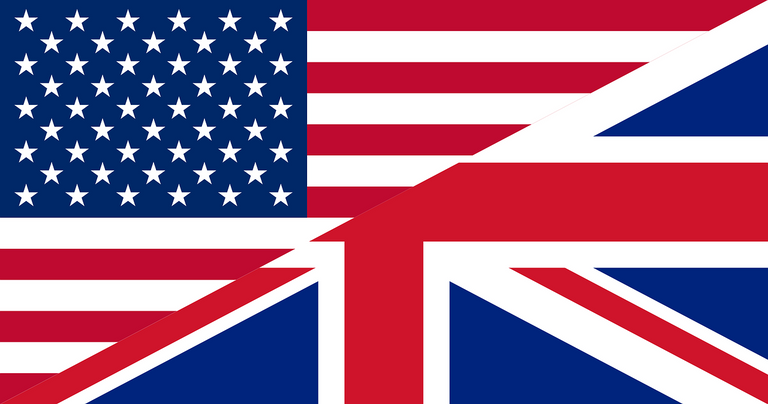 The English version of this article was made with the use of Google Translate. I do apologize for inaccuracies in the English translation but sadly, I don't have the time to translate it by myself.
---
Hello everybody,
I have already talked about it some time ago, the Scot Tribes are one of the most interesting innovations of Steem and in fact they have been very successful. But they also have a big flaw, that is one of the longest and most cumbersome procedures for the claim and the stake of the rewards.
Or maybe I should say they had .. because finally someone thought about it and solved the problem, providing us with a tool that allows us to carry out these procedures in a simple and immediate way.
I'm talking about @steemchiller and SteemWorld (just put your username after the @)
In this tutorial I will explain step by step how to make the cliam rewards and then the staking of those that you want to block, thanks to a very useful menu in which we can tick the tokens to be staked.
I must warn you that it will be essential to have Steem Keychain (available for Chrome, Brave and Firefox), a very useful interface that allows you to perform operations on the blockchain without having to enter our private keys each time, guaranteeing a high level of security.
---
The first step to do is to go to SteemWorld by entering our username and select the item Balances (see figure below):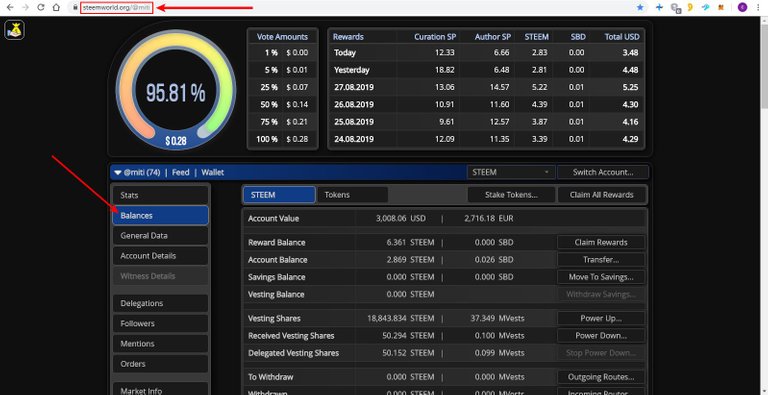 Next we will select the item Tokens and Claim All Rewards (see figure below);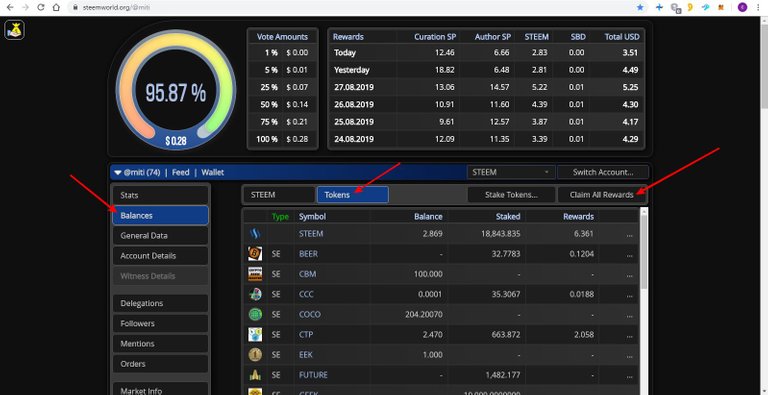 A menu will open in which we will have to give Keychain permission to proceed with the rewards claim (see figure below):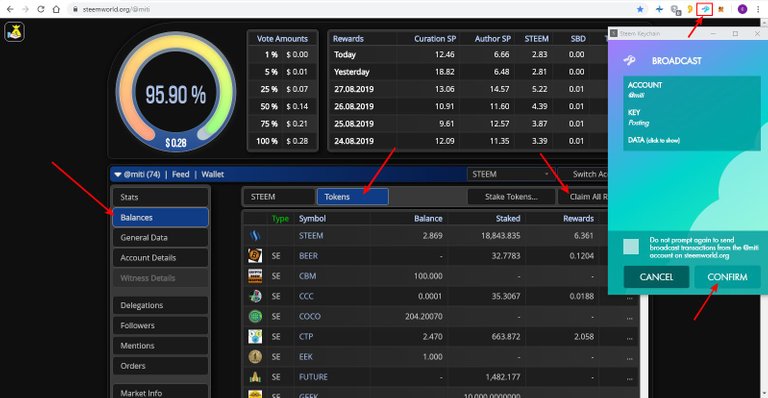 In this way we will have carried out the claim of all the rewards in some very fast passage. Just wait a minute (the time the steem engine interacts with Steem's blockchain and performs the operation) and the Claim will have been completed.
We are now going to see together how to make the token stake that we are interested in blocking.
The first step is to select the item Stake Tokens which we always find on the same page Balances / Tokens (see figure below):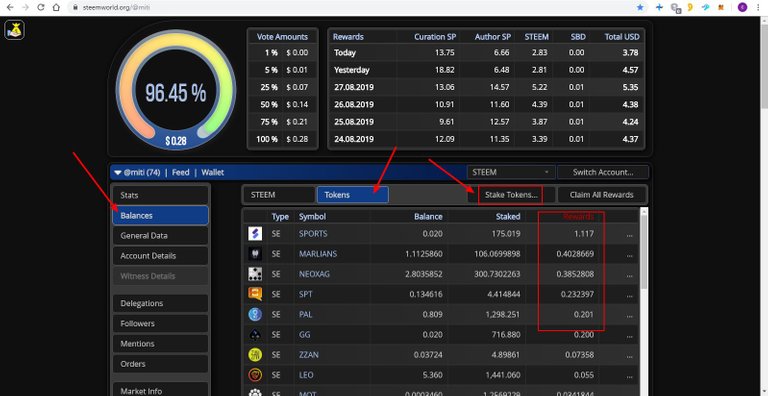 A menu will open in which it will be possible to tick the boxes belonging to the tokens of which we want to perform the stake and press OK (see figure below):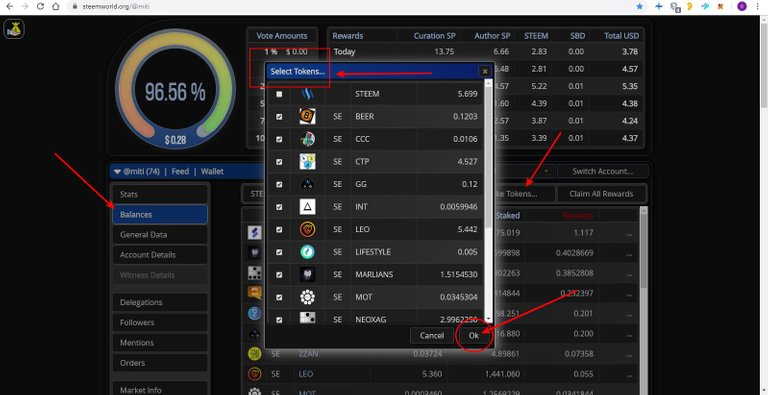 A new window will ask us to confirm using Keychain to perform the stake, then press OK again (see figure below):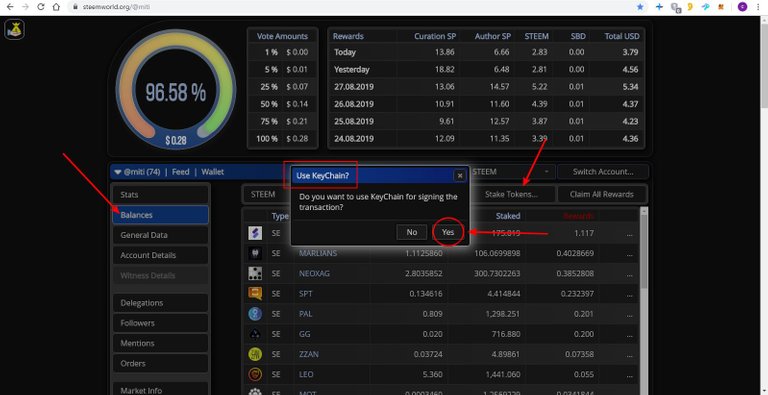 Once again the Steem Keychain window will open and ask us to confirm the operation, then press CONFIRM (see figure below):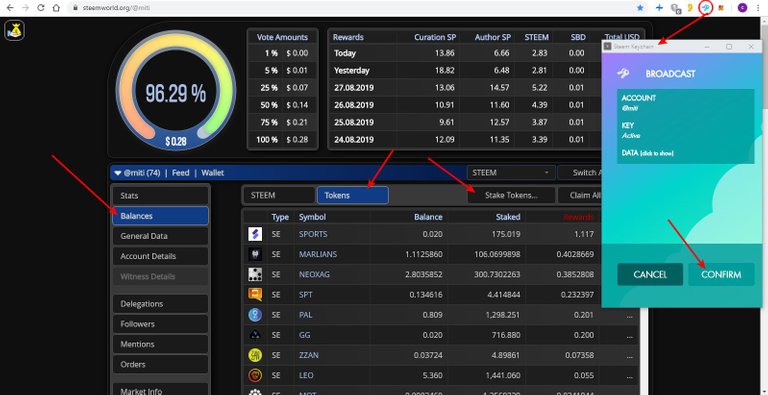 We've already finished! As confirmed by a message from SteemWorld and the Steem Keychain window, the stake was successfully completed (see figure below):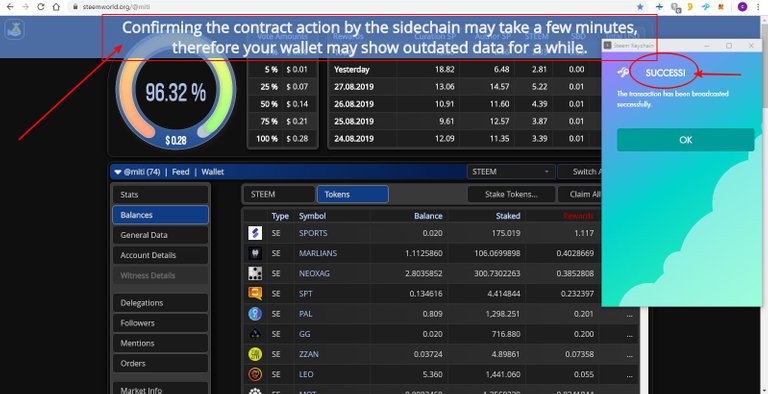 After a minute or so (again due to the interaction between Steem Engine and Steem's Blockchain) we will have our tokens put into stakes. We will have confirmation of this by looking at the Account Operations where by clicking on the operation Custom JSON we will see how many and which tokens have been staked (see figure below):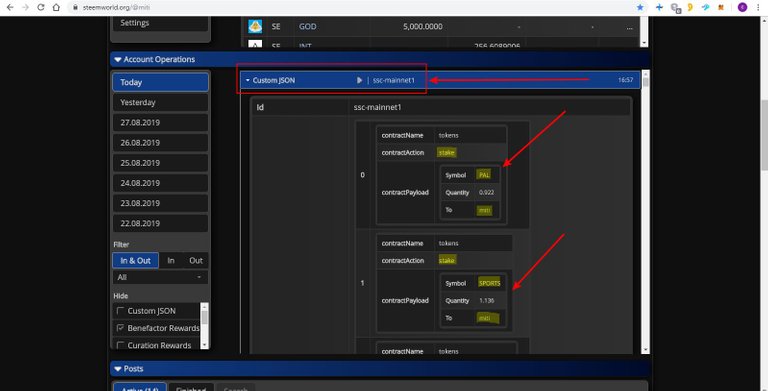 ---
Well, that's all! As we could see in this tutorial, claiming and staking the Steem Engine's Scot Tribes tokens will be simple and fast as it will take us a maximum of a couple of minutes, whereas before, from the Steem Engine website , we spent perhaps the same time to carry out the claim and the stake of a single Token!
I hope I've been of help!
Greetings,
Carlo (@miti)
---
Disclaimer: The information provided here is for general informational purposes only and should not be considered an individualized recommendation or personalized investment advice.