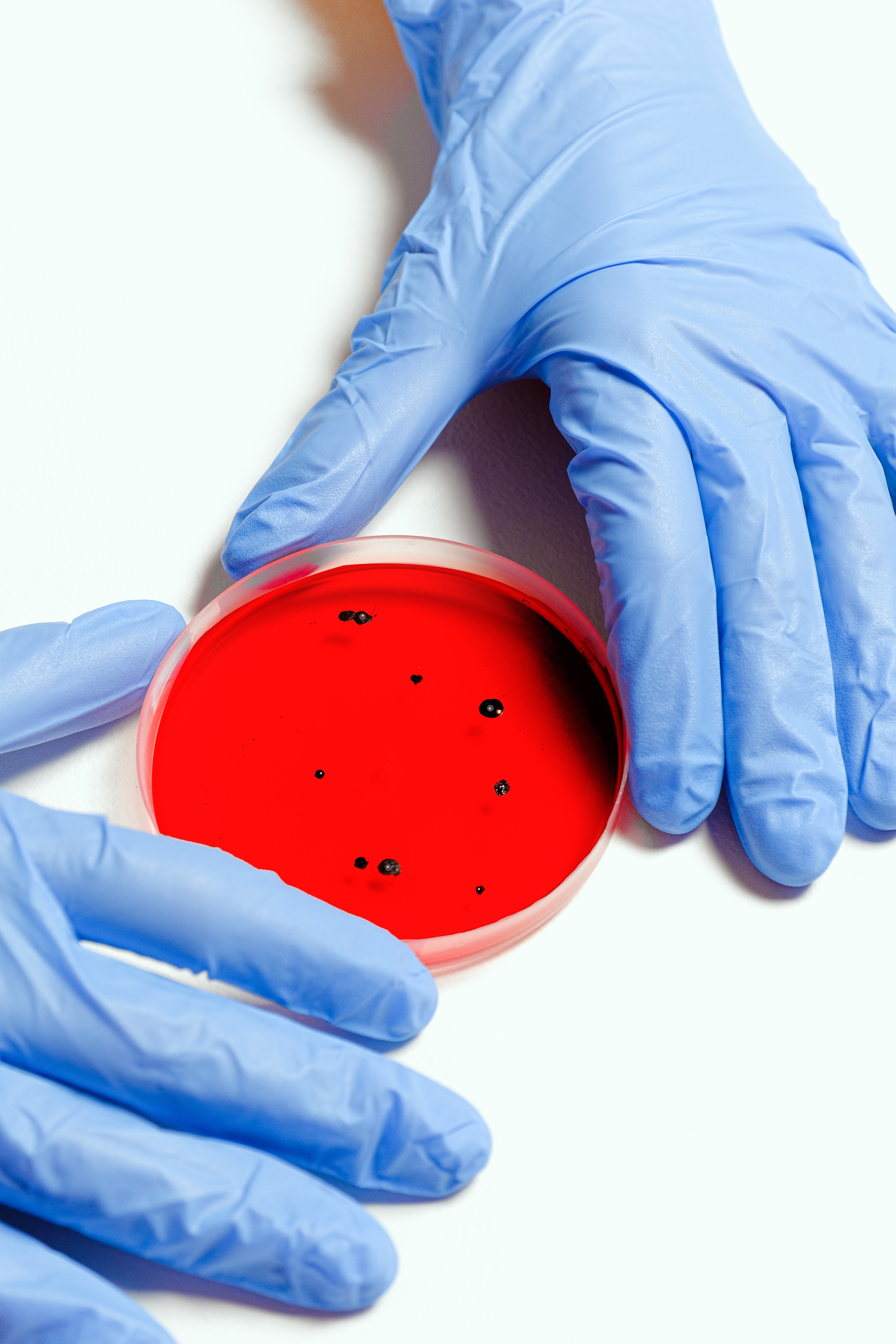 ¡Hola a todos en la comunidad! espero que esten muy bien en esta cuarentena
Hello everyone in the community! I hope you are doing very well in this quarantine
Hoy les traigo un pequeño proyecto que estuve realizando la semana pasada con mi vecino, pues este llegó en horas de la tarde al hospital presentando un sarpullido en la piel, al percatarme que era él, decidi ayudarle y al ver los signos y síntomas que presentaba, nuestro doctor de guardia lo diagnosticó como una simple ''Lechina'' o conocida como el virus de la Varicela Zoster.
Este virus se puede tratar de manera ambulatoria, por lo que se dio inmediatamente su alta médica.
Today I bring you a small project that I was carrying out last week with my neighbor, because he arrived at the hospital in the afternoon presenting a skin rash, when I realized that it was him, deciding to help and seeing the signs and symptoms that he presented, our doctor on duty diagnosed it as a simple "Lechina" or known as the Varicella Zoster virus.
This virus can be treated on an outpatient basis, so he was immediately discharged.
Aprovechando que es mi vecino, le pregunte si queria que lo visitara todos los días para ver el progreso de esta y ayudarlo en lo que estuviera a mi alcance. El sin ningun problema acepto, de esta manera observe la evolución de dicha enfermedad.
Antes de colocar cada foto con cada uno de sus días quiero hablarles un poco de la Varicela Zoster.
Taking advantage of the fact that he is my neighbor, I asked him if he wanted me to visit him every day to see the progress of this and help him in what was within my reach. He accepted without any problem, thus observing the evolution of said disease.
Before placing each photo with each of your days I want to tell you a little about Varicella Zoster.
---
La varicela es una primoinfección del virus VVZ (virus varicela zoster) que genera una enfermedad febril acompañada de una erupción cutánea generalizada. Tras la curación clínica, el virus queda acantonado en los ganglios sensitivos de las raíces raquídeas posteriores y en determinadas circunstancias el virus puede reactivarse dando lugar al Herpes Zoster, su periodo de incubación va desde los 12 a los 20 días, asintomático. El periodo de estado se inicia con una erupción cutáneo-mucosa de lesiones maculo-papulosas, eritematosas que posteriormente pasan a vesículas de forma y tamaño diferente, con contenido líquido claro. Seguidamente el contenido pierde tensión volviéndose turbio, no purulento. En 2-4 días se convierten en costras y en 4-6 días se desprenden sin dejar cicatriz.
Chickenpox is a primary infection of the VZV virus (varicella zoster virus) that generates a feverish disease accompanied by a generalized rash. After clinical healing, the virus is quartered in the sensory ganglia of the posterior spinal roots and in certain circumstances the virus can reactivate giving rise to Herpes Zoster, its incubation period ranges from 12 to 20 days, asymptomatic. The period of status It begins with a skin-mucosa eruption of maculo-papular, erythematous lesions that later pass into vesicles of different shape and size, with clear liquid content. The content then loses tension, becoming cloudy, not purulent. In 2-4 days they become crusts and in 4-6 days they detach without leaving a scar.
---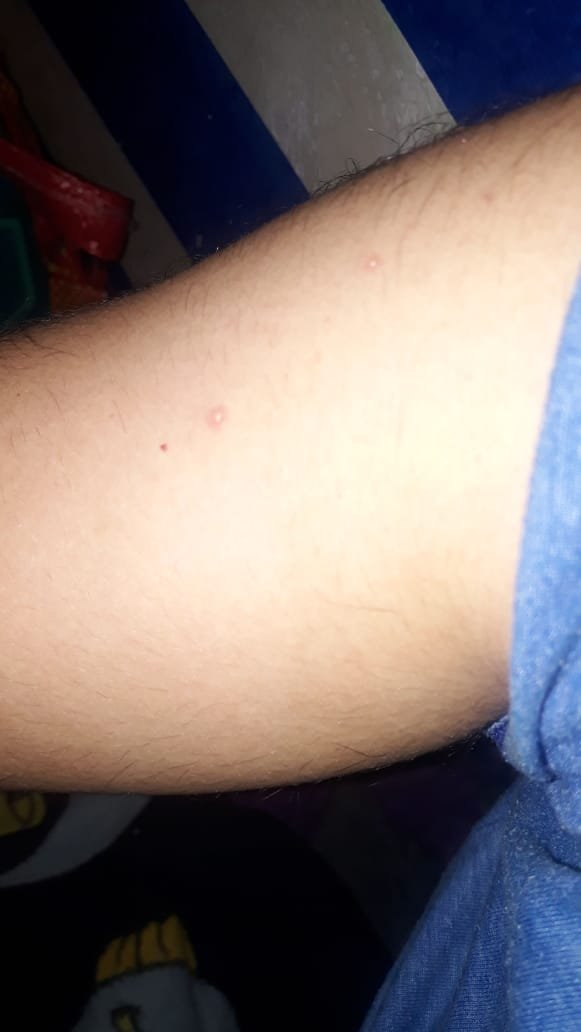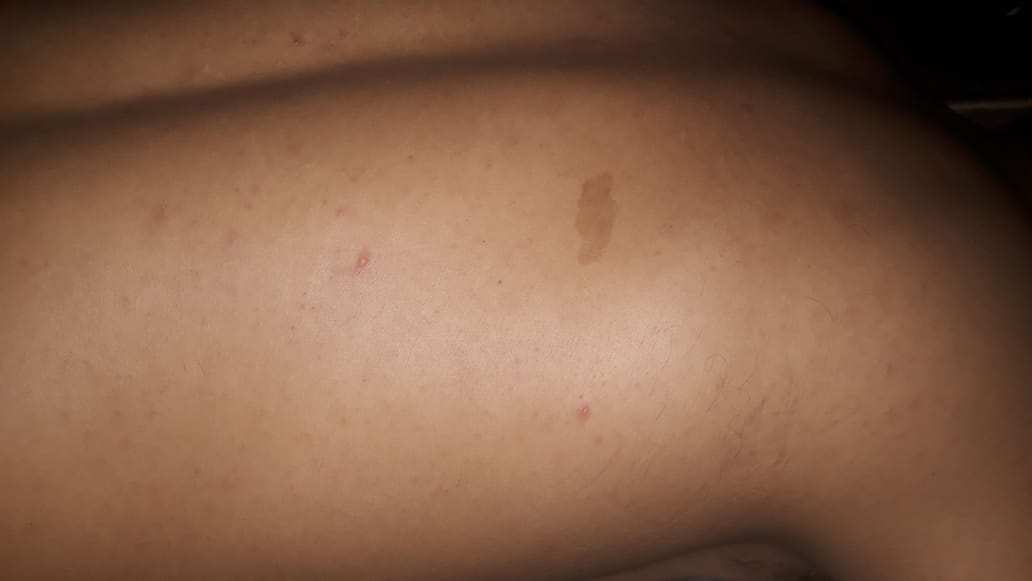 Primer día de Evolución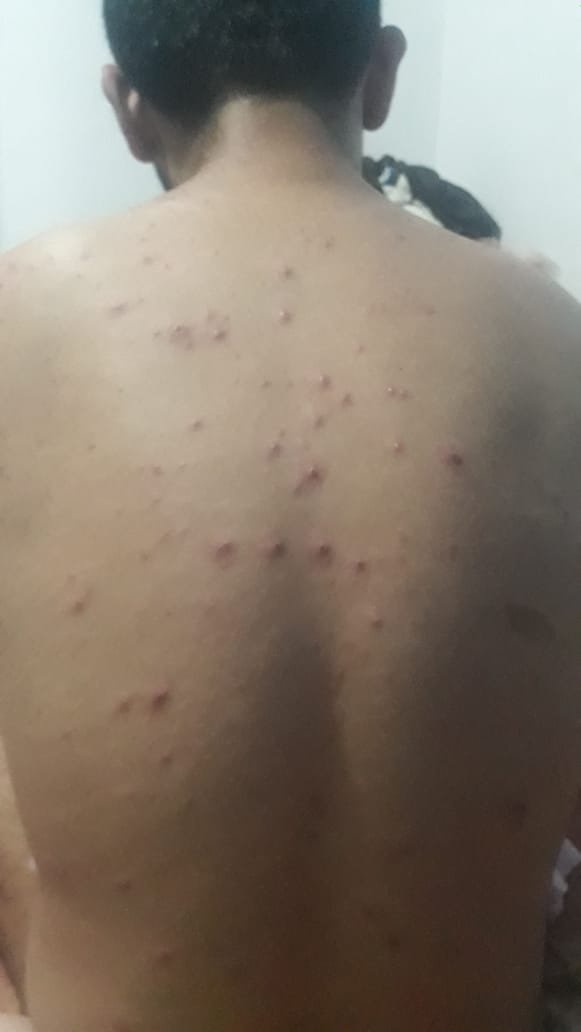 Segundo día de Evolución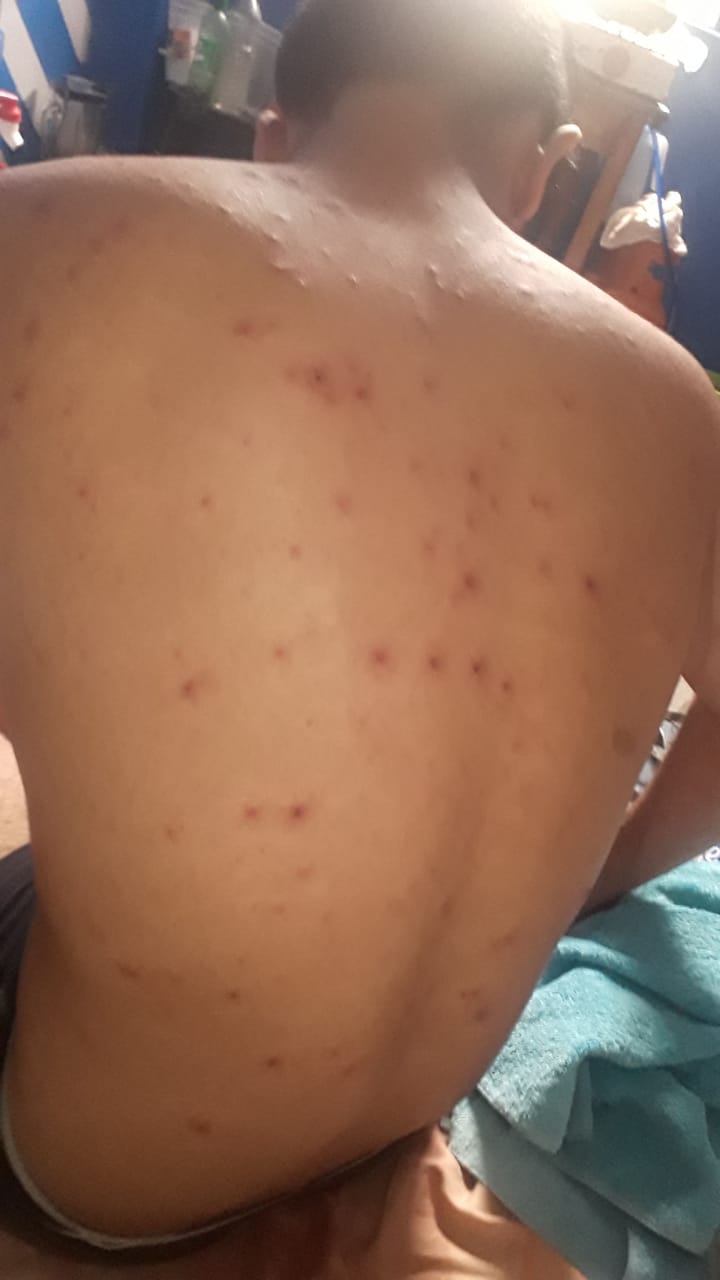 Tercer día de Evolución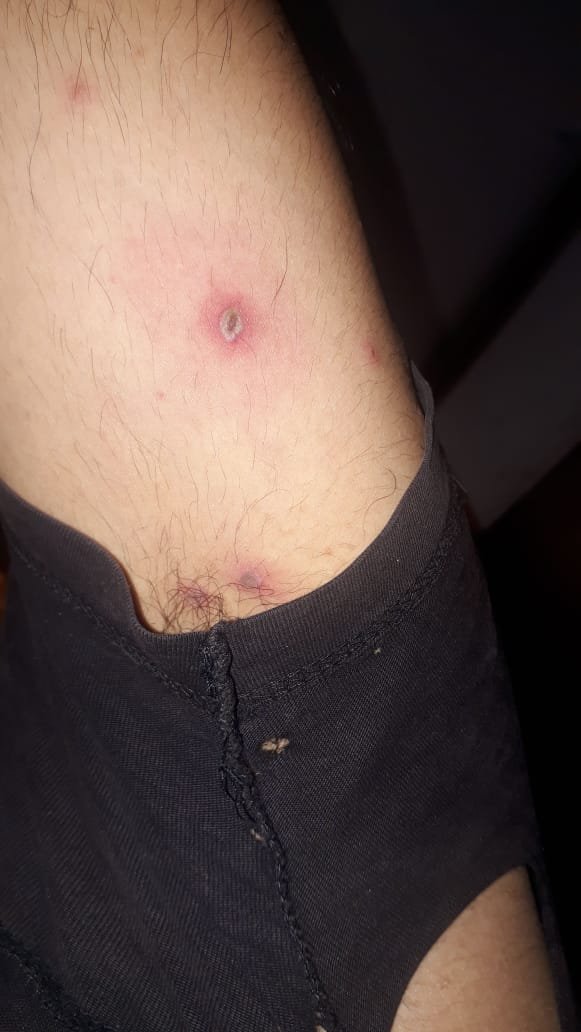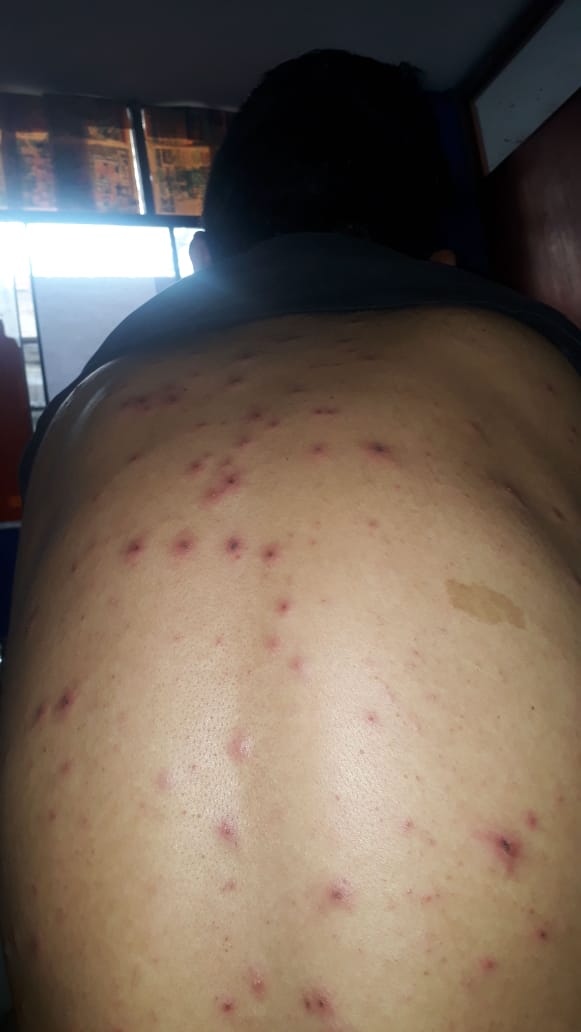 Cuarto día de evolución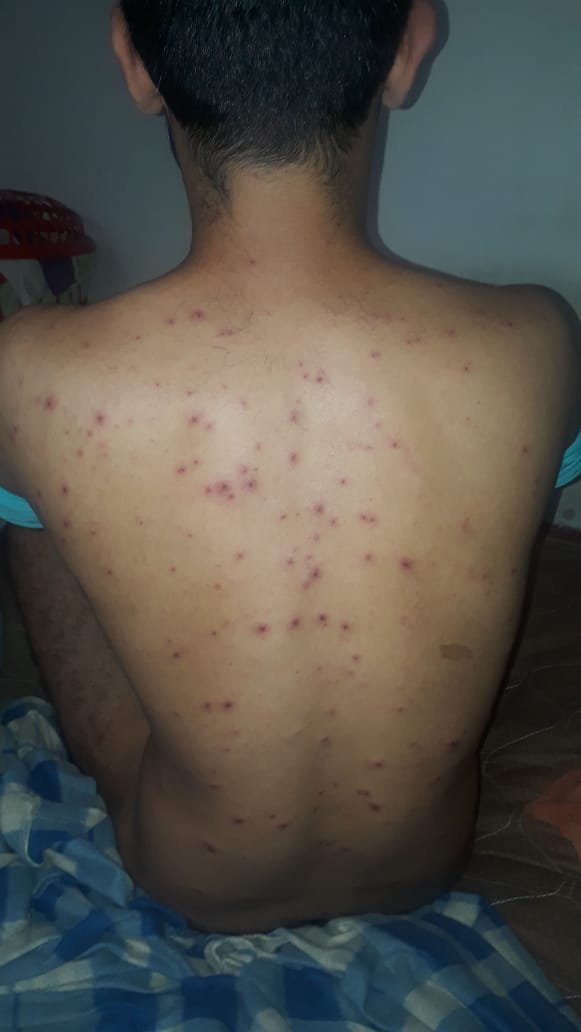 Quinto día de evolución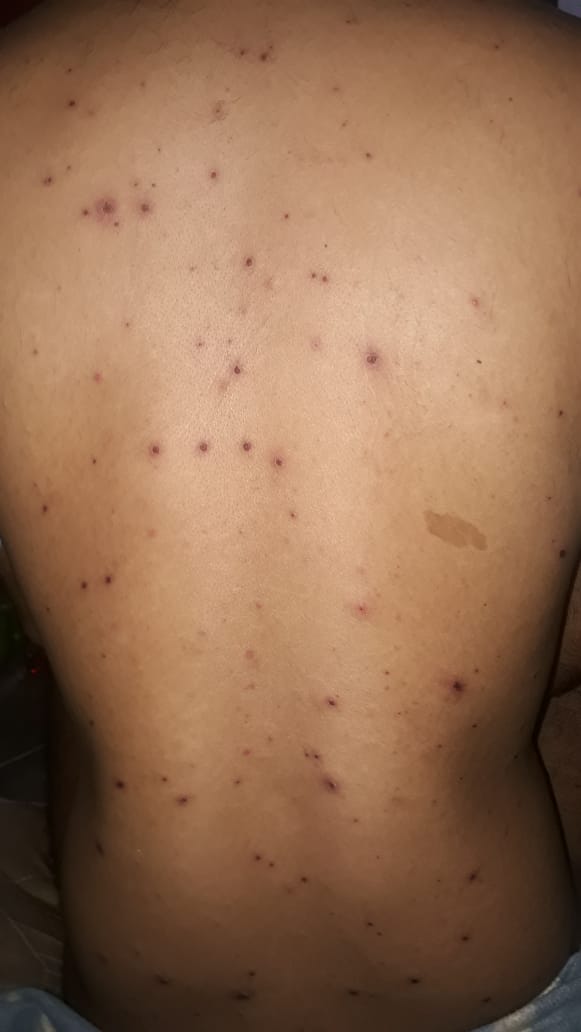 Sexto día de evolución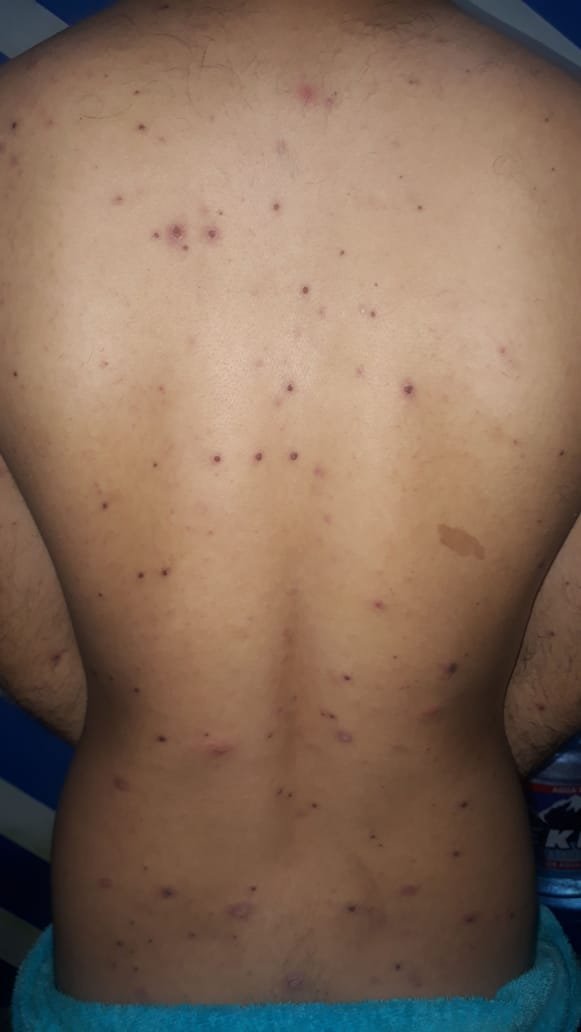 Septimo día de evolución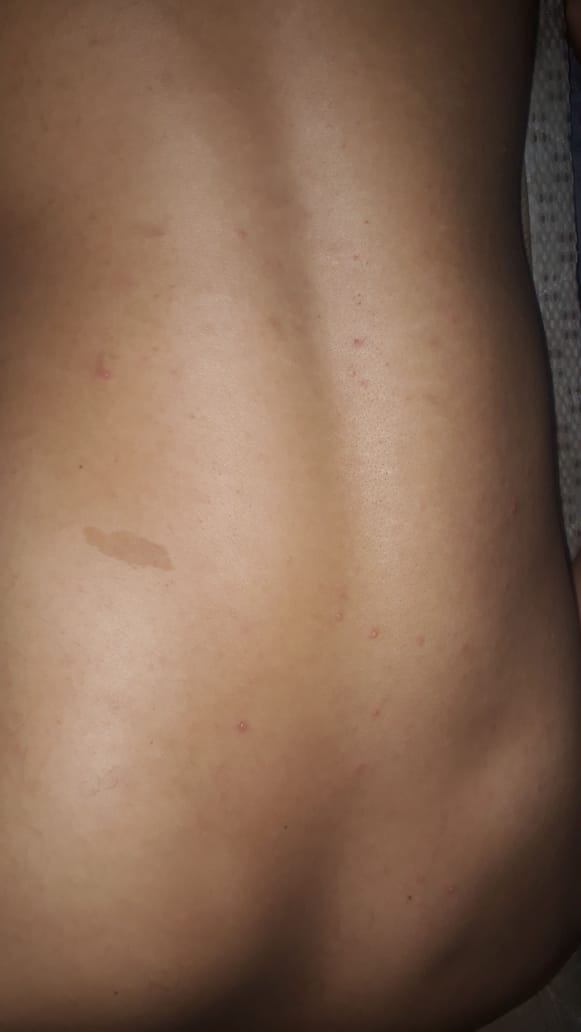 Doceavo día de evolución
En ningún momento mi vecino presentó fiebre por lo que no fue necesario indicarle algún tipo de antipiretico, se quejaba generalmente por el prurito que tenía. Las recomendaciones fueron tomar duchas de agua templada, de corta duración, de esta manera se evita la sobreinfección en las pequeñas erupciones, se puede administrar Aciclovir en ungüento, de esta manera se acelera la curación de las ampollas. >At no time did my neighbor experience a thermal rise, so it was not necessary to indicate some type of antipyretic, he generally complained about his itching. The recommendations were to take showers of warm water, of short duration, in this way superinfection in small eruptions is avoided, Acyclovir can be administered in ointment, in this way the healing of the blisters is accelerated.
Espero que les haya gustado mi post, si tienen alguna duda pueden preguntarme, estoy aquí para ayudarlos, me pueden apoyar con su Upvote y su comentario.
I hope you liked my post, if you have any questions you can ask me, I am here to help you, you can support me with your Upvote and your comment.