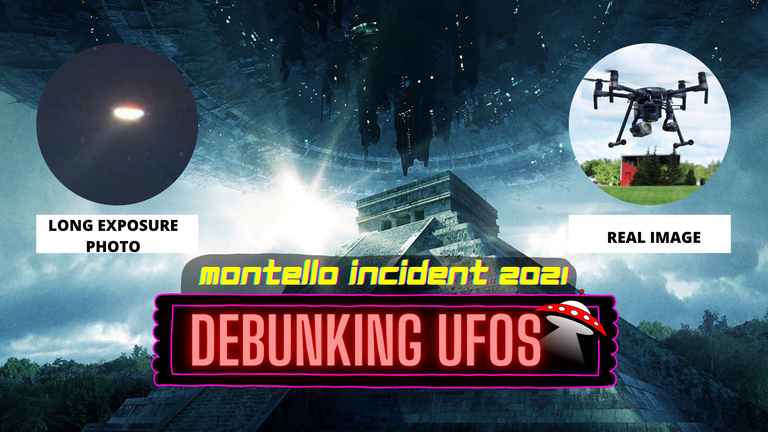 This incident was NOT debunked previously, this is my original review, but there were some people suggesting that it could be a police chopper. If you have ever done long-exposure photography, you know that this is more than a possible visual result.
---
I also believe this is genuine confusion, not a preplanned well-packaged lie.
I know some people really believe in aliens - personally, I am very sure we are not alone - but the people really should not assign a UFO label to a police search drone like a guy from Montello before checking up all the other options.
Even if it looks like something unusual.
I know it is weird, but those really look like that. They are also dangerous to flying at night as they can accidentally collide with passenger planes and/or cause other damage and even human casualties.
Based on a model this is a police drone and it flies low above rural areas possibly during routine night surveillance.
And they actually have one there, and it looks near identical to one on an image. A huge torch pointed light and a swarm of red blinkers on top. Other smaller models are different, but this one is well equipped and it does look like a thing from another planet.
They can fly extremely fast and low, an engine produces a sound similar to a mix of a chopper and a big fat mosquito.
And in many cases, they are rather silent ( that's the point as they are used for surveillance) and can swiftly change angles and path of flying because of their much smaller size than regular flying machines.
There is even a YouTube video taken by the drone in Montello a few months after that event, and a person who uploaded it or somebody associated works for the police department.
I believe he saw that one above his house because absolutely all features fit and even a bit of a long exposure camera can produce a distorted image. But, essentially that is it, and even the landing sleds are visible.
So before assuming it is a UFO, try to identify what could it be and thoroughly check all possibilities. Also, imagination is not a reason to have a complete nervous breakdown. We can be obliterated by far bigger forces from space but an alien invasion.
At least this is a product of confusion and it is fine. There are other more malignant individuals and they scene the entire thing with an objective. Infamous thermal, blur, and composite videos are all over the internet and many of them are not just factually wrong, misleading, and delusional ... but also made with an intent to profit either off the platform or in some other way.
Videos of such a nature should be demonetized. It is another thing to publish, and completely another thing to profit off a lie. Or at least mark it as a speculation, fiction, a parody.
---
RESOURCE BOX
The cover image and posters are made by Canva.

List of free image materials:
---



🔽🔽🔽🔽🔽🔽🔽





𝓒𝓸𝓷𝓽𝓮𝓷𝓽 𝓬𝓻𝓮𝓪𝓽𝓸𝓻, 𝓽𝓮𝓬𝓱𝔂, 𝓶𝓲𝓷𝓲 𝓾𝓹𝓿𝓸𝓽𝓮 𝓽𝓻𝓪𝓲𝓵, 𝓱𝓾𝓶𝓪𝓷 𝓪𝓻𝓬𝓱𝓲𝓿𝓮

ᖴᖇEEᗪOᗰ, ᔕEᑕᑌᖇITY, ᑭᖇIᐯᗩᑕY, ᑕᖇYᑭTOᑕᑌᖇᖇEᑎᑕY, ᗪEᑕEᑎTᖇᗩᒪIᘔᗩTIOᑎ





🔽🔽🔽🔽🔽🔽🔽




🔽🔽🔽🔽🔽🔽🔽

🔽🔽🔽🔽🔽🔽🔽