No News is Good News - Not So Much

Critical thinking skills are... critical. It is necessary to separate the kernels of fact from the chaff of BS in order to understand reality; to fear actual danger so that steps can be taken to mitigate it, and to not waste time and effort when real danger exists.
There's a lot of BS contaminating useful information, and not a little of it is deliberate disinformation intended to make people easier to control by overlords seeking to profit. Flat Earth, No Planes Hit the Towers, Da Jooz, on and on. When people don't understand facts, people that do can profitably mislead them.
Current technocratic tactics are to blow smoke up our skirts to keep us uninformed, but what happens when factual information isn't strongly reported is that rumors replace it. It's a failed strategy. Censorship does not prevent BS. It forces BS to replace factual information, to fill the void censorship leaves in it's wake.
It's like a power vacuum in politics. If the current ruling junta collapses, another quickly seizes power. Absent factual reporting, bullshit replaces the truth. Mark Twain rightly observed that if you don't read the papers you're uninformed, but if you read the papers you're misinformed. The enemedia don't tell the truth.
China is the poster child for this problem, and the Kung Flu is the perfect storm revealing this mechanism. The WHO praised China for properly acting to respond to the pathogen, seeking to prevent irrational panic in a public suspecting China has failed to do so and that the epidemic will therefore get worse.
In fact, China has utterly failed to do the right thing to contain and prevent epidemic at almost every possible opportunity, and the WHO lying about it only exacerbates the problem of disinformation spreading - along with disease.
China initially falsely denied 'rumors' of a new virus causing disease, notoriously arresting Li Wenliang, a doctor that first revealed the pathogen and problem, and denying what he reported. Today Dr. Wenliang is dead, and China has 400 million people under quarantine.
People in China are taking video of what is actually happening and proving that the official propaganda issued by China is false.
This forces rational people to utterly disregard official Chinese statements. It is unreasonable to believe a source that has been proven to lie, and since the penalty for failing to understand the facts about an epidemic disease is potential death, nothing more strongly encourages people to accept propaganda than to believe whatever counters it, because dying is the ultimate discouragement.
Technocrats, by issuing false statements claiming to intend to calm people by withholding frightening facts, are actually forcing people to believe raving lunatics that rightly point out false official propaganda (not posting examples of raving lunatics).
"Speaking at a press conference in Beijing, Wang Guoqiang, an infectious disease expert at Peking University No 1 Hospital, said that preliminary data about people who had recovered after being infected was promising.
Based on a small sample of discharged patients from Wuhan, the city at the centre of the outbreak, Wang said that about 6 per cent had recovered after being in a serious condition, while less than one per cent had recovered after being classed as in critical condition."
But official numbers regarding how many people become pneumonic and seriously or critically ill reveal this graph.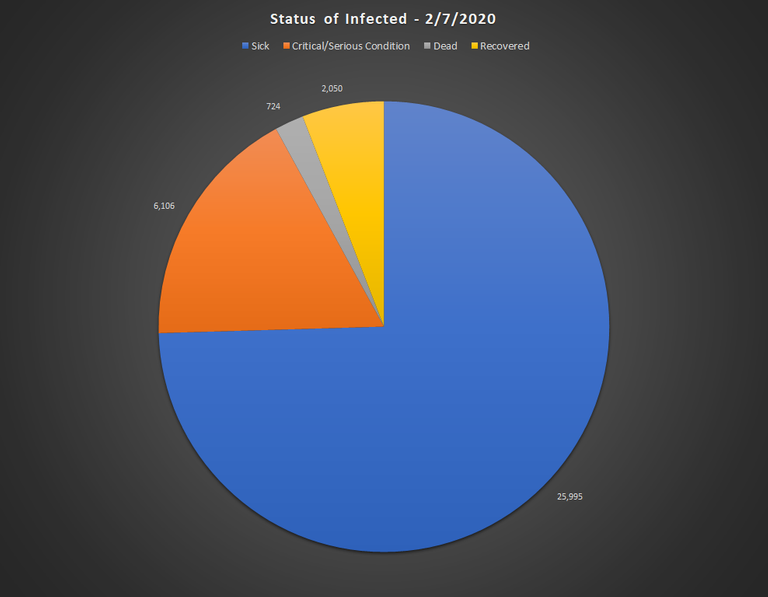 IMG source - /pol/ *the provenance of data for this graph is unknown, and it is provided merely to illustrate the problem visually
It is impossible to believe the current official mortality rate is ~2% when the above statements are completely contradictory mathematically (if a maximum of 6% of 6106 seriously ill recover, then 94% of them do not. That's a lot more than 724 dead.)
It is open information sharing, no matter how dire the facts are, that enables rational response to crises. False narratives only serve to bolster even worse rumors and crazy talk that actually fosters panic and makes crises worse. The WHO and enemedia have fallen into this trap, and either need to immediately reverse that policy or continue to cause the very problem they claim they want to avoid.
Censorship and propaganda are causing raving lunatics to be more believable than official sources. People know they need to take action to secure their health during epidemics. If the official sources are obviously lying, they need to get information elsewhere. If another source that agrees the official source is lying tells them anything, ordinary people are then biased to believe that source, since they already agree that official propaganda is false.
The official numbers coming from China are provably false. China simply has no ability to provide good numbers, so people that know that know the numbers China is providing are false. If China honestly stated 'this is the best information we can provide, but it isn't accurate' reasonable people would know that was true. Instead the WHO and China are claiming the BS numbers are factual, and reasonable people know they are lying, forcing them to dismiss everything else the WHO and China say.
That's the fallout from disinformation and propaganda, and I'm stunned that the WHO and China apparently fail to understand this dynamic.
I will make every effort to find factual information and report it so that reasonable people can take necessary action to secure their health. I will make mistakes (and have already) doing that - but as soon as it is made known to me that I have, I immediately acknowledge that mistake and correct it, as I have done in previous posts. It is impossible to be perfect, and reasonable people understand that fact. The right thing to do to maintain credibility is to immediately acknowledge mistakes and correct them, not to continue to pretend to infallibility, which no one rational believes.
To be perfectly clear, that is the scientific method. Scientists gather data from experiments and then propose theories to explain the data. They then conduct new experiments to test the new theory. Experiments can prove the theory false, which then enables them to think of new theories and discard false ones. As time goes on, experiments test ever more subtle aspects of theories, and disprove them, enabling scientific understanding to become ever more subtly correct.
In physics, Newton's theory of gravity was very successful at not being proven false for centuries, and enabled a great deal of progress to be based on that understanding. Only at the dawn of the 20th Century did experiments prove it was subtly wrong, and relativity resolve those errors. While the calculations used by astronomers were only subtly different (but much more complex), and Newtonian physics is accurate enough for rocketry today and much easier to use, the underlying understanding of how the universe actually works is radically different.
Flaws in relativity have been shown, and various theories now are seeking to replace it with a theory that doesn't have those flaws. Experiments are ongoing, and hopefully our understanding of reality will improve when one of the theories isn't proved false by experiment. Good scientists aren't insisting Newton, or Einstein, is still right. They correctly state that we are trying to understand the actual facts, and relativity is still the closest we can get.
That's all science can do: prove things false. That's what ordinary people do when they try to understand events and plan accordingly. When China and the WHO are proved false, people discard the theory they are factually correct, and seek other theories, other sources of information. Fear of existential harm drives them to accept even crazy theories that haven't yet been proven wrong as far as they know, and this causes them to do things that are actually counterproductive and harmful, like steal paper masks from health clinics.
Most of the crazy bullshit out there is able to be proven false, but that requires a solid foundation of principles that public education doesn't provide, and most people don't have. This is because public education is actually indoctrination to produce profitable subjects for overlords to rule, not successful people living in prosperity themselves. The problem of disinformation just feeds the problem, and it starts snowballing from the first exposure people have to it.
People can unlearn false beliefs, and become more rational, but it's hard to do because we have social dependence on other people that is based on our shared beliefs, and that is a more powerful force than even cognitive dissonance itself. We are a social species, and need shared beliefs to make society function. The problem most of us face is that we've been lied to from birth in order to profit overlords, as have our parents and their parents before them, making it almost impossible to even contemplate breaking free of the propaganda and disinformation that underlies our social bonds.
In ordinary times, the subtle differences between the lies we have been taught and believe and actual facts don't matter enough for us to undertake that struggle and social upheaval. Today, however, epidemic is ravaging China, and threatening pandemic. Faced with dying from fake news, or radically undertaking to understand facts while inadequately educated to do that by their indoctrinations, people have no choice but to discard the lies they know are lies, and have only a shared opposition to those known lies to form their judgments on.
Sadly, many people end up believing worse lies than the official lies, because they don't have the tools to sort lies from the truth.
There is a solution to the problem that reasonable people can successfully undertake to get a factual understanding, and that is to use the scientific method to base their decisions on. Establish the principle that only what has not been proved false can be true, and accept that whenever something is proved false, it is necessary to discard it.
With that basis for discarding false information, then consider the information provided. A lot of information is complex, and requires education to understand. It then is necessary to get that education, or accept the opinions of others who have it regarding what it means. If someone is proved to be factually incorrect, but does not correct their opinion, it is necessary to discard that person as a source. If they correct their opinion when confronted with being incorrect, they show exactly the scientific method of determining facts from falsehoods, and they remain a potentially trustworthy source.
They are only potentially trustworthy, and it is certain that no one is always right, or is right about everything. Everyone has specific competence and broad incompetence. That is the human condition. If someone says '1+1=2' and 'the sky is never blue', you can separate their competence in math from their competence in seeing colors accordingly. But if they later say '2+2=5' it is necessary to discard them as a source of factual information about math. They've proven their incompetence in that information.
If they later say 'Oops! I thought 2+2=5, but have learned that 2+2=4.', you can then once again provisionally accept their mathematical opinions, since they have proved they are willing to correct their mistakes, which is all anyone can do.
Science. Use it and become unable to be fooled. People are trying to fool you, and if they do, you might be harmed badly. Make sure you protect yourself, because I and my sons need a strong healthy world to thrive in.
I'm counting on you.

---
---