Today major source of renewable energy is the solar energy. But solar power device can generate electricity only during daytime at presence of Sun.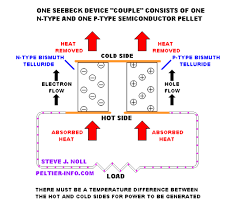 Image Credit : http://eprints.utem.edu.my/17874/1/1287-3568-1-SM.pdf
Can we imagine that any device can generate electricity during night time?
Yes it is possible now as scientists from Stanford University developed a device which can generate power in night time with the help of radiative cooling nature of atmosphere.
They developed a thermoelectric generator which generate electricity at night by Seebeck Effect(https://en.m.wikipedia.org/wiki/Seebeck_effect).
All we know that all materials released heat by thermal radiation into space and reaching a cooler temperatures than the surrounding air. Scientists used this temperature difference to produce electricity through thermoelectric effect.
They used a Aluminum disk covered with polystyrene enclosure to reduce thermal radiation and also protected by infrared transparent wind cover.
They placed the device on a top of a table one meter above roof . The device absorbed heat from surrounding air and release heat into the sky through radiation by a black emitter.
The thermoelectric device uses a voltage boost converter. When thermoelectric module connected with a LED light it will glow. The device generate electricity 25 MilliWatts of power per square meter surface area.
This is very simple device and very cheap but efficiency is very low now. But scientist trying improve its efficiency by reducing heat gain of the material and using better thermoelectric material Scientists also trying so that the device can be used in hotter and dry climate.
If the device is working effectively 20 times more than today it can be working all over world and producing cheap electricity at night.
Source : https://scitechdaily.com/transformative-device-generates-energy-from-the-cold-night-sky-when-solar-doesnt-work/amp/