The social and economic impact of technology is widespread and accelerating. The speed and volume of information have increased exponentially. Experts are predicting that 90% of the entire population will be connected to the internet within 10 years. With the internet of things, the digital and physical worlds will soon be merged. These changes herald exciting possibilities. But they also create uncertainty.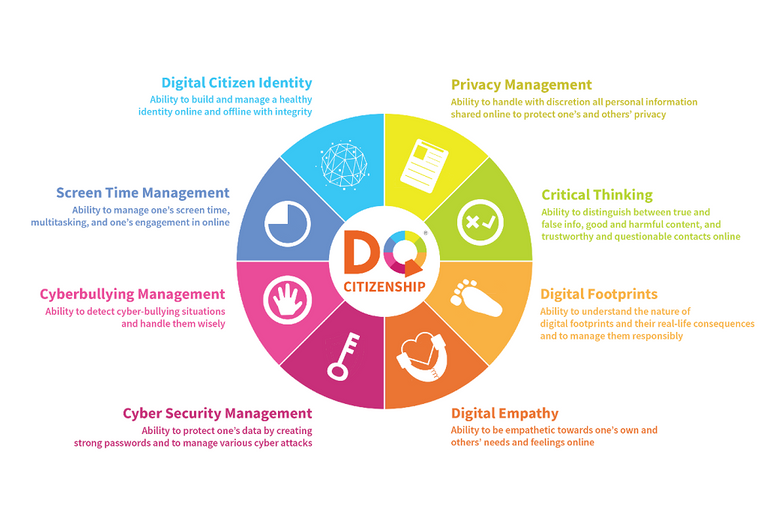 So, how can we prepare ourselves and our children for the digital age? Without a doubt, it is very important to be equipped with digital intelligence.
Digital intelligence or "DQ" is the set of social, emotional and cognitive abilities that enable individuals to face the challenges and adapt to the demands of digital life. These abilities can broadly be broken down into eight interconnected areas:
Digital identity: The ability to create and manage one's online identity and reputation. This includes an awareness of one's online persona and management of the short-term and long-term impact of one's online presence.
Digital use: The ability to use digital devices and media, including the mastery of control in order to achieve a healthy balance between life online and offline.
Digital safety: The ability to manage risks online (e.g. cyberbullying, grooming, radicalization) as well as problematic content (e.g. violence and obscenity), and to avoid and limit these risks.
Digital security: The ability to detect cyber threats (e.g. hacking, scams, malware), to understand best practices and to use suitable security tools for data protection.
Digital emotional intelligence: The ability to be empathetic and build good relationships with others online.
Digital communication: The ability to communicate and collaborate with others using digital technologies and media.
Digital literacy: The ability to find, evaluate, utilize, share and create content as well as competency in computational thinking.
Digital rights: The ability to understand and uphold personal and legal rights, including the rights to privacy, intellectual property, freedom of speech and protection from hate speech.
Above all, the acquisition of these abilities should be rooted in desirable human values such as respect, empathy and prudence. These values facilitate the wise and responsible use of technology – an attribute which will mark the future leaders of tomorrow. Indeed, cultivating digital intelligence grounded in human values is essential for our kids to become masters of technology instead of being mastered by it.
Like IQ or EQ – which we use to measure someone's general and emotional intelligence – an individual's facility and command of digital media is a competence that can be measured. We call it DQ: digital intelligence. And the good news is that DQ is an intelligence that is highly adaptive.
DQ can broadly be broken down into three levels:
Level 1: Digital citizenship- the ability to use digital technology and media in safe, responsible and effective ways.
Level 2: Digital creativity- the ability to become a part of the digital ecosystem by co-creating new content and turning ideas into reality by using digital tools.
Level 3: Digital entrepreneurship- the ability to use digital media and technologies to solve global challenges or to create new opportunities.
The digital skills we all should learn as a part of digital citizenship:
Digital citizen identity: the ability to build and manage a healthy identity online and offline with integrity.
Screen time management: the ability to manage one's screen time, multitasking, and one's engagement in online games and social media with self-control.
Cyberbullying management: the ability to detect situations of cyberbullying and handle them wisely.
Cybersecurity management: the ability to protect one's data by creating strong passwords and to manage various cyberattacks.
Privacy management: the ability to handle with discretion all personal information shared online to protect one's and others' privacy.
Critical thinking: the ability to distinguish between true and false information, good and harmful content, and trustworthy and questionable contacts online.
Digital footprints: The ability to understand the nature of digital footprints and their real-life consequences and to manage them responsibly.
Digital empathy: the ability to show empathy towards one's own and others' needs and feelings online.
Source: https://www.weforum.org/agenda/2016/09/8-digital-life-skills-all-children-need-and-a-plan-for-teaching-them?fbclid=IwAR3QoQwfpeYr_KzTAlaEpjHH8zE_N8pWq_b7oweG7hJQ1n3UzVsLvo8aKXI