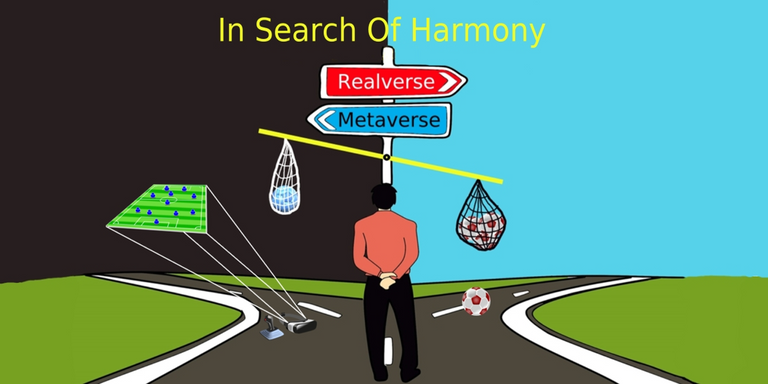 (The image was composed by me with the help of images from Pixabay)
Hi.
I'd like to ask to help me with understanding of the impact Metaverse / Virtual Reality / Augmented Reality might have on human brain, behavior, consciousness, and human values on different levels:
biochemical / molecular
physiological
psychological
ecological
I shared some thoughts on this in my article
https://hackernoon.com/metaverse-realverse-in-search-of-harmony
(Metaverse + Realverse: In Search Of Harmony)
You can use it as a starting point / inspiration,
especially
"Biochemical foundation. Addiction",
"Degradation of society and human consciousness",
"Cognitive biases",
and
"Neurophysiological foundation. Brain"
sections, but I would like to have more information, especially supported by scientific research.
I believe that Metaverse is not the environment that our brain was designed for and that there were not enough appropriate research done yet to introduce Metaverse / VR / AR into our life without any harmful consequences.
How will Metaverse impact humanity?
Is Metaverse the future our brains were designed for that will help us to develop our inner world, human values and help our brain to reach its full potential?
Or, could Metaverse turn us into slaves of our technologies constantly searching for pleasure who are incapable of setting and achieving long-term goals and moving our civilization into a bright future?

You can share your thoughts / ideas in the comments section below or you can make your own post
on the topic (in this case you will need to share the link to you post in the comments section under this post) in a free format. I believe that it is not the number of words that should count, but the number of cool ideas you share.
You can consider this post / topic as an inspiration for your next post, bounty pool is just a bonus to people for their efforts.
I wouldn't want to judge people, so the bounty pool will be distributed equally among all participants (who shared their thoughts/ideas on topic) in 7-8 days.
You can also reblog this post and share my tweet on twitter about this bounty if you want, but it is not mandatory.

Also, as a bonus, I would like to share some helpful free resources with you:
Dr. Robert Morse is one of the gratest souls I have ever met.
(What Does it Take to Really Heal the Body? | Dr Robert Morse N.D)
I think that it is very important in today's world to become self-sufficient as soon as possible.
https://selfsufficientprojects.com/
and a free audio-book that
teaches practical principles for multi-layered (redundant) survival and preparedness strategies that work on high-tech, low-tech and NO-tech scenarios.
https://report.resilientprepping.com/resilientprepping.html
Feel free to share similar resources with me, if you want. I would be grateful for that.