A robotic fish that can swim continuously for 36 hours; An "Office" key may be coming to keyboards near you; Scientific research shouldn't be hidden behind paywalls; Intelligence beyond the brain and body; Boaty McBoatface's first scientific discovery...
---
Links and micro-summaries from my 1000+ daily headlines. I filter them so you don't have to.
---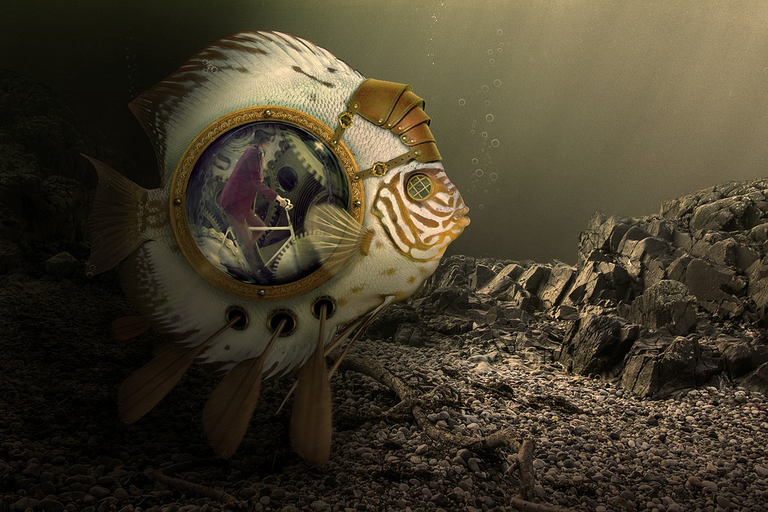 pixabay license: source.
Robot Fish Powered by Synthetic Blood Just Keeps Swimming - Researchers from Cornell and the University of Pennsylvania published a paper in Nature describing their robotic fish. The robot uses synthetic blood that doubles as hydraulic fluid and an artificial circulatory system to continue swimming (slowly) for up to 36 hours. At 322 watt-hours per liter, the fluid has about half the capacity of Tesla's 676 watt-hours per liter lithium ion batteries. Although the batteries provide more energy, they require motors to operate, the hydraulic mechanism from the fluid pumping through the robotic fish makes this form of motion more efficient. The "bottom line" is that, "combining actuation, force transmission, and energy storage has significant advantages for this particular robot."

Here is a video:
---
In order to help make Steem the go to place for timely information on diverse topics, I invite you to discuss any of these links in the comments and/or your own response post.
For example, feel free to comment on any or all of these discussion topics:
---
Can you think of any practical future uses for an automaton that is modeled after the robotic fish?


What do you think of the proposal to replace the right-hand Windows key with an Office key that would give you more keyboard shortcuts inside Microsoft's Office applications?


Do you agree with Schekman that taxpayers should be able to access the research that is funded with their tax dollars? How about the stronger argument that the for-profit model is inappropriate for scientific publications?


What are your thoughts on the Jones argument that the concept of mind extends beyond the brain, and maybe even beyond the body?


---
About this series

---

Note: Sharing a link does not imply endorsement or agreement, and I receive no incentives for sharing from any of the content producers.
Follow on steem: @remlaps-lite, @remlaps
If you are not on Steem yet, you can follow through RSS: remlaps-lite, remlaps.

---
Thanks to SteemRSS from philipkoon, doriitamar, and torrey.blog for the Steem RSS feeds!