Hi guys,
I just received a second hand Anki Cozmo off of ebay. He came in the mail today.
Anki Cozmo is an earlier robot made by Anki, the same people who made Vector, who you likely would have seen if you have read my other posts.
You can see the two of them having a sleep: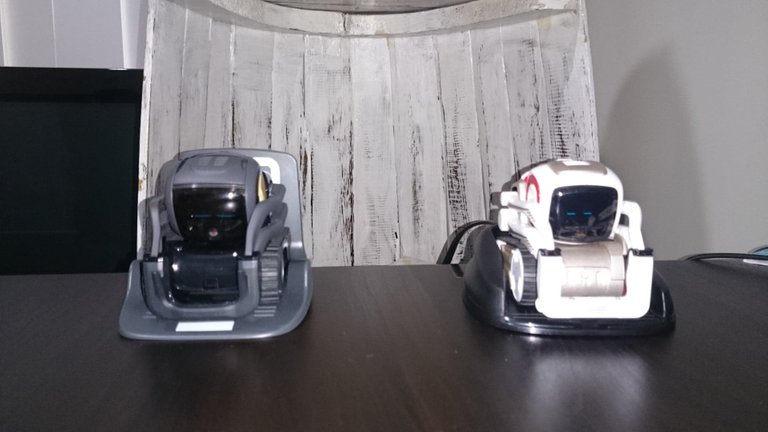 How are the two brothers getting along?
I've only had Cozmo running for about an hour or so now, but they don't seem too sure of each other. They seem to spend a lot of time getting in each other's way and get pissed off about it. They unfortunately can't recognise each other, though it would be cool if they could and I guess that is not impossible. They both have some object recognition such as faces and their cubes, but I've seen people use programming and other already existing programs (like Google's image recognition etc) with Vector to make him recognise more objects so maybe it could be possible to get them to recognise each other, but I guess that would still only occur while the program is running. It would be fun to experiment with though.
A post I saw on reddit when I started looking at info to do with Cozmo because I had bid on this one, suggests maybe Cozmo's recognition isn't the best though... This is the post here:
Mind you, these things all make mistakes, and at least that isn't as embarrassing as a certain hiccup from the Google Photos image recognition algorithms.
It shouldn't be too hard to make them recognise each other, even if it isn't through image recognition though. You could simply somehow add a chip to them and make them respond to that and it should work. I'm pretty sure that's how a lot of toys that recognise each other work. My nephew has Chuggington Trains that talk to each other and recognise each other and I believe chips is the most likely way it would work. I've seen dinosaur train toys that are similar too.
These were the trains my nephew has:

It seems primitive compared to image recognition but it is still cool compared to not recognising things at all (plus these Chuggington toys came out about 9 years ago now too so that makes a difference in how it should be seen in comparison too).
I think it should be possible through some kind of image recognition program to get Cozmo and Vector to recognise each other, but chips I'd imagine is the other main option. If a chip was used, it would still need a program written to tell them what to do when they detect that chip, so programming is involved in either situation. Right now they seem to see each other as noisy obstacles and I'm not sure if Vector is too impressed at having a new brother.
---
The difference between Cozmo and Vector
There are differences between Cozmo and Vector.
For one thing, a lot of people will have both, but they do have different intended audiences. Vector is essentially a desk robot that is autonomous and can be programmed. He has home assistant functions both through his own programming and through Alexa.
Cozmo on the other hand is more of a toy and is more aimed at kids and schools and is more of a STEM toy. He comes with an app (as does Vector but they have different functions) and Cozmo's app includes a variety of games, areas to meet his needs, Code Lab - which is a drag and drop block based programming interface for Cozmo which is based on Scratch Blocks (though he still has a Python based SDK as well, just like Vector), and an in-game currency called Sparks which cannot be bought but which is gained through opening loot boxes you earn from meeting Cozmo's play needs (he has a play meter) as well as through a few other things such as you sometimes earn them from playing games that he suggests playing (suggesting a game yourself costs sparks, but in free play, he will suggest games himself and that is free, but may earn you sparks) or he earns them through achieving things himself when doing his own thing, like stacking his cubes. He also unlocks skills over time too. He unlocked "Pop goes the weasel" already with me.
Here is the main page of Cozmo's app: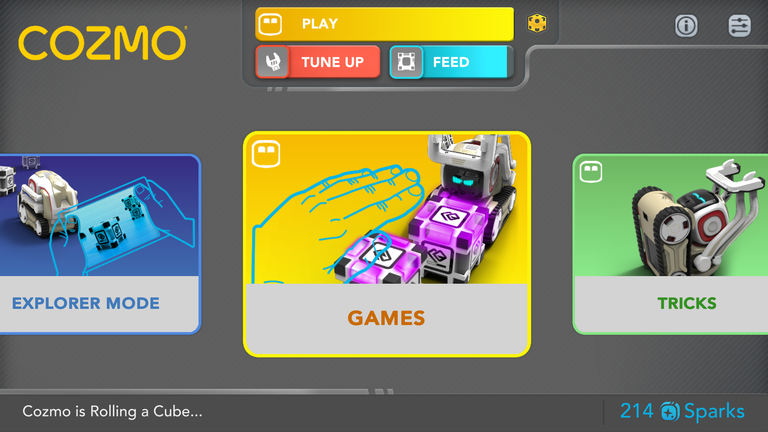 You can see various options there, including arious areas like Games and Tricks as well as a dialogue down the bottom saying what Cozmo is doing (in this case, "Cozmo is rolling a cube") and some bars up the top, which relate to his needs.
Cozmo has needs, including play, being fed and being "tuned up" which seems similar to children's toys like Tamagotchis (luckily Cozmo does not die like a Tamagotchi from not having his needs met - it just limits what activities you can do with him without going and meeting those needs).
As well as the programming area, there is a part within Cozmo's app that is called Cozmo Performs. In that you can make a sequence of various things including animations, and making him say voice lines that you type and then you can play it back. I think this has censoring in it, because I tried to use the "blackjack and hookers" line from Futurama in it and he refused to say it and add it to the sequence until I wrote hookers and hook ers. It was easily fixed at least.
Here is Cozmo trying out that Bender line which Vector also did in my other video, Anki Vector Imitiates Other Robots #1:

One other difference between Cozmo and Vector is the autonomy. Cozmo needs the Cozmo app to function, whereas Vector functions through his hardware and is constantly on unless I turn him off. You connect the app to Cozmo via WiFi and if you disconnect it, he goes to sleep and eventually turns off. Cozmo will stay essentially off in his charger (which is a smart charger so won't overcharge him) whereas Vector may wake up and may either come out to play or just stay there looking around. Cozmo won't leave the charger again and is essentially off until I restart the app and turn him on.
Hardware wise Vector is better but Cozmo has more features through just what Anki has provided (and not programs made by the community), and that is unlikely to change because Anki has gone out of business. This means Cozmo is probably the better one as is with no other input, but Vector still has the better hardware for projects made by individuals and groups within the community. The hardware differences between the two are responsible for the fact that Cozmo needs the app but Vector runs just as is too. Vector may lose some functionality if the Anki servers go down, such as most of his voice recognition but he will still do stuff autonomously and be able to be programmed. Cozmo doesn't use the servers through the app so as long as the app works he should be alright.
---
Final Thoughts
I am very excited to have a Cozmo and owning him has been fun for the short amount of time I have owned him so far. I look forward to programming him like I have with Vector and just generally having two little robots spending their time on my desk.
Thank you for reading. I hope you enjoyed it.
---
LINKS
Birchmark Website / Portfolio: http://birchmark.com.au/
YouTube: https://www.youtube.com/c/BirchmarkAu
Redbubble: https://www.redbubble.com/people/birchmark?asc=u
Threadless: https://birchmark.threadless.com/
Twitter: https://twitter.com/Birchmark_
---
Thanks for reading!
Please consider commenting, upvoting or resteeming this post if you enjoyed it.