Hive Revolution - Call for missions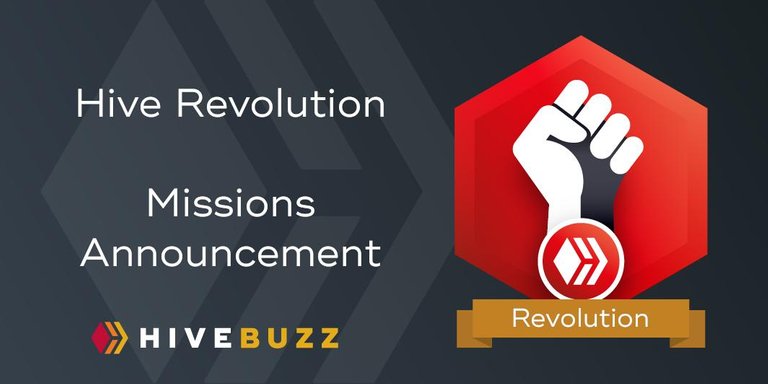 Sow seed—but let no tyrant reap
Find wealth—let no imposter heap
Weave robes—let not the idle wear
Forge arms—in your defence to bear
Percy Bysshe Shelley, "The Masque of Anarchy"

Dieser Beitrag ist ins Deutsche übersetzt: hier


Este post está traducido al español - aquí
The Hive is buzzing... The Revolution is growing
On May 1st, we launched our call to join the Hive Revolution by asking you to turn your back on Steem where unfortunately centralization, censorship, power abuse and bribes from Steemit, Inc have become the norm.
Many of you have already answered the call by replacing your avatar with the logo of the revolution and by stopping to post on Steem.
On this subject, we invite you to read the very inspiring post from @cranium which shows that making the choice to join a revolution can sometimes be complex. Kudos @cranium for the choice you made!
Badge distribution started
Now that several days have passed, we have been able to check your commitment to the stop posting on Steem and finally assign you your revolutionary badge.
They are already a good hundred to have received it.
But it does not stop there, the revolution continues and for those who have already brilliantly passed this first symbolic test, we will now offer you a series of missions to perform which will allow you to "move up rank" and maybe build up some small campaign loot.
The Missions badges

In the coming days, we will assign you 5 missions that you will have to complete. To move up rank, you will have to remember the following rules:
The missions will only be accessible to people who are already part of our movement and who have received their revolutionary badge.
Unless otherwise stated, missions can be completed in any order.
Unless otherwise stated, missions have no time limit to be accomplished.
The more missions you successfully complete, the more stars you will have on your badge.
---
Note: If you are not yet part of the Revolution, it is still possible to join us. Read this post to learn how.
---
What's next?
Follow us to not miss the upcoming announcement of the first mission and invite your friends to join us.
Revolution! Revolution!
---
Support for the Revolution campaign will be provided on a dedicated channel on Discord.
Give us more power to share: Vote for us as a witness!

HiveBuzz is a project created by @arcange
---
---