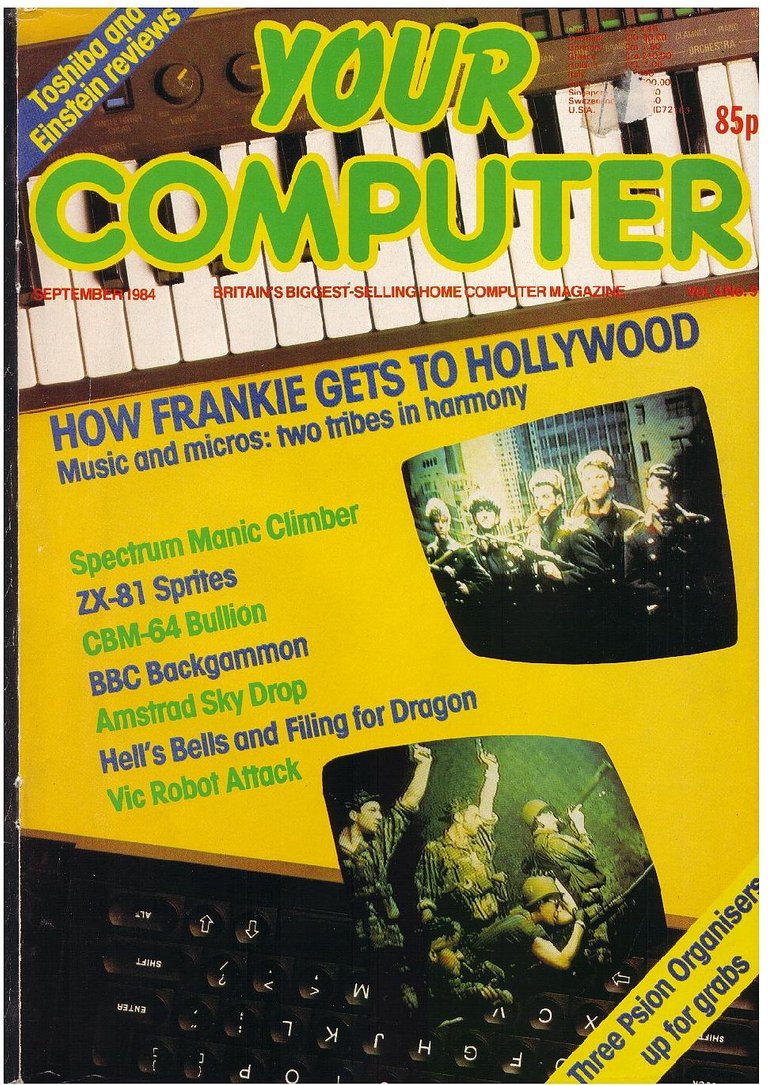 Your Computer was the UK's biggest selling computer magazine of the 1980s. It covered all of the popular (and some not so popular) computers of the time. The September 1984 issue includes:
Editorial and Your Letters - The man who got his money back from Oric, the man who urges us to go easy on the QL and tips.
News - Stranglers' adventure game album, Sega SC3000 computer, the search for the Enterprise and cricket for Iceland.
VIC-20 Bytes - The art of structured programming: micro intelligence.
Computer Club - To be or not to be? Paul Bond in Stratford-on-Avon.
Quest Corner - Regular feature on adventure games.
Toshiba HX-10 Review - The tip of the MSX iceberg.
Competition Corner - Your chance to get organised. This month's exciting conundrum could win you the new box of tricks from Psion.
Tatung Einstein Review - Built-in disc drive, alleged CP/M compatibility, OK memory. Bill Bennet decides if this machine is relatively good.
Psion Organizer - Kathleen Peel tries Psion's first hardware.
BBC Software - Jim Taylor turns on and tunes in.
Electronic Music and Home Computers - At last a concise explanation of the basics of music synthesis. Kendall Wrightson looks at musical hardware.
BBC Keyboard - You could construct your own keyboard, but you don't have to in order to use this Richard Hines program.
How Frankie Gets to Hollywood - Tribes and chips.
Music Software - Stuart Kelling plays the field.
Musik 64 - Aural sprites? Graham Barbour provides easy to use sound commands for your Commodore 64.
Dragon Disco - Synchronized strobe simulation with Ron Gardler.
Manic Climber - H.C. Derelli drives your Spectrum up the wall.
Mad Jump - Put some bounce back into your Oric or Atmos programming with Matthias Gyllerup's hop-happy game of skill.
ZX-81 Barrel Barrage - Hard task to pass the casks.
VIC-20 Robot Attack - David Hodgetts shows you how to defend.
Hells Bells - If your Dragon's got the hump this will soon put it right. Drew Marshall's program about the dangers of campanology.
Amstrad Skydrop - Sandwiched between the acid clouds and the acid sea, drop bombs without being laser-sliced. And you thought acid rain was bad.
CBM-64 Bullion - Grab the gold, dodge the droids with R Dunk.
Read more: https://www.megalextoria.com/wordpress/index.php/2021/09/01/your-computer-september-1984/