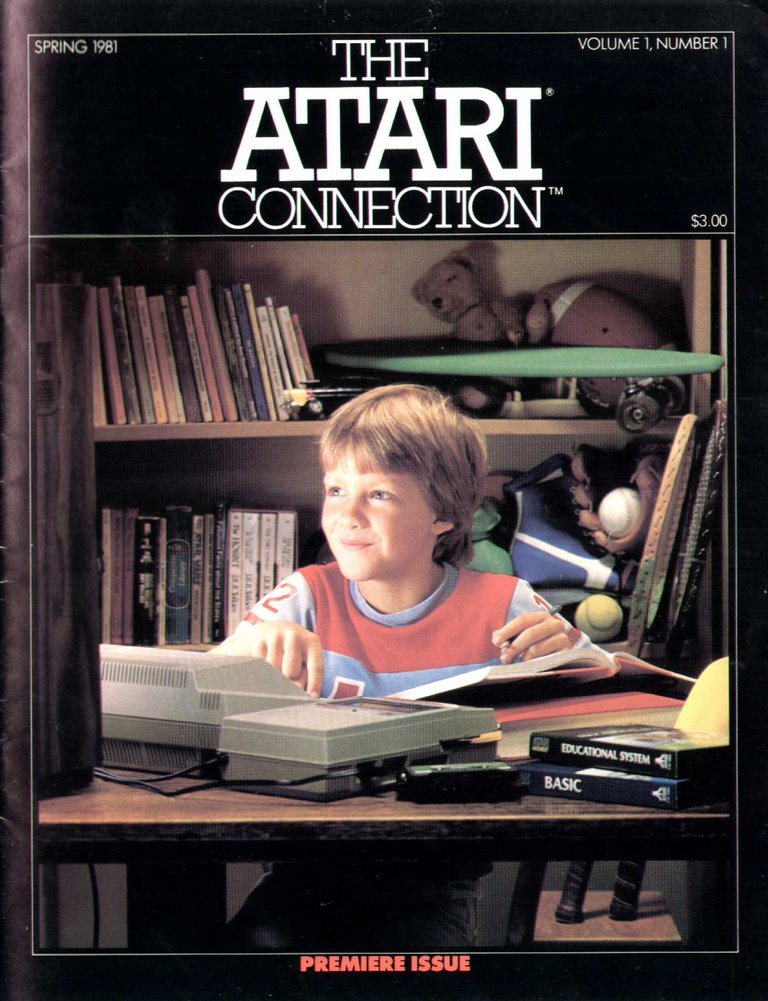 Cover of the Spring 1981 issue of The Atari Connection
The Atari Connection was a magazine/newsletter published by Atari's computer division covering their home computers. It was published quarterly from 1981 through 1984 so it would have primarily covered the Atari 400, Atari 800 as well as the XL series. The premiere issue from Spring 1981 includes:
New Products - Covering new products related to the Atari 400/800. New products covered in this issue include Stock Analysis, a series of three programs for analyzing stocks; Bond Analysis, same thing but only two programs and for Bonds; Stock Charting; Mortgage & Loan Analysis; Atari Mailing List; An Invitation to Programming, the first cassette of a three part series that seems to use a combination of voice and data; Touch Typing, to teach you typing skills; Biorhythm, there were versions of this for every computer; States & Capitals and European Countries & Capitals; Energy Czar, play the role of a U.S. government official managing energy policy; Kingdom, a strategy game in which you run your own Kingdom; Space Invaders; Black Jack; Atari Graph It; Statistics I; Atari Assembler Editor; Atari 822 Thermal Printer; CX70 Light Pen; and the Atari 830 Acoustic Modem (not actually new but there are some new services you can use it with).


Personal Use - A look at some of the things you can do with an Atari 830 Acoustic Modem or TeleLink I cartridge and online services such as CompuServe. Plus, a type-in program that asks you some questions and helps you to estimate your electric bill.


Entertainment - An overview of Player-Missile graphics...basically Atari's implementation of Sprites...including some type in program examples.




Table of Contents from the Spring 1981 issue of The Atari Connection

Kidbits - A look at the personal computer as the next great technological leap forward. Plus, a computer themed crossword puzzle and some simple type-in programs for creating a circle and practicing math.


Business/Professional - Using Atari computers to keep track of inventory and performing accounting functions. Plus, a type-in program for computing the effective interest rate in arrears.


Questions & Answers - Questions answered about Atari's built-in attract mode/screens saver, cleaning disk drive heads, using a monitor instead of a TV, obtaining technical documentation for Atari computers and the OS, and more.


Read more: https://www.megalextoria.com/wordpress/index.php/2022/08/05/atari-connection-spring-1981/