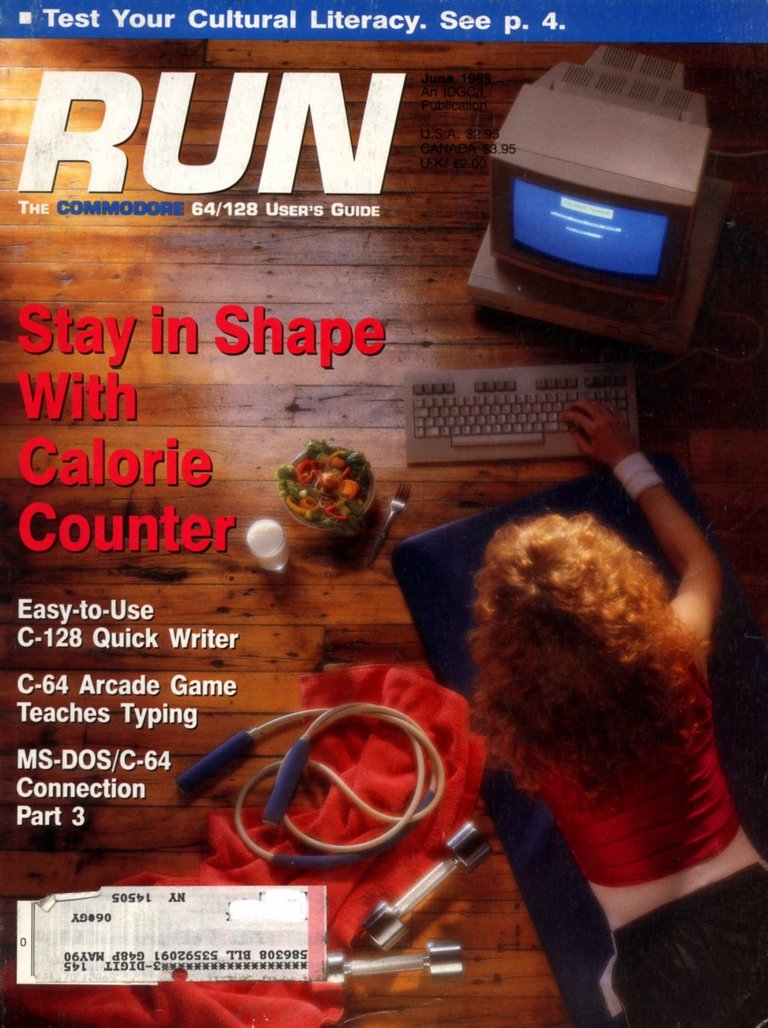 Cover of the June 1989 issue of RUN
RUN was my favorite Commodore 64 specific magazine. Before RUN, I bought Commodore Magazine. However, when Commoodre ceased publication of that magazine, much of the Commodore 64 specific content went to RUN. The June 1989 issue includes:
Features
Calorie Counter - A type-in program designed to help you keep track of the calories you consume.


Type Invaders - A type-in program that teaches typing via a Space Invaders style game.


The MS-DOS/C-64 Connection - The final part in a three part series that provides various methods of working with MS-DOS files and disks. In this part, a type-in program is provided that lets a Commodore 64 read and write DOS formatted disks via a 1581 disk drive (720k 3.5" disks) and a 1571 disk drive (5.25" 360K disks).


Flight of the Condors - A type-in sci-fi themed game in which you must shoot down drones that have run-amok. The game is set in the "future". December 21st, 2021 to be exact.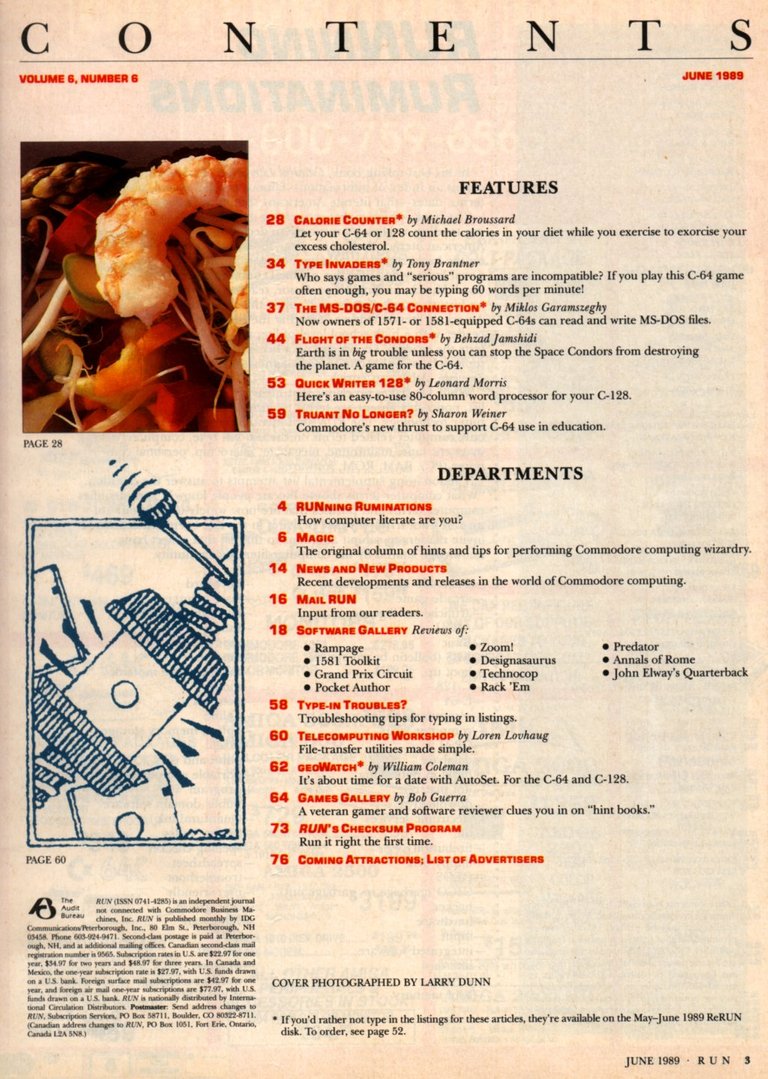 Table of Contents from the June 1989 issue of RUN
Departments
RUNning Ruminations - An editorial on computer literacy.


Magic - Short programs for drawing rectangles, creating custom characters on the Commodore 128, monitoring the power supply, and more.


News and New Products - New games including Savage, Remote Control, Fun House, Muppet Adventure, Hydlide, SimCity, Star Wars, Devon Aire in The Hidden Diamond Caper, Undersea Commando, and Search for the Titanic. Plus, Eight Bells Voayger (navigation software), Word Witer 4 (word processor), GEOS 128 2.0, Story Writer 128, ESP Tester, and more.


Software Gallery

Rampage - Conversion of the arcade game of the same name for the C64.
1581 Toolkit - Various utilities for the 3.5" 1581 disk drive.
Grand Prix Circuit - An excellent racing game for the time and one I spent many hours playing.
Pocket Author - A tool that adds commands to BASIC and can be used to write interactive teaching programs.
Zoom! - An arcade/puzzle game with Pac-Man influences.
Designasaurus - Edutainment software featuring dinosaurs.



Telecomputing Workshop - A look at various file transfer utilities and archivers including Library, ARC, Lynx, self-dissolving Arcs and more.


geoWatch - A look at auto-execute files with a specific example for setting the time and date.


Games Gallery - A look at various hint books and on-line game guides to help you through your gaming struggles.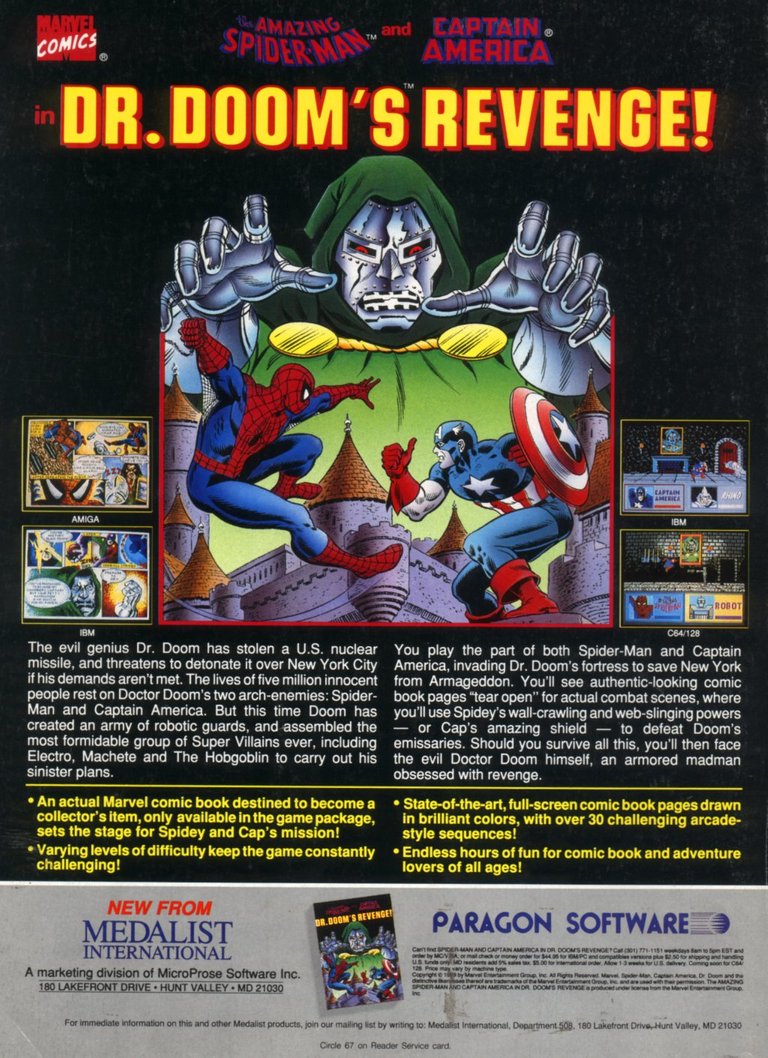 Back cover of the June 1989 issue of RUN
Read more: https://www.megalextoria.com/wordpress/index.php/2018/01/04/run-the-commodore-64128-users-guide-june-1989/
---

Check out my other Social Media haunts (though most content is links to stuff I posted on Hive or reposts of stuff originally posted on Hive):

Wordpress: https://www.megalextoria.com/wordpress
Tumblr: https://www.tumblr.com/blog/darth-azrael
Twitter: https://twitter.com/Darth_Azrael
Blogger: https://megalextoria.blogspot.com/
Odyssee: https://odysee.com/@Megalextoria:b
Rumble: https://rumble.com/c/c-2385054
Daily Motion: https://www.dailymotion.com/Megalextoria
---
Books I am reading or have recently read:
Friends Divided: John Adams and Thomas Jefferson by Gordon S. Wood
The Citadel by Richard A. Knaak
Republic of Thieves by Scott Lynch
---