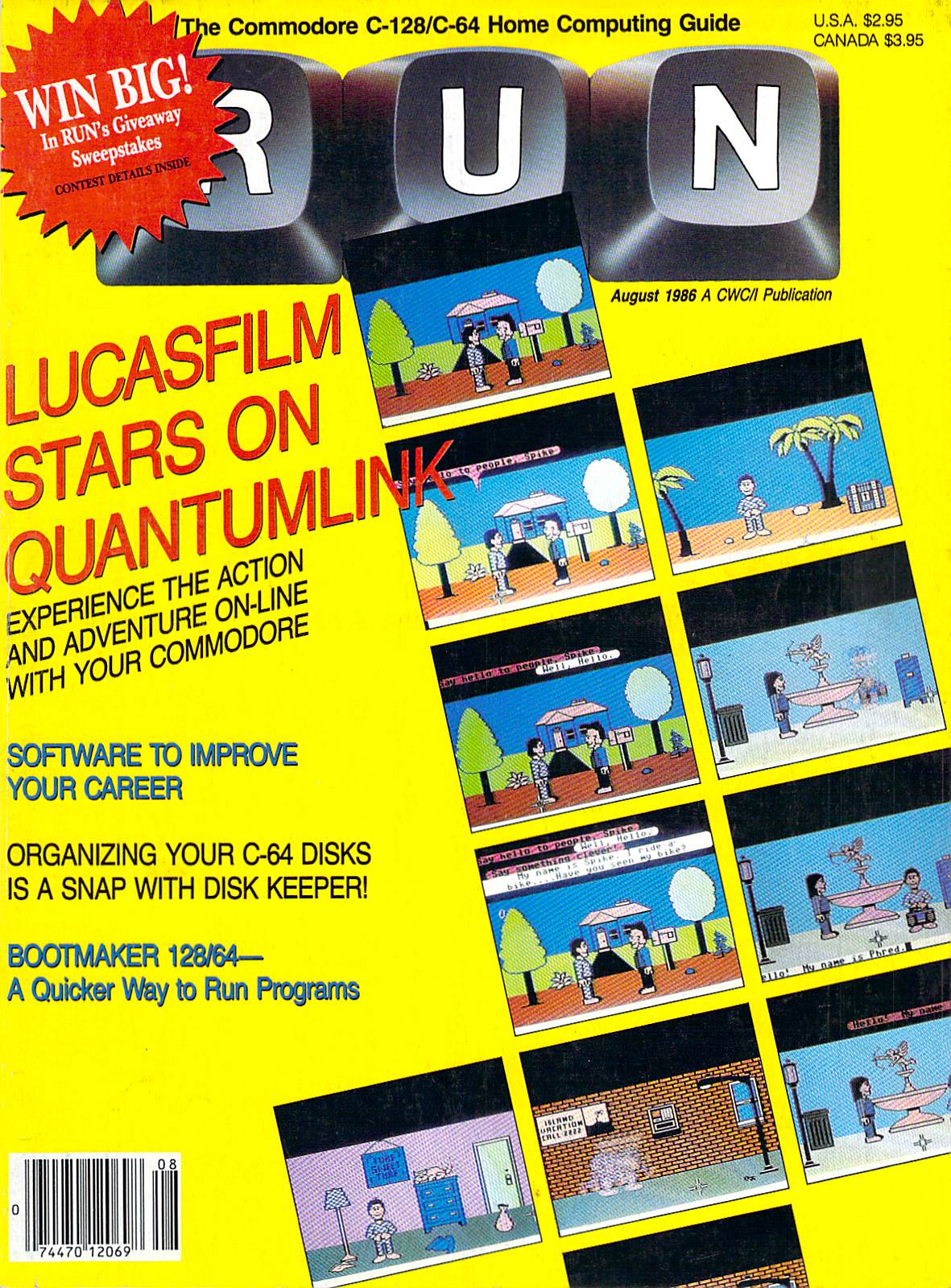 RUN, subtitled "The Commodore C-128/C-64 Home Computing Guide", was one of a few magazines I spent my scarece resources on as a kid. I loved my Commodore 64 and essentially learned BASIC programming with magazines like this and got "free" software via the type-in programs provided. The August 1986 issue includes:
Features
Enter The On-Line World of Lucasfilm - Lucasfilm and QuantumLink have teamed up to bring you a new concept in on-line interactive game-playing.


Disk Keeper - Do all your diskkeeping chores, from formatting to making disk jacket labels, with this one program.


Bootmaker 128/64 - If you like the autoboot capbility of the C-128 in 128 mode, you'll love this program that lets you autoboot in 64 mode, too.
Departments
RUNning Ruminations - Discover ReRUN


Magic - The original column of hints and tips that lets you perform computing wizardry.


Software Gallery

Grover's Animal Adventures
Superscript
Elite and the Silver Disk Series
Leader Board



Second Annual RUNaway Contest - Here's your chance to be a winner in RUN's giveaway sweepstakes worth over $25,000 in prizes. And, just for entering, you'll receive a free QuantumLink terminal program!


Basically Speaking - An exploration of Basic programming fundamentals.


Telecomputing Workshop - Advice and answers to your questions on modems, terminal programs, on-line networks, bulletin boards and more.


Q-Link Happenings - This month we introduce a new feature that keeps you informed about the latest services on QuantumLink.


The Resource Center - Teachers, administrators and students are getting on-line as the nation's schools enter the telecommunications age.


New Products RUNdown


Read more: https://www.megalextoria.com/wordpress/index.php/2021/04/09/run-august-1986/