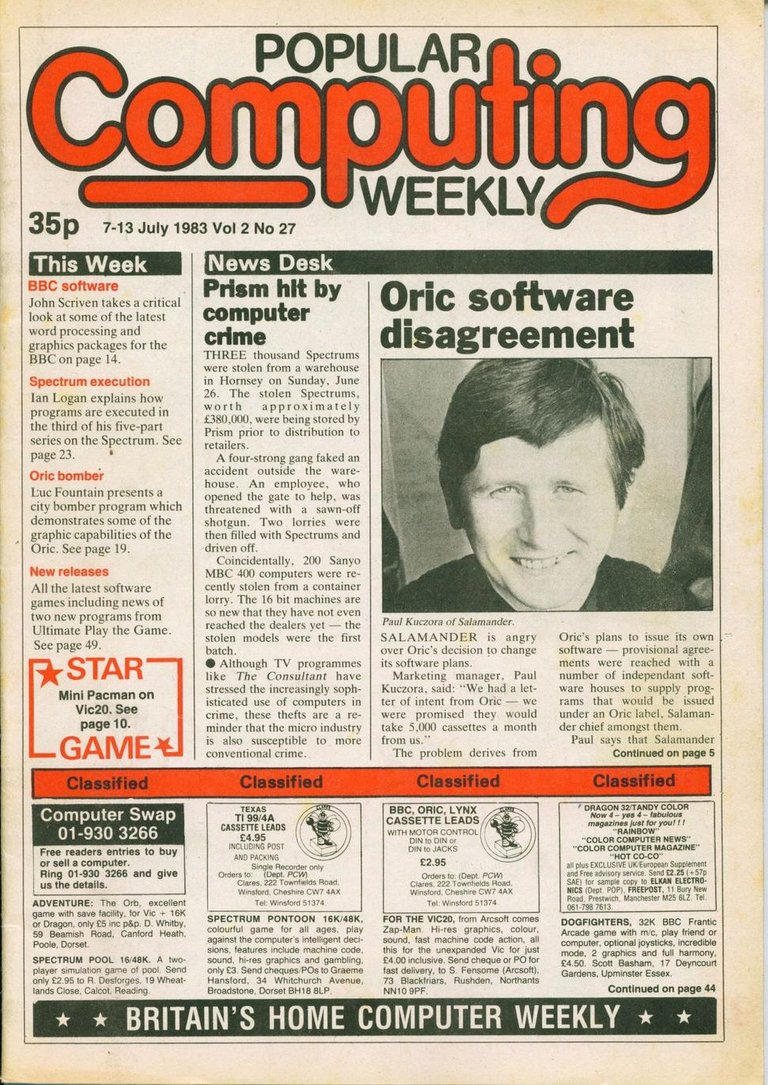 Front page of the July 7-13 1983 issue of Popular Computing Weekly
Popular Computing Weekly was, as the name suggests, a weekly publication covering computers. It was published in the U.K. is a sort of tabloid newspaper form factor and covered the popular computers of the time. The July 7-13, 1983 issue includes:
News - Psion negotiating with Timex to sell Spectrum software in the U.S.; Eleven year old has successful video game column in several newspapers in the U.S. (Vid Kid); Commodore and Atari fight in court over Pac-Man; Acorn's BBC ready to launch in the U.S.; and more.


Letters - Letters from readers about programs that circumvent copy protection, compilers for the ZX Spectrum, Timex vs. Sinclair computers, and more.


Star Game - Mini Pacman, a type-in game for the VIC-20.


Street Life - Interview with Robert Branton and Geoff Boyd of Memotech, known at the time for creating add-ons for the Sinclair ZX-81, they were working on creating their own computer, the MTX500.




Table of Contents from the July 7-13 1983 issue of Popular Computing Weekly



Spectrum - In this third part of a five-part series, program execution on the Spectrum is explained.


Dragon - Storing graphics in memory on the Dragon 32 and displaying them on the screen.


BBC in Education - Logical vs. actual colors on the BBC and various ways to draw shapes and change colors.


Open Forum - Programs from readers including a Math test for the VIC-20; Cruiser, a game for the BBC model B in which you pilot a space ship through an obstacle course; a program for creating a scrolling display on the Lynx; Space Wasps for the Spectrum; Deathrace 2000 for the VIC-20; River Cross for the ZX-81; and Wink (a program for drawing then displaying a hidden image) for the Dragon 32.


Read more: https://www.megalextoria.com/wordpress/index.php/2022/08/09/popular-computing-weekly-july-7th-1983/