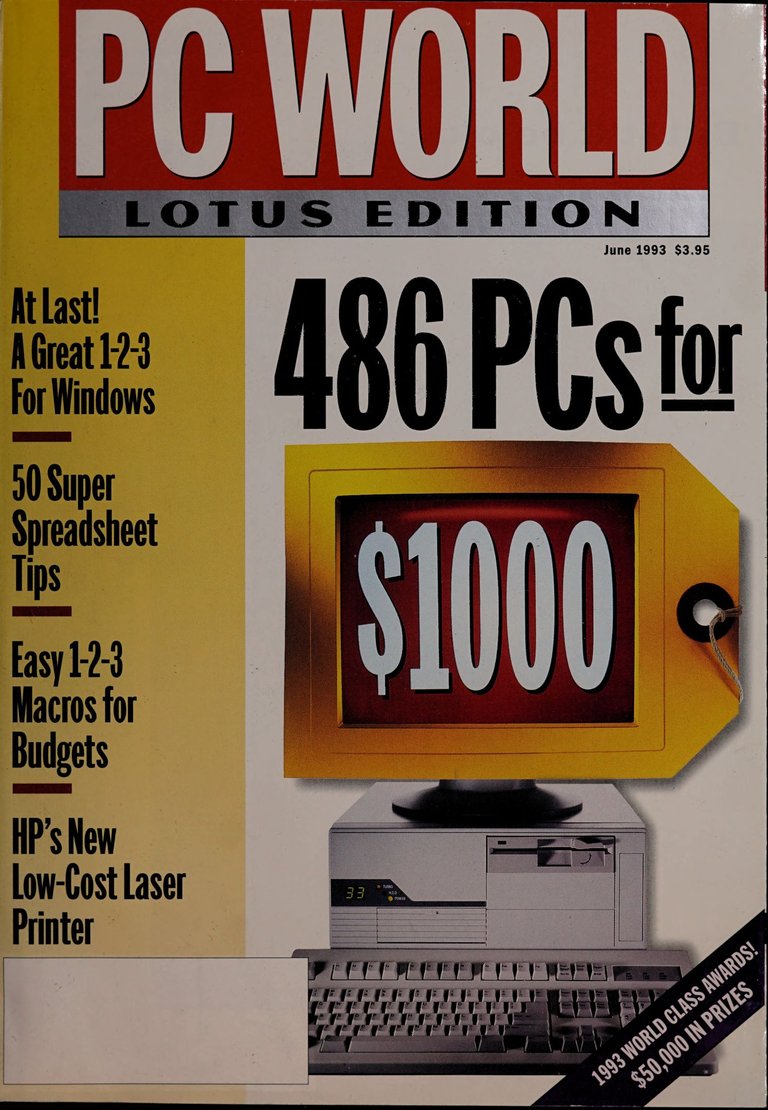 Cover of the June 1993 issue of PC World
June 1993 was the month and year I graduated high school. I would buy my first "PC" (I had a Commodore 64 at the time) a couple of months later, right before going off to college. The June 1993 'Lotus Edition' issue includes a special Lotus 1-2-3 insert with articles that I assume Lotus paid for. The normal contents of this issue includes:
Cover Story
486s for $1250 - Budget 486 systems reach new low prices. Current best buys include the Micro Express ME 486DLC/40, Acma 486SX-33 VESA, Blackship BLK 486DX/33 LB, USA Flex 486SX/25, and Diamond DT 486DLC/40. There are also categories for best price, best service and support and best performance. A total of 25 486 based systems are reviewed here.


Spreadsheets
50 Spreadsheet Tips - Tips and tricks for using Excel, Quattro Pro and multiple versions of Lotus 1-2-3.


Windows
Windows NT: The New DOS? - Windows NT may be the future of PCs. Ultimately that would prove true when Windows XP took over circa 2001...but not in 1993.


Word Processor or Desktop Publisher - A comparison of Word Processing software vs. Desktop Publishing software. Software in the comparison includes Ami Pro, Microsoft Word for Windows, WordPerfect for Windows, Publish It, Express Publisher, and Microsoft Publisher.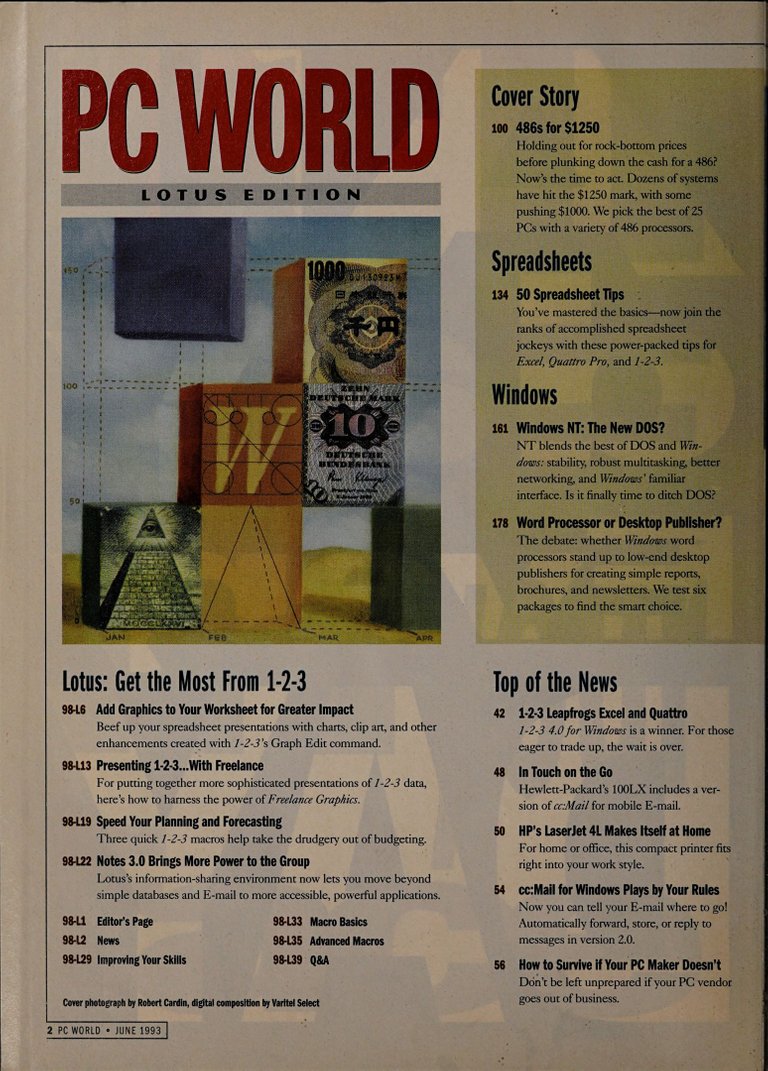 Table of Contents from the June 1993 issue of PC World
Top of the News
1-2-3 Leapfrogs Excel and Quattro - An overview of the latest release of Lotus 1-2-3 (version 4.0 for Windows). Supposedly it offered more features and usability than Excel and Quattro Pro at the time.


In Touch on the Go - A look at the new HP 100LX palmtop/PDA which features an 80C186 processor capable of running DOS applications (up to 300K in size), a CGA black and white screen, and more.


HP's LaserJet 4L Makes Itself at Home - A "low cost" $849 laser printer.


New Products
Zeos Contenda and Micro Electronics WinBook notebook PCs - A look at the new Zeos Contenda notebook featuring a 25 MHz 386SL processor, backlit VGA screen, 2MB of RAM and a 80MB hard drive for $1495 and the Micro Electronics WinBook featuring a Cyrix 25-MHz 486SLC CPU, 4MB of RAM and a 120MB hard drive for $1699.




CompuAdd 450SLC2 486

CompuAdd 450SLC2 486 desktop PC - This PC features a 486SLC2-50 CPU and 4MB of RAM for $1695.


Pinnacle RCD-202, RCD-200 CD ROM recorders - What would eventually be called CD-RW drives were not really affordable/popular until around 1998 or so (even then they were pretty expensive). However, they were available much earlier. Here's a couple from Pinnacle Micro for a mere $4095 and $4195 (five years later such drives would be priced in the hundreds of dollars).


Packard Bell 486 PCs - In the Pentium era, Packard Bell developed a very poor reputation. However, before that I think there hardware tended to be more standard and more reliable. In 1993 they introduced a whole new line of 486 PCs.


Maxtor MXL-105-III - Tiny PCMCIA based 42MB and 85MB hard drives for $475 and $600. I have a 1GB IBM PCMCIA hard drive lying around somewhere...


Adobe Photoshop 2.5 for Windows - Photoshop used to be a Mac only program. Not anymore...


MapInfo Maps&Data - Presentation/mapping software designed for things like illustrating layouts of sites for new proposed commercial buildings and such.


Microsoft Visual C++ 1.0 - A much easier way to develop Windows apps than there had been up to that point.


Serif PagePlus 2.0 desktop publisher - A desktop publishing package that would have competed with things like PageMaker.


Table of Contents from the June 1993 issue of PC World (continued)
Here's How
Help Line - Questions answered from readers including tips about terminal auto-dialing in Windows, using Print Screen, choosing an on-line service, using XCOPY, and more.


Spreadsheets - Questions answered about spreadsheet programs including using edit, search and replace in Quattro Pro, hiding and formatting columns in Excel, using macros in Excel, book recommendations and more.


Word Processing - Word processing question answered about changing the font in WordPerfect 5.1, temporary files in WordPerfect for Windows, converting documents from WordPerfect 5.1 to Ami Pro 3.0, and more.


Windows - Windows questions answered about drag and drop in Windows 3.1, using file manager, removing Norton Desktop (I loved this program back in the day), managing postscript fonts, and more.


Data Management - Database questions answered about printing and dBASE III Plus, saving deleted dBASE records, counting records in Paradox, formatting Paradox 4.0 reports, and more.


Publishing & Presentation - Publishing and presentation related questions answered about backgrounds in Harvard Graphics 3.0, creating fractions in PageMaker, and printing transparencies in CorelDraw 3.0 (another program I loved though I may have had 3.x or 4 .x).


Departments
Letters - Readers write in about organizing your hard drive, tax software, multiboot in DOS 6.0 and DR DOS 6.0, shareware, and more.


Consumer Watch - Mail order company BCS violates FTC rules, Dataworld disappears, Bulldog Computer Products fails to deliver, and more.


Real Problems, Real Solutions - Linking remote offices via a dedicated data line offers solution to inconvenient faxes, phone calls and overnight delivery of documents.


Business Fixtures - A look at Improv, a simplified spreadsheet program from Lotus.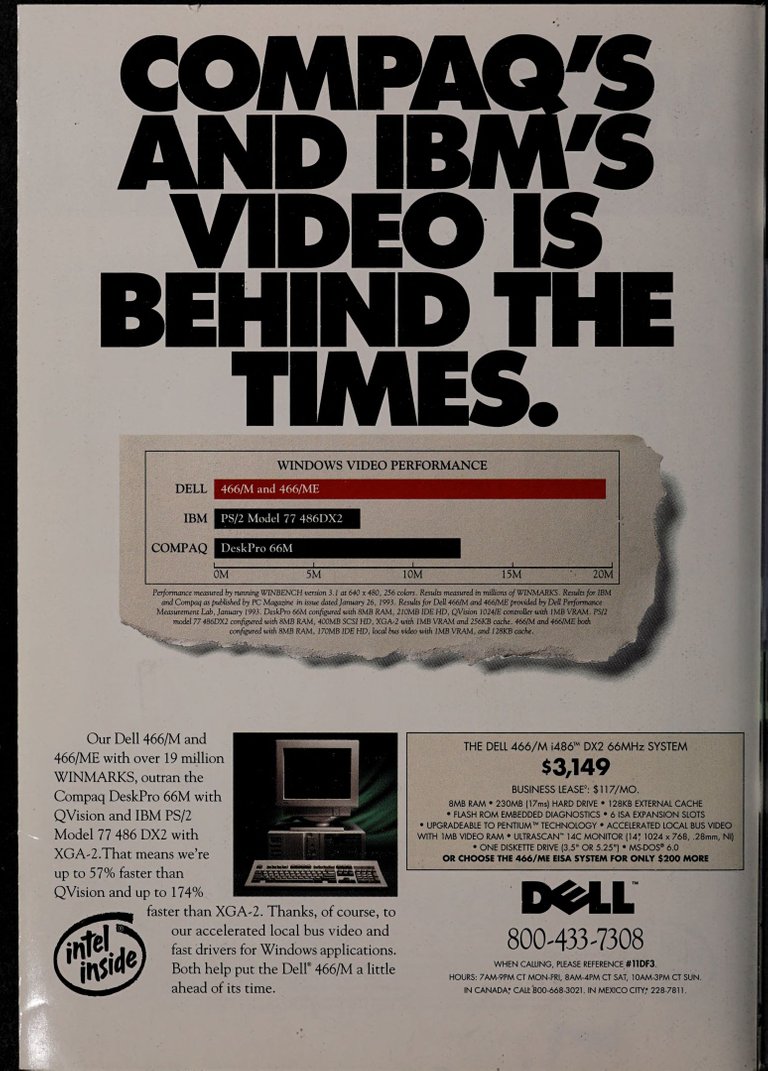 Back cover of the June 1993 issue of PC World
Read more: https://www.megalextoria.com/wordpress/index.php/2023/05/16/pc-world-june-1993/
---

Check out my other Social Media haunts (though most content is links to stuff I posted on Hive or reposts of stuff originally posted on Hive):

Wordpress: https://www.megalextoria.com/wordpress
Tumblr: https://www.tumblr.com/blog/darth-azrael
Twitter: https://twitter.com/Darth_Azrael
Blogger: https://megalextoria.blogspot.com/
Odyssee: https://odysee.com/@Megalextoria:b
Rumble: https://rumble.com/c/c-2385054
Daily Motion: https://www.dailymotion.com/Megalextoria
---
Books I am reading or have recently read:
Friends Divided: John Adams and Thomas Jefferson by Gordon S. Wood
The Citadel by Richard A. Knaak
---