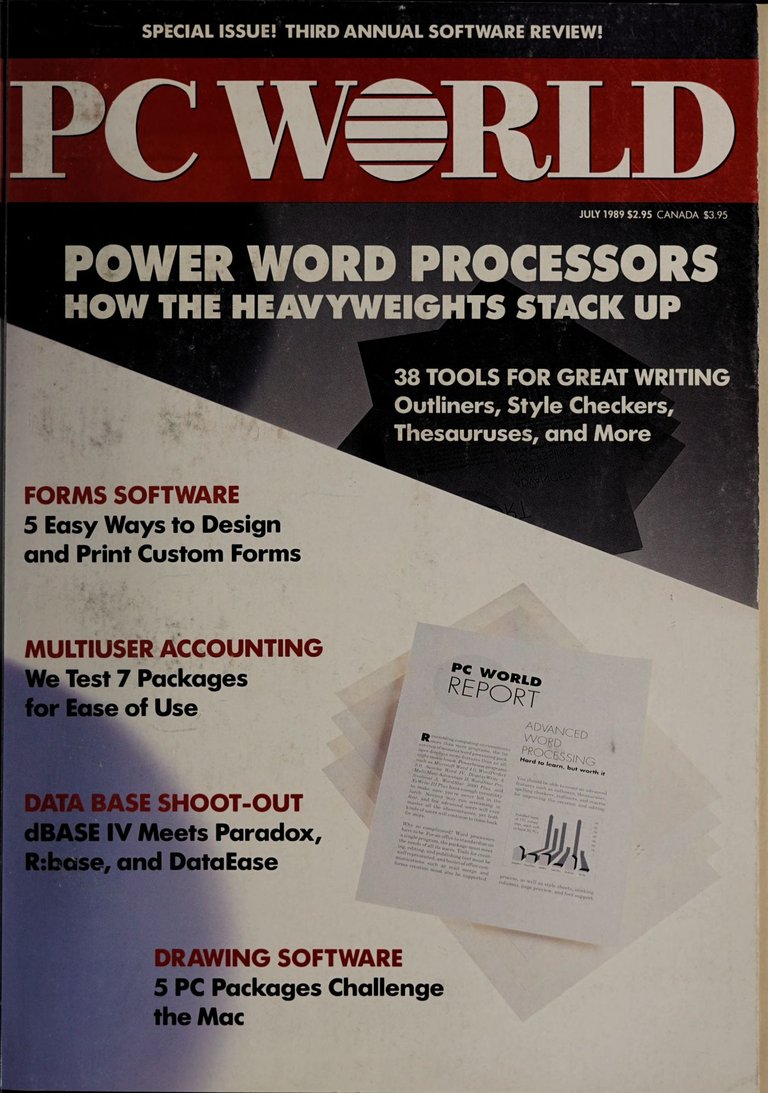 Cover of the July 1989 issue of PC World
PC World was one of the most popular PC magazines for many years. Like most other computer print magazines, this one ceased publication quite some time ago. The July 1989 issue includes:
Previews
Pascal Gets Two Object Lessons - Pascal was a popular structured programming language at one point that offered a sort of middle ground between BASIC and C. This article compares Borland's Turbo Pascal 5.5 with Microsoft's QuickPascal.


Reviews
Advanced Word Processors - Familiar Faces, New Features - A comparison of several word processors, including DisplayWrite 4 version 2, Microsoft Word 4.0, MultiMate Advantage II 1.0, Somna Word IV 2.0, WordPerfect 5.0, WordStar Professional 5.0, and XyWrite III Plus 3.54. Microsoft Word and WordPerfect come out on top.


The Best in Forms Software - A comparison of software specializing in creating forms. Products reviewed include FormFiller 2.0, FormSet 1.0, Horizon 1.1, JetForm 1.01, and Perform 1.0.


Data Base Powerhouses Strike a Balance - A comparison of the top four database managers, including DataEase 4.0, dBASE IV 1.0, Paradox 3.0, and R:base for DOS 2.11.


Net Gains in Multiuser Accounting - A review and comparison of seven multiuser accounting packages, including Accpac Plus, Great Plains, Harmony, M.A.S. 90, RealWorld, SBT, and Solomon III.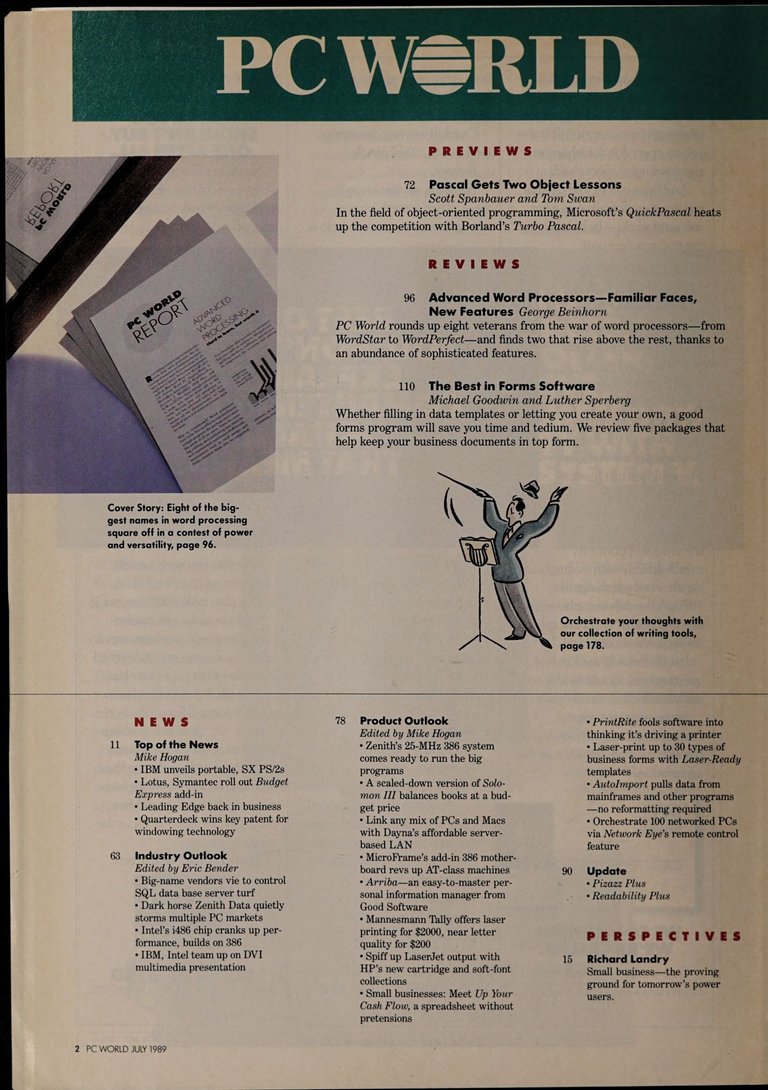 Table of Contents from the July 1989 issue of PC World
News
Top of the News - Microsoft introduces the PS/2 Model P70 portable computer featuring a 20 MHz 386, 4 MB of RAM, microchannel architecture, a 60 MB hard drive and more for $7695. Also introduced by IBM is the PS/2 Model 55 SX desktop; featuring a 386 SX, 2 MB of RAM, a 30 MB hard drive and more for $3895; Microsoft and Borland introduce new versions of their Pascal software; Quarterdeck awarded patent for displaying windows on screen; Integrated Information Technology introduce Intel compatible math coprocessors; and more.


Industry Outlook - SQL data base servers coming; Zenith sales increase fueled by laptop success; a look at the upcoming i486 processor; IBM and Intel push multimedia with Digital Video Interactive (DVI); and more.


Product Outlook - A look at new and upcoming products, including the Zenith Z-386/25 PC, Solomon III based Profitwise Basic Accounting software, DaynaNet PC and Mac networking solution, Arriba personal information manager, ProCollection and Type Director font software, Mannesmann Tally MT81 and MT905 printers, PrintRite print queue, Laser-Ready templates, Up Your Cash Flow spreadsheet, AutoImport data conversion software, and Network Eye remote control software.


Perspectives
Richard Landry - Designing software for small businesses.


Letters - Letters from readers about avoiding copy protected software, standards, PS/2 problems, SideKick, the Mitsubishi MP 286L laptop vs. the Zenith SupersPort 286, and more.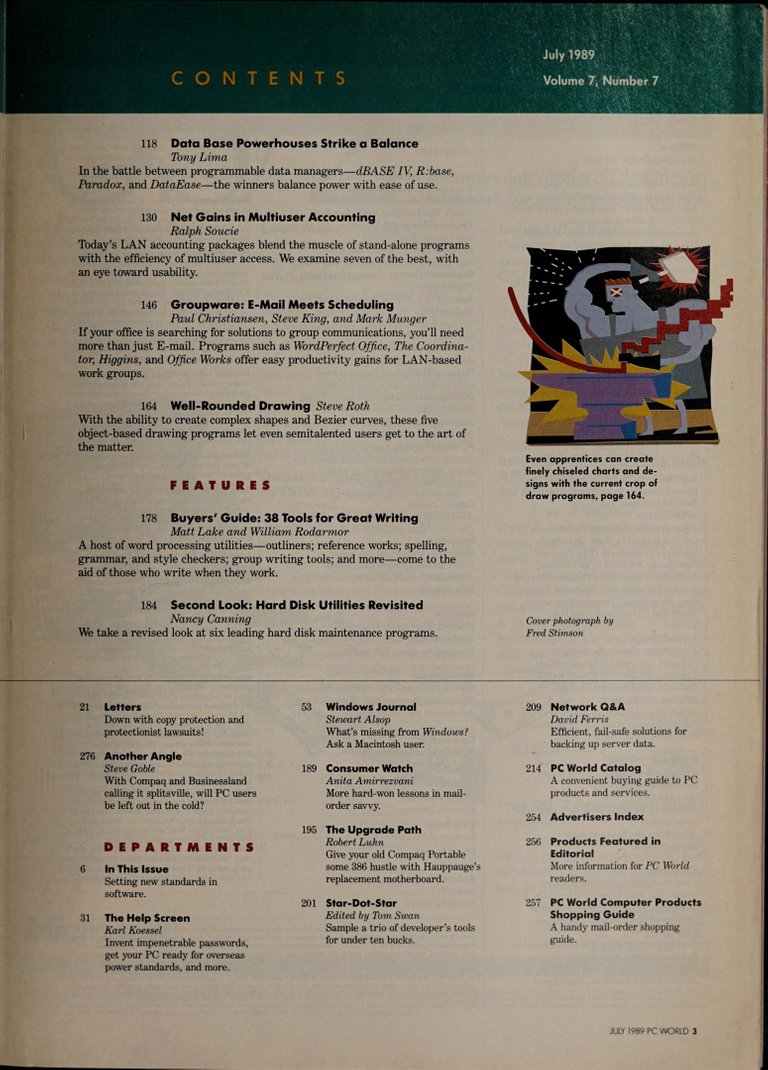 Table of Contents from the July 1989 issue of PC World (continued)
Features
Buyers' Guide: 38 Tools for Great Writing - A look at various tools that enhance word processors to help the writer. Included is software to help make outlines, reference software (dictionaries, thesaurus, etc.), spell and grammar checkers, group writing tools, file conversion utilities and much more.


Second Look: Hard Disk Utilities Revisited - Tools for taking care of you hard drive and diagnosing and fixing issues, including Disk Technical Advanced 3.0, HTest/HFormat 2.0, Mace Gold, Norton Utilities Advanced 4.5, PC Tools Deluxe 5, and SpinRite 1.2.


Departments
In This Issue - An overview of the current issue.


The Help Screen - Questions answered about passwords, using a Tandy 1000SX in Germany, DOS 4.01 on an IBM PS/2 Model 60, using hard drives in old PCs, and more.


Windows Journal - A look at things missing from Windows.


Consumer Watch - Misleading pricing by The New PC Network, complaints about Fast Micro, Toshiba T1200 problems, and more.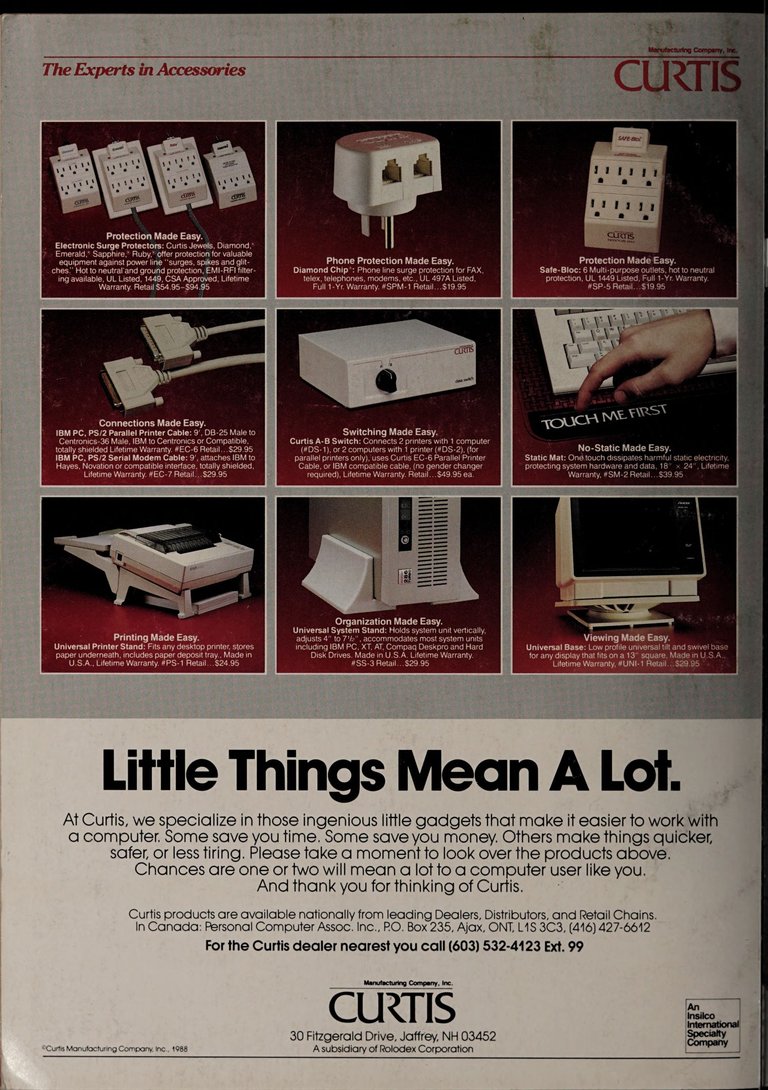 Back cover of the July 1989 issue of PC World
Read more: https://www.megalextoria.com/wordpress/index.php/2022/12/10/pc-world-july-1989/