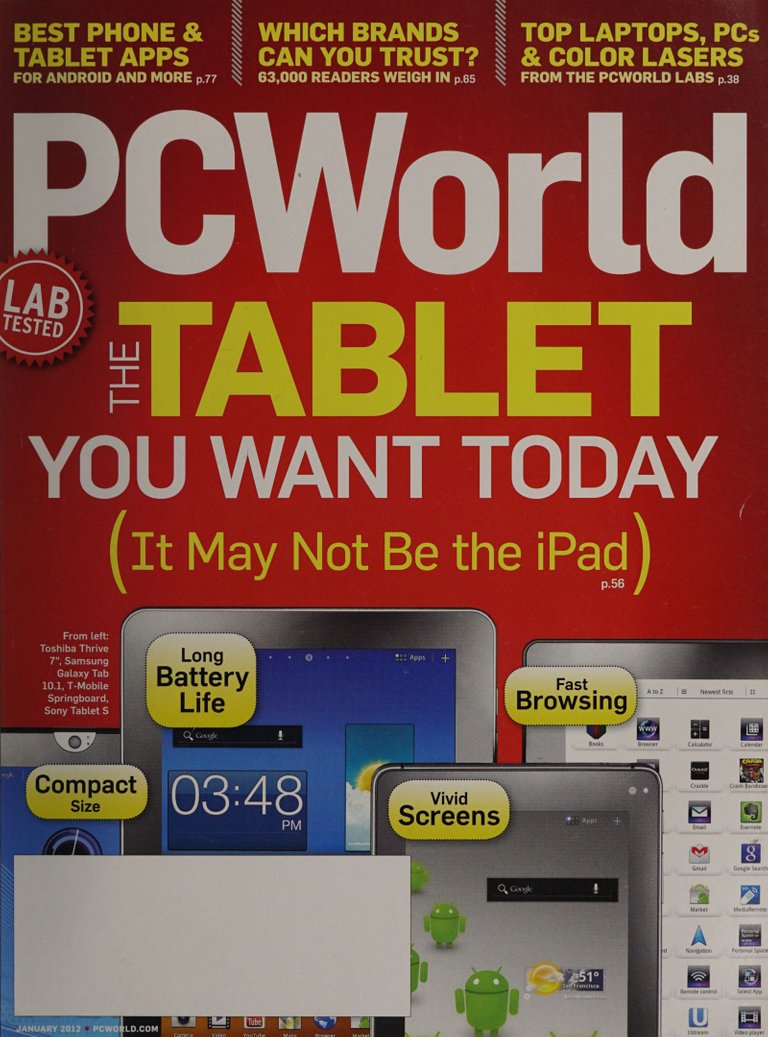 Cover of the January 2012 issue of PC World
PC World was well past its prime by 2012. I mean the features aren't even primarily about PCs in this issue and instead, things like tablets, phones and TVs get much of the coverage. However, if you wanted a PC magazine, there weren't a whole lot of choices (and of course there are fewer today). Maximum PC was and still is my personal favorite (and one of the only PC print magazines still around). The January 2012 issue of PC World includes:
Features
Android Tablets: Finally Ready? - A look at the iPad 2 and its Android competitors. It looks like the Samsung Galaxy Tab 10.1 and the Samsung Galaxy Tab 8.9 came the closest to dethroning the iPad 2 as the top tablet.


Which Tech Brands Can You Trust? - The top three companies that produced the most reliable laptops were Apple, Samsung and Toshiba. At the bottom of the list were Sony, Dell and HP. For desktop PCs, Apple, Asus and Dell for Business were at the top while HP for Home, Dell for Home, and CyberPower were at the bottom. There are similar lists for TVs, printers, and cameras.


Community
Techlog - A look at the current state of tablet computing.


PCW Forum - Reaction to previews of Windows 8, increasing the range of key fobs, and LCD vs. plasma TVs.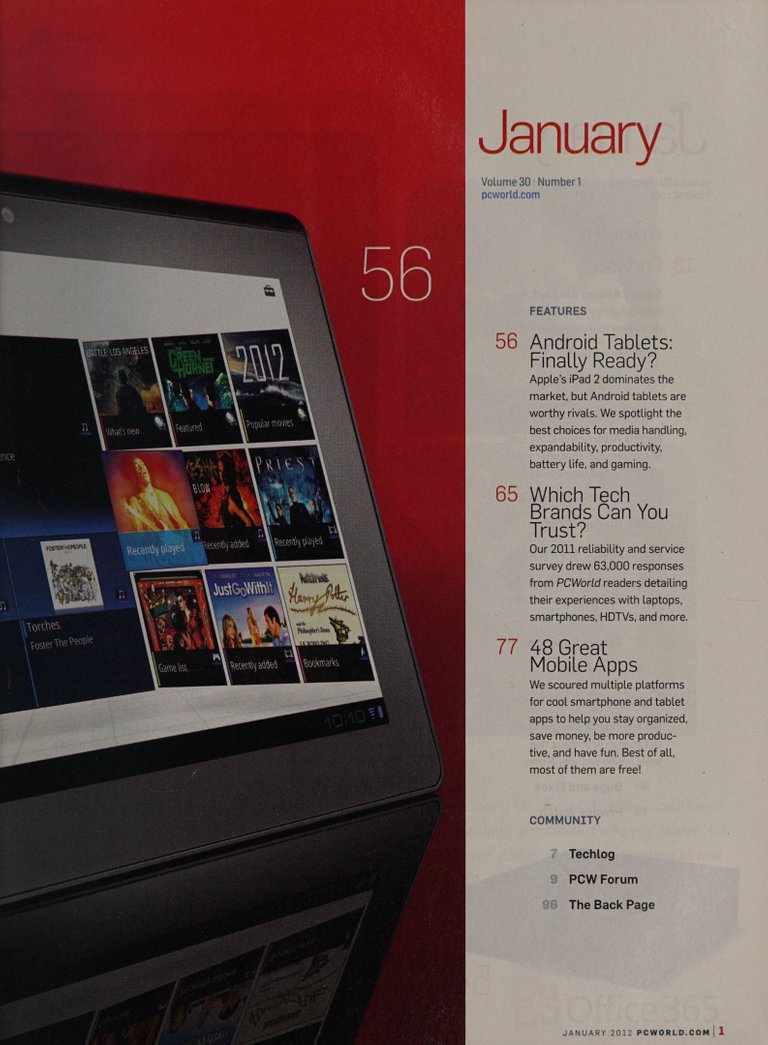 Table of Contents from the January 2012 issue of PC World
Departments
Forward

Sleazy Ads on Android - Clicking on certain ads my result in your data being stolen.
GeekTech - Using QR codes to help recover lost keys.



Consumer Watch

Netflix Alternatives - Netflix dominated video streaming at the time. This was a look at the limited competition, Amazon Prime, Blockbuster On Demand, Hulu Plus and iTunes Rentals.
Skeptical Shopper - A look at using your phone and NFC as an alternative to a physical credit card.



Business Center

Virtual Assistants - Allows you to outsource menial tasks like converting an Excel document to Google Docs, creating an itinerary and more. Results were mixed.
Simply Business - Using the iPad as a PowerPoint presenter.



Security Alert

Do You Speak Securitese? - Defining various buzz words such as Zero-day, Sandboxing, SSL, and more.
Bugs and Fixes - The latest patches from Google for Chrome and Apple for OS X.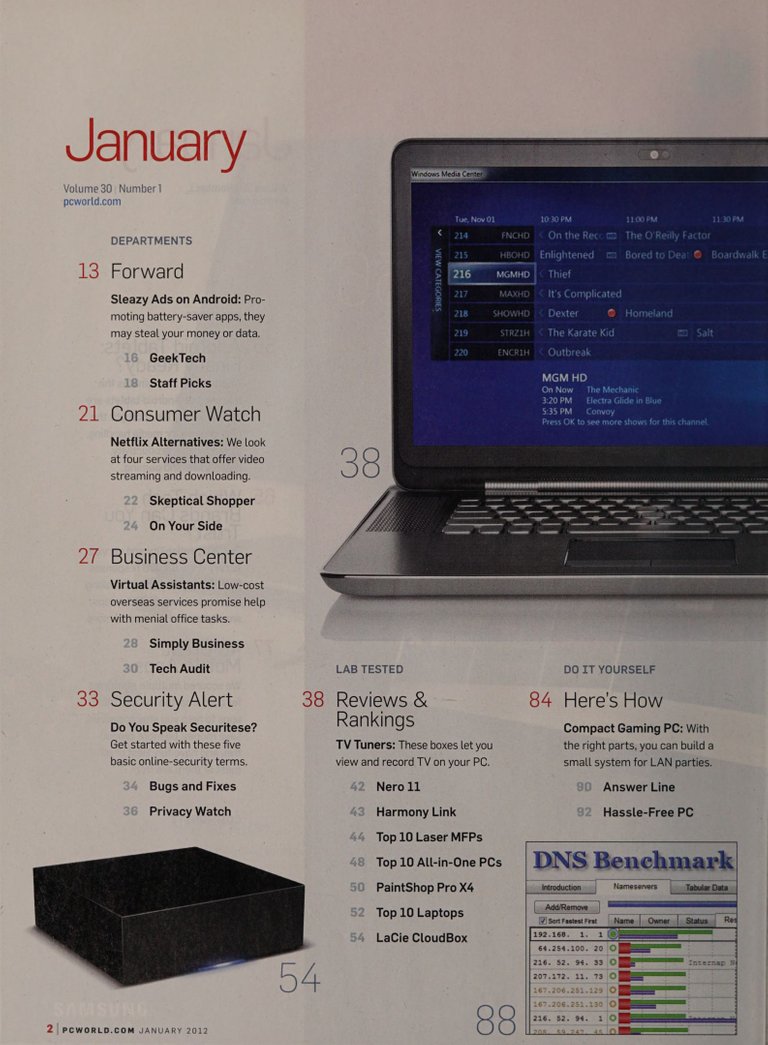 Table of Contents from the January 2012 issue of PC World (continued)
Lab Tested
TV Tuners - Turning your Windows 7 machine into a DVR. A comparison of various cable tuner cards.


Nero 11 - The latest version of the Nero CD/DVD ripping, transcoding, and burning software.


Harmony Link - A device for turning iOS or Android devices into universal remotes.


Top 10 Laser MFPs - The top laser multi-function printer this month is the Brother MFC-997-0CDW.


Do It Yourself
Compact Gaming PC - Building a small-ish gaming PC suitable for LAN parties. Parts chosen for this build were an In Win Dragon Slayer case, Corsair AX750 power supply, Asus Maximus IV Gene-Z motherboard, Core i7-2600K CPU, 8GB of Corsair Vengeance DDR3, an Asus GTX 570 Direct CU II GPU, a Western Digital VelociRaptor 600GB hard drive, an Intel 311 solid-state 20GB drive, a Lite-On iHAS124 DVD-RW Drive, and Windows 7 Ultimate. Total cost was $1650.


Answer Line - Questions answered about leaving your PC on all night, downloading free ebooks, using DOSBox to play classic PC games, encrypting your Android based phone, and more.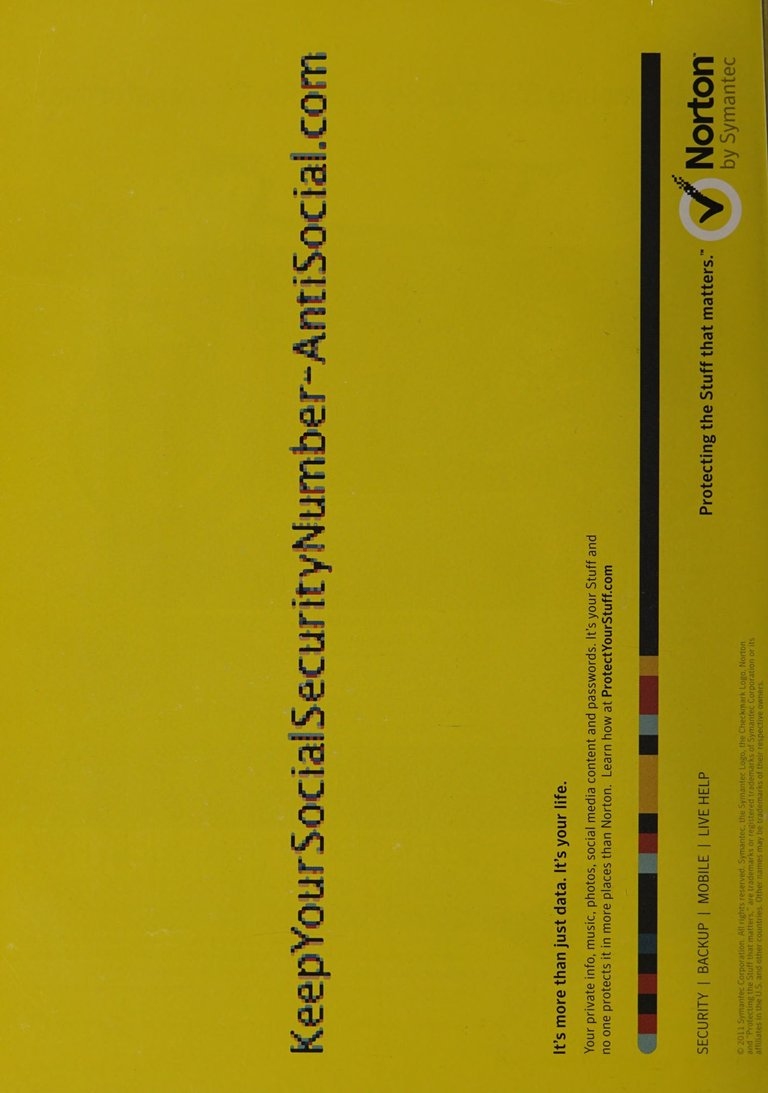 Back cover of the January 2012 issue of PC World
Read more: https://www.megalextoria.com/wordpress/index.php/2022/12/12/pc-world-january-2012/