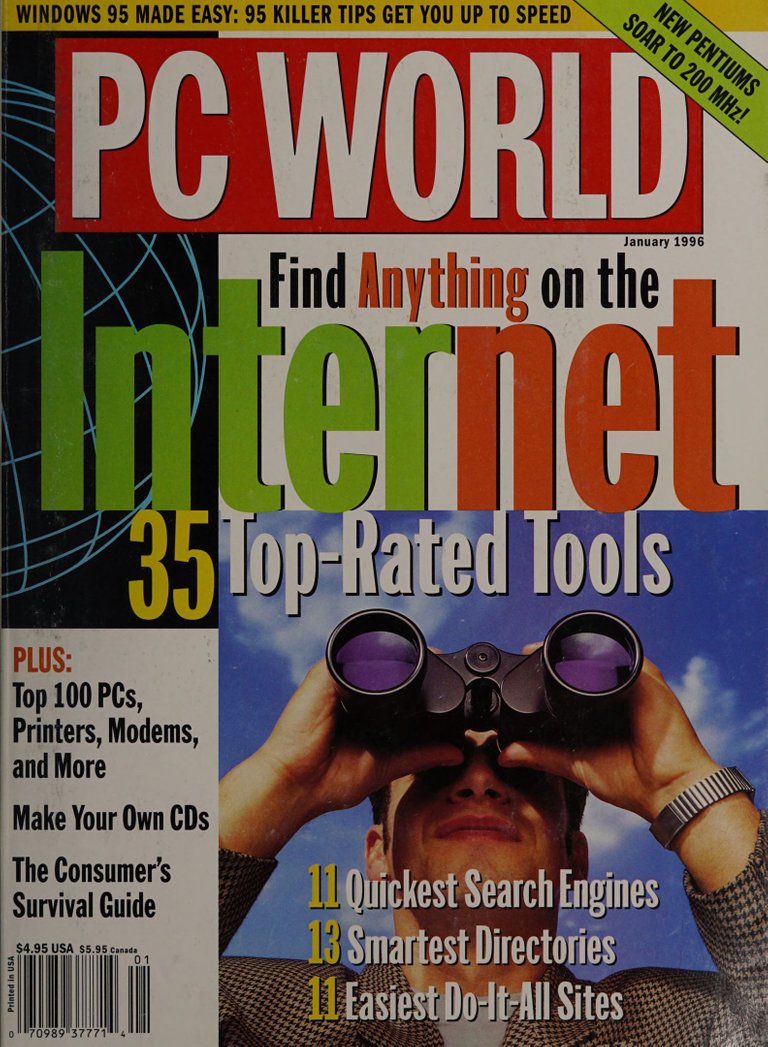 Cover of the January 1996 issue of PC World
PC World was one of the most popular PC magazines published in the U.S. It always felt a bit generic to me but it's still great for nostalgia. 2006 really wasn't that long ago but computer ears are more like dog years...or even more accelerated. The February 2006 issue of PC World includes:
Cover Story
Special Report: Find It on the Net - A guide to finding what you are looking for on the Internet.


Just Browsing Directories - Various directories that can be found online including Galaxy, McKinley Group's Magellan, NetCenter, Starting Point, Web Voyager, The Whole Internet Catalog, Yellow Page.com, Yahoo and more.


Search Tips - Tips for being specific and accurate with your searches.


Index to the Net: Search Engines - This was pre-Google. The top search engines included Excite NetSearch, InfoSeek, Lycos, Open Text Index, WebCrawler and others.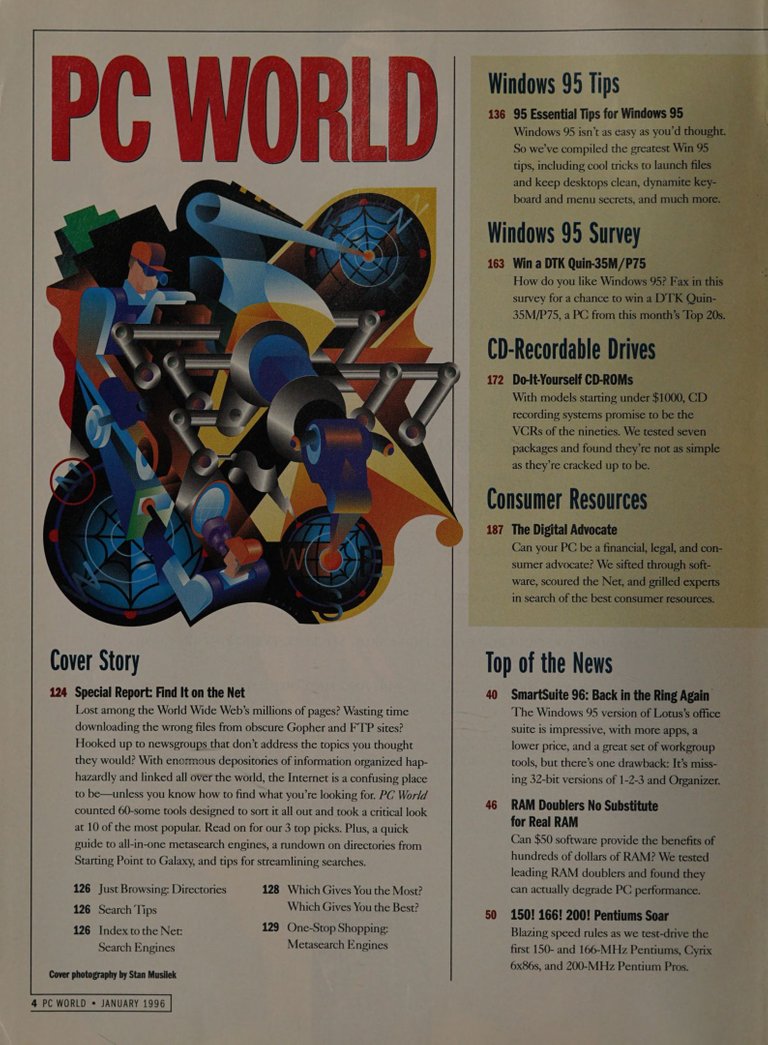 Table of Contents from of the January 1996 issue of PC World
Windows 95 Tips
95 Essential Tips for Windows 95 - Windows 95 was probably the single biggest change from one release to another that Windows has ever had. Here are some tips for using it.


CD-Recordable Drives
Do-It-Yourself CD-ROMs - At this point in time, CD-R drives had dropped below $1000 and discs were going for $7 each. It would be almost three more years before I had a CD-R drive at which times prices had dropped much further. Drives reviewed in this article include the HP SureStore CD-Writer 4020i ($999), JVC BC-CR1000A-2X ($999), Olympus Deltis CD-R2/ISA ($1389), Optima DisKovery 650 CD-R ($1495), Pinnacle Micro RCD-1000 ($1050), Smart and Friendly CD-R 1002 ($1259), and Sony Spressa 920 ($1699). All are SCSI based.


Top 20 PCs
It's a Buyer's Market - The top 20 PCs as ranked by PC World in different categories. The top Power Desktop is the Micron P133 Millennia ($3499 - 133MHz Pentium, 16MB EDO RAM, 1.6GB hard drive). The top Budget Desktop is the Dell Dimension P75t ($1679 - 75MHz Pentium, 8MB RAM, 540MB hard drive, 4x CD-ROM). The top Power Notebook is the Toshiba Protege 610CT ($4649 - 90MHz Pentium, 8MB EDO RAM, 720MB hard drive). The top Budget Notebook is the Dell Latitude LX 4100D ($2629 - 100MHz 486-DX4, 8MB RAM, 420MB hard drive).


Top 10 Hardware
Top 10 Workgroup Printers - The top printer in this round u is the Lexmark Optra R for $1487. Or if you want color, there i the HP DeskJet 1600CM for $1999.


Top 10 19 to 21-inch Monitors - CRT monitors were the only type of monitors reasonably available in 1996 and 19-21-inch monitors were the largest. The top monitor in this list is the MAG MX21F, a 21-inch CRT for $1800.


Top 10 Graphics Boards - 3D graphics were still in their infancy in 1996. The top card this month was the Diamond Stealth64 which featured the S3 Vision968 chip and 2MB of VRAM for $269.


Top of the News
SmartSuite 96: Back in the Ring Again - Lotus SmartSuite '96 was an alternative to Office '95.


RAM Doublers No Substitute for Real RAM - RAM doublers offered a way to use real-time compression to trick your system into thinking it has more RAM than it does. Products reviewed here include MagnaRAM 2, RAM Doubler, and SoftRAM 95.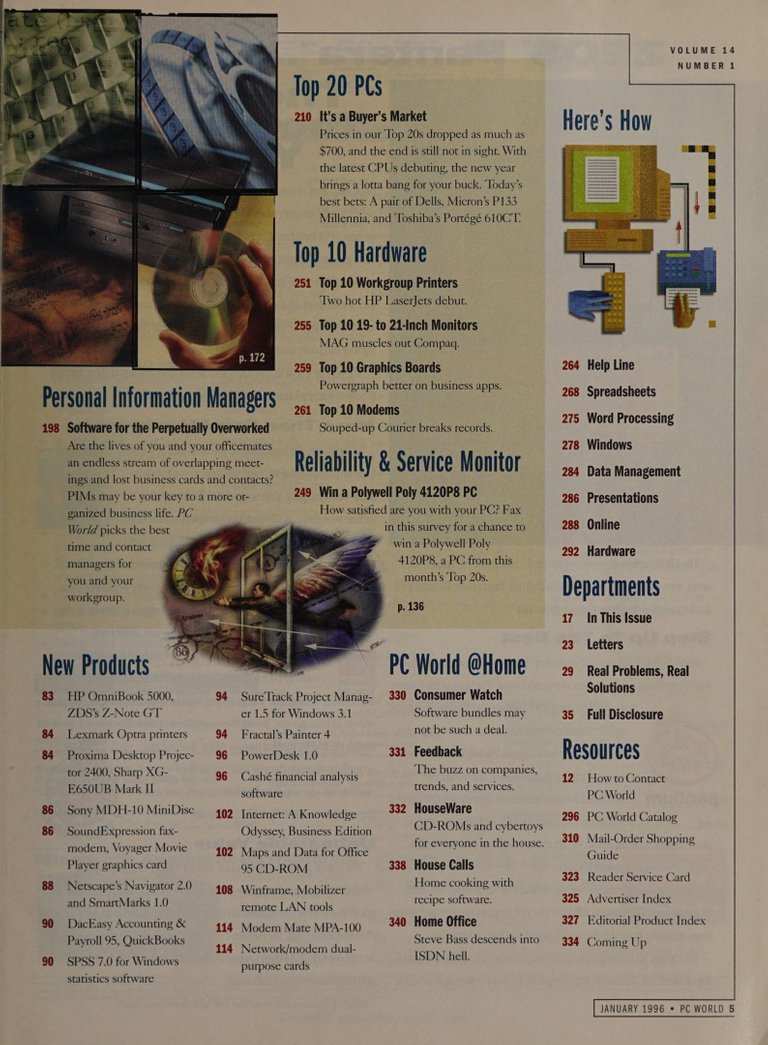 Table of Contents from the January 1996 issue of PC World (continued)
New Products
HP OmniBook 5000, ZDS's Z-Note GT - A look at two new Pentium based notebooks.


Lexmark Optra Printers - New color and black & white laser printers from Lexmark.


Proxima Desktop Projector 2400, Sharp XG-E650UB Mark II - Each of these projectors comes in at well over $6000.


Son MDH-10 MiniDisc - I always though the MiniDisc was a neat format. Unfortunately, it was much more expensive than a Zip Drive and other alternatives so it was never successful as a data format.


Network/modem dual-purpose cards - A look at new network/modem combo PCMCIA cards, including the Mariner, CreditCard Ethernet+Modem 28.8, and Megahertz XJEM3288.


Consumer Watch - Software bundles included with new computers often don't provide much value or even include full retail versions of the software.


HouseWare - A look at "digital crayons", musical software, and more.


Home Office - The only fast alternative to dial-up at the time was ISDN. However, we are still talking about speeds that are only 128kbps and that's only if everything is working perfectly. Often it wasn't. And the price was high.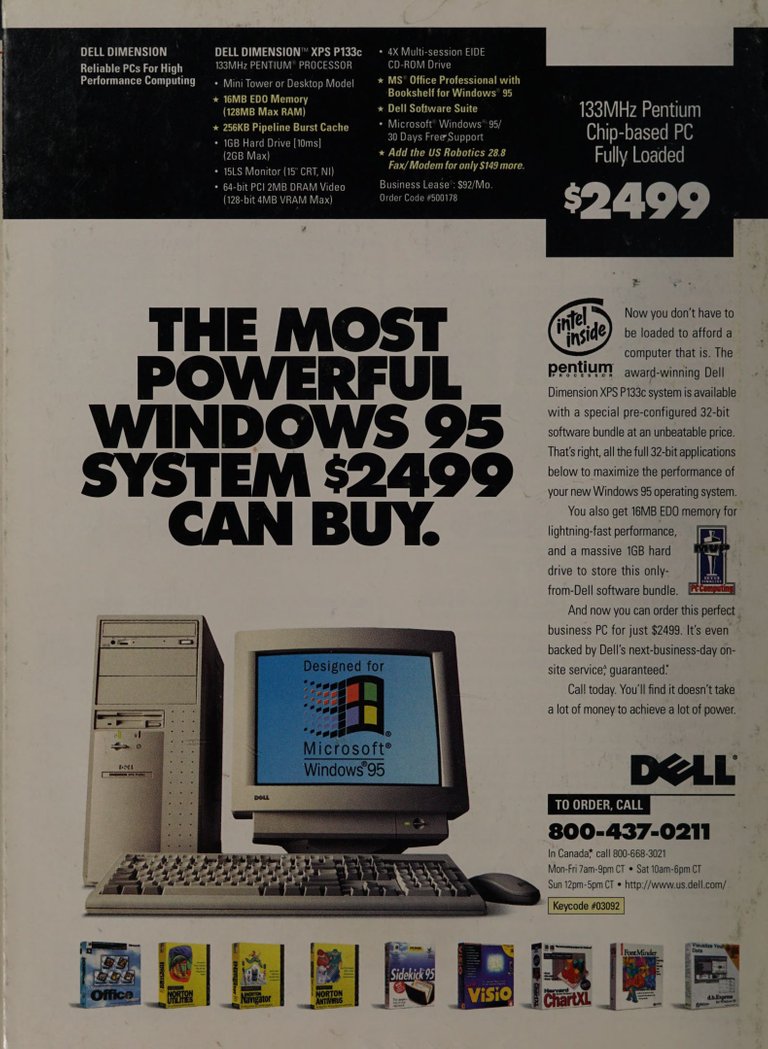 Back cover of the January 1996 issue of PC World
Read more: https://www.megalextoria.com/wordpress/index.php/2023/05/24/pc-world-january-1996/
---

Check out my other Social Media haunts (though most content is links to stuff I posted on Hive or reposts of stuff originally posted on Hive):

Wordpress: https://www.megalextoria.com/wordpress
Tumblr: https://www.tumblr.com/blog/darth-azrael
Twitter: https://twitter.com/Darth_Azrael
Blogger: https://megalextoria.blogspot.com/
Odyssee: https://odysee.com/@Megalextoria:b
Rumble: https://rumble.com/c/c-2385054
Daily Motion: https://www.dailymotion.com/Megalextoria
---
Books I am reading or have recently read:
Friends Divided: John Adams and Thomas Jefferson by Gordon S. Wood
The Citadel by Richard A. Knaak
Republic of Thieves by Scott Lynch
---