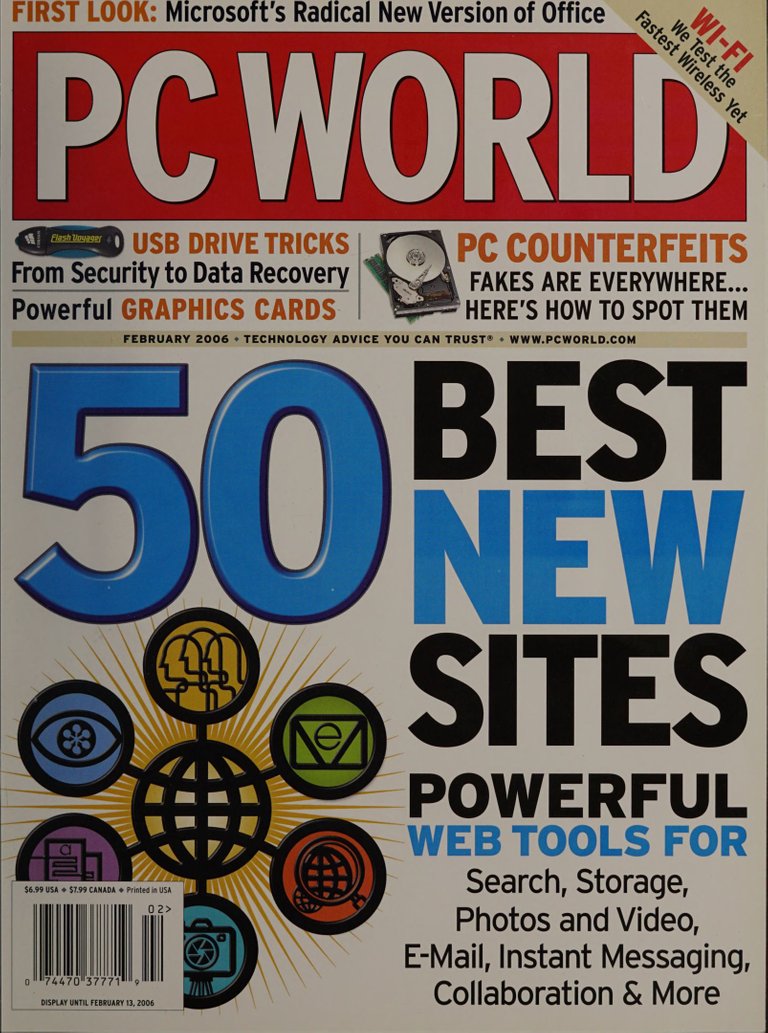 Cover of the February 2006 issue of PC World
PC World was one of the most popular PC magazines published in the U.S. It always felt a bit generic to me but it's still great for nostalgia. 2006 really wasn't that long ago but computer ears are more like dog years...or even more accelerated. The February 2006 issue of PC World includes:
Sites & Services
New, Improved Web - An introduction to what has been referred to as Web 2.0.


Features
Greater Graphics - A look at some of the graphics cards available in 2006. Included in this round-up are the EVGA e-GeForce 6800 GS, ATI All-in-Wonder X800 XL, BFG Technologies GeForce 6600 GT OC, PNY GeForce 6600 GT, Aopen Aeolus 6800 GT, EVGA e-GeForce 7800 GTX KO (with 256 MB RAM and at $570 this was PC World's 'Best Buy'), BFG Technologies GeForce 7800 GTX OC, XFX GeForce 7800 GT, ATI Radeon X1800 XT, and MSI GeForce 7800 GT.


Fakes! - This problem seems less common now but fake and remarked products used to be fairly common among unscrupulous retailers. From exploding counterfeit batterie to overheating remarked CPUS, counterfeits were not uncommon.


23 Things to Do With a Thumb Drive - I think everybody knows what to do with a thumb drive these days but this article offers suggestions from creating a bootable Linux drive, storing portable apps, keeping data safe and encrypted and more. A 1GB drive would set you back about $100 at the time.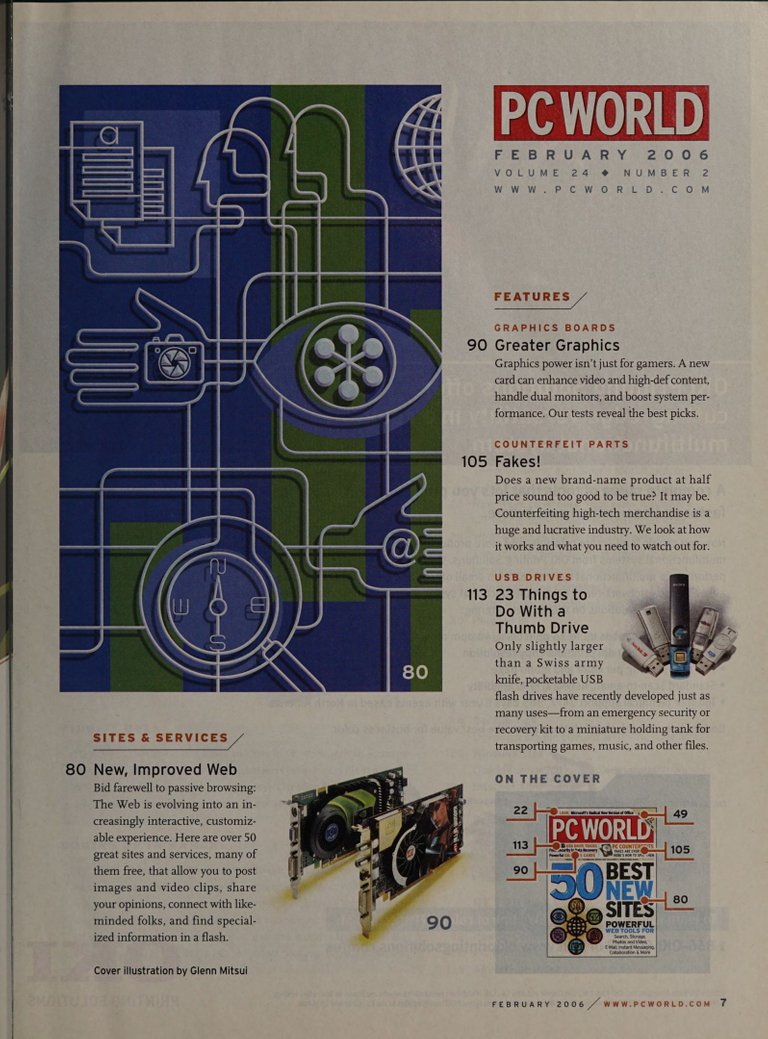 Table of Contents from the February 2006 issue of PC World
Reviews & Rankings
32-inch LCD TVs - 32-inch LCD TVs were considered a good mid-size option at the time.


Wireless Networking - A budget Wireless-G router would set you back around $150-$200 or so.


Top 5 Ultraportables - At the top of the list is a Lenovo ThinkPad X41 featuring a 1.6GHz Pentium M, 12.1" screen, DVD-ROM/CD-RW drive, and 512MB of RAM for a mere $2199.


Cell Phone/PDA - A review of the BlackBerry 8700c.


Accounting Software - A review of QuickBooks 2006.


Top 10 Desktop PCs - On the Power System list I would have liked to have had that Alienware Aurora 7500 featuring a 2.8GHz Athlon 64 FX-57 and 256MB EVGA e-GeForce 7800 GTX x 2 for $4835. On the budget list maybe the CyberPower Gamer Ultra 7500 SE featuring a 2GHz Athlon 64 3200+ and 256MB EVGA e-GeForce 6600.


DVD Recorder - A review of the Sony DVDirect VRD-MC1, an external DVD recorder that could operate as a standalone device or with your PC.


Productivity Suite - A look at Microsoft's Works Suite 2006.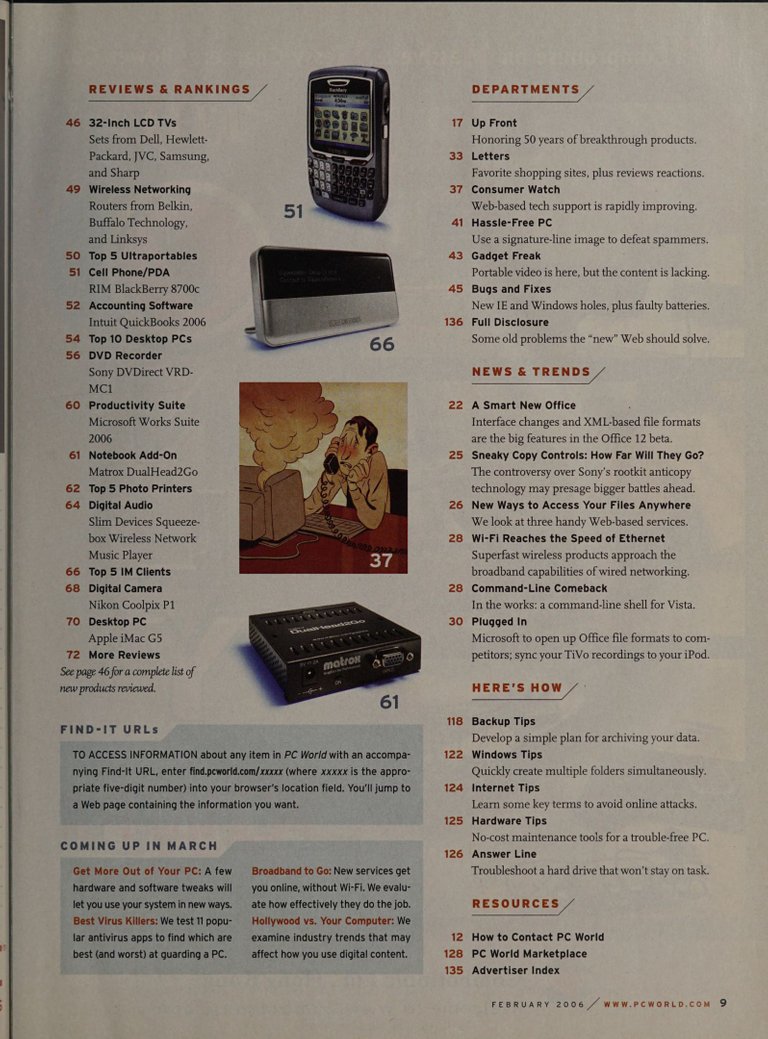 Table of Contents from the February 2006 issue of PC World (continued)
Departments
Up Front - A look at the past and future of innovation in the PC world.


Letters - Letters from readers about price-comparison sites, new products vs. better products, iTunes on the PC, and more.


Consumer Watch - On-line tools to help with tech support, how to clean a PC before selling it or giving it away, and more.


Hassle-Free PC - Ways to reduce spam and alternative ways to send text messages.


News & Trends
A Smart New Office - Microsoft introduces XML-based file formats, a major interface revamp and much more with the upcoming "Office 12".


Sneaky Copy Controls: How Far Will They Go? - Sony's invasive rootkit-based copy protection.
New Ways to Access Your Files Anywhere - New online services to sync or otherwise access shared files. None of which are around anymore as far as I am aware.


Wi-Fi Reaches the Speed of Ethernet - New Wireless-G based routers match ethernet speeds...at close range anyway.


Here's How
Backup Tips - Tips on making backups including partitioning tips and what folders in Windows are important. Plus what media and software to use.


Windows Tips - A quick way to make multiple folders, customizing the command prompt, and more.


Internet Tips - A glossary of Internet terms.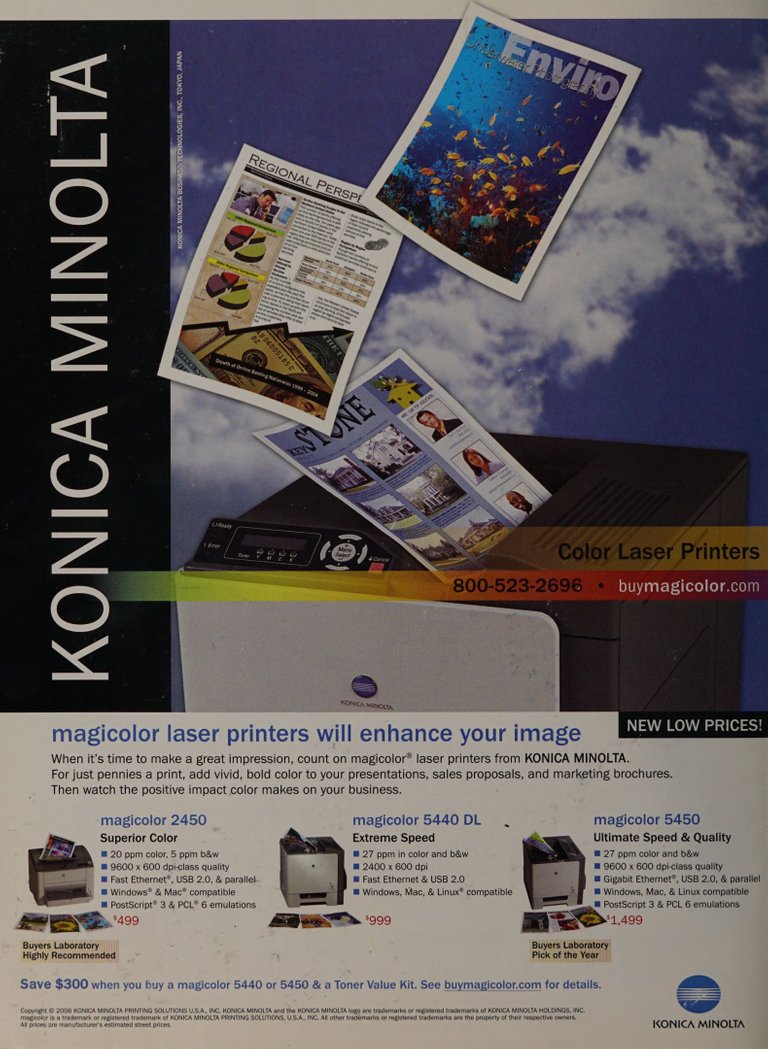 Back cover of the February 2006 issue of PC World
Read more: https://www.megalextoria.com/wordpress/index.php/2023/04/15/pc-world-february-2006/
---

Check out my other Social Media haunts (though most content is links to stuff I posted on Hive or reposts of stuff originally posted on Hive):

Wordpress: https://www.megalextoria.com/wordpress
Tumblr: https://www.tumblr.com/blog/darth-azrael
Twitter: https://twitter.com/Darth_Azrael
Blogger: https://megalextoria.blogspot.com/
Odysee: https://odysee.com/@Megalextoria:b
Rumble: https://rumble.com/c/c-2385054
Daily Motion: https://www.dailymotion.com/Megalextoria
---
Books I am reading or have recently read:
A Most Inconvenient Curse by J. H. Fleming
Friends Divided: John Adams and Thomas Jefferson by Gordon S. Wood
The Citadel by Richard A. Knaak
---