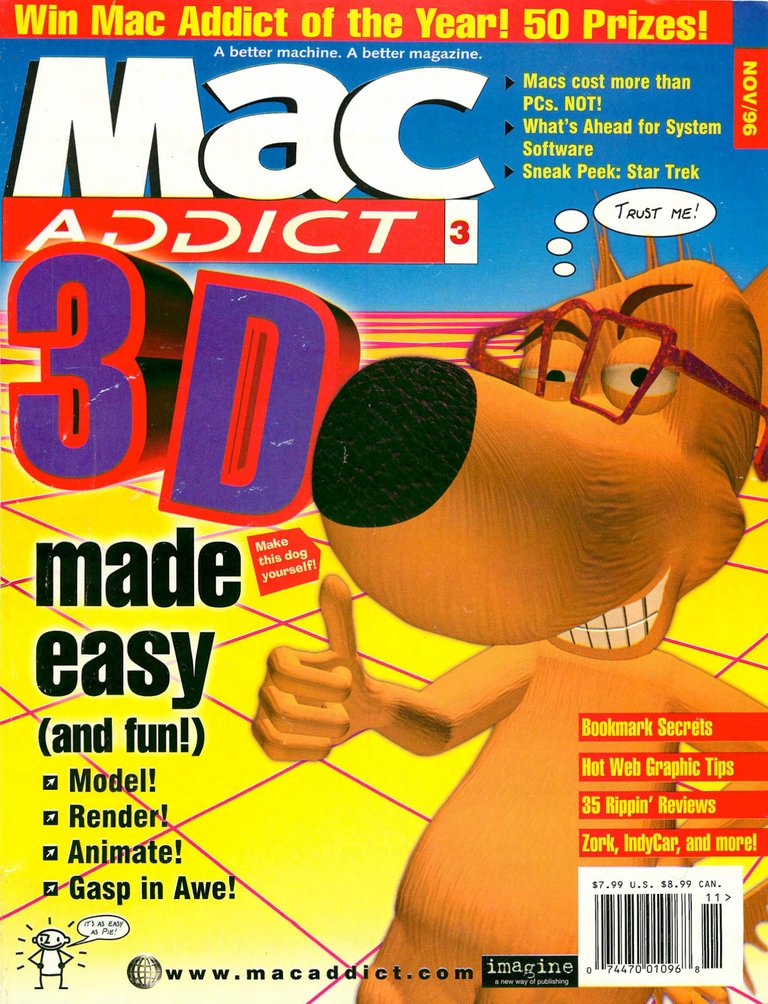 Cover of the November 1996 issue of MacAddict
I was never really a Mac person. Mainly because I always felt they were overpriced and later on I enjoyed building my own PCs anyway. There also weren't as many games available for the Mac which was a consideration for me. However, if you were a Mac fan back in the late 90s then MacAddict was an excellent magazine. It reminds me of Boot/Maximum PC for the PC. Sadly, it eventually degraded into MacLife, a much more generic and boring magazine. The November 1996 issue of MacAddict includes:
Hightlights
5 Steps to 3D Animation - A guide to developing your own animation. Their 5 steps include developing a concept, modeling the character, making the scene, animating the character, and post production. Some of the software demonstrated include Infini-D, QuickDraw 3.0, Adobe Premiere, and others.




Power Computing PowerBase 200 vs. Compaq Presario 8710

Us & Them - A comparison of Mac vs. PC. Here they compare a Power Computing PowerBase 200 to a Compaq Presario 8710. The Mac (clone) includes a 200MHz PowerPC 603e CPU, 32MB of RAM, 512k of L2 cache, an 8x CD-ROM drive, a 2.2GB hard drive, on board 3D accelerator including 2MB EDO RAM, and 3 PCI slots for $3,221. The Compaq includes a 200MHz Pentium CPU, 32MB of RAM, 512k L2 cache, 8X CD-ROM drive, 2.5GB hard drive, On-board 3D video with 2MB EDO RAM and 3 PCI slots for $3,299. They try to argue that the Mac is price competitive but this is a Mac clone which was allowed by apple for about 30 seconds and this is a very specific PC. There were other options with equivalent or better hardware that could be had cheaper. Apple choices were far more limited. Still an interesting comparison.


Every Trick in the Bookmark - A guide to organizing your bookmarks in Netscape Navigator and Microsoft Internet Explorer.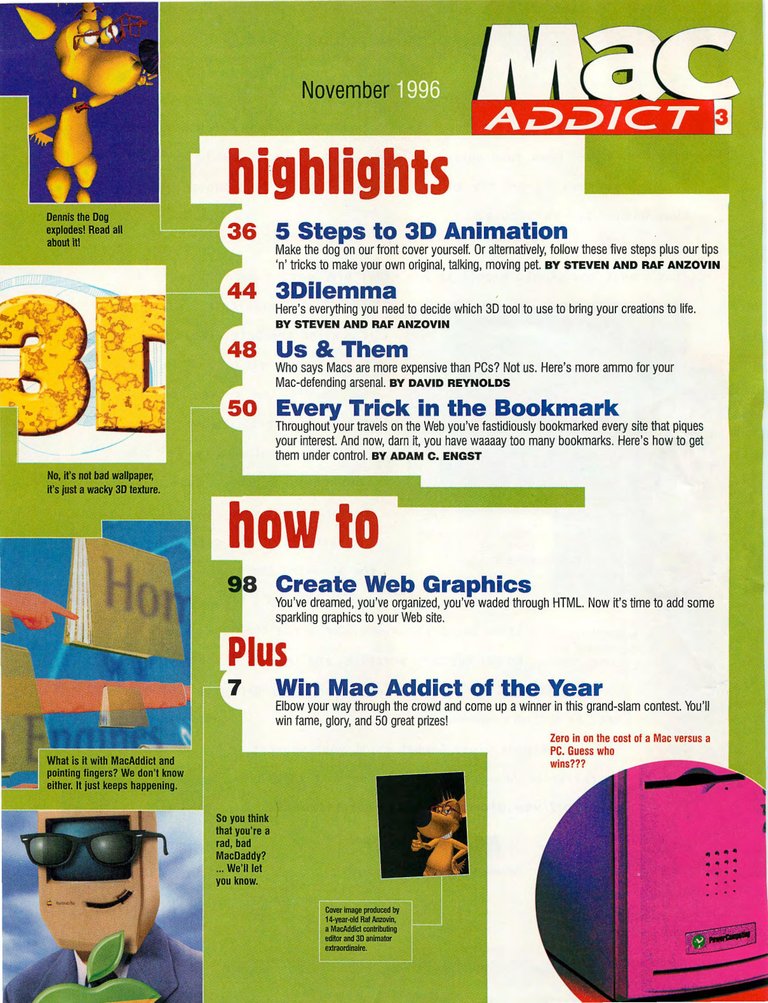 Table of Contents from the November 1996 issue of MacAddict
How To
Create Web Graphics - A guide to creating graphics and images for web pages. This includes tips for aligning and sizing images, using GIFs, spacing, when to use JPEGs, and more.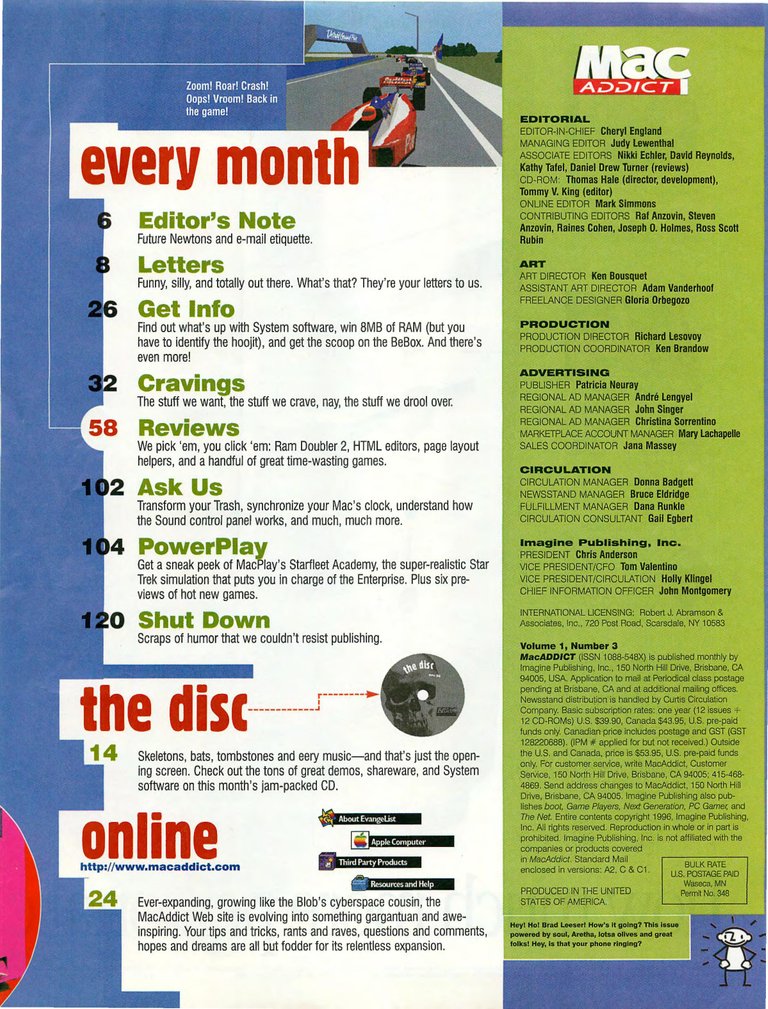 Table of Contents from the November 1996 issue of MacAddict (continued)
Every Month
Editor's Note - A guide to e-mail etiquette and a suggestion to do without e-mail for a day or two.


Get Info - A look at BeOS, an alternative OS that works with PowerPC based Macs (and other hardware); new Magneto-Optical drives (these used to seem so futuristic); some news about the upcoming OS 8; a look at AOL 3.0; and more.


Cravings - A look at interesting new gadgets, software and hardware, including Lightwave 3D, Tarpon (a ruggedized PDA based on the Newton), Xclaim VR (a graphics accelerator), PhotoTools 1.0, CD/Maxtet 1600 (a device that connects 16 hot swappable 8x CD-ROM drives to your Mac), and Photoshop 4.0.


Reviews - Reviews of Claris Home Page & golive Pro, Chromatica, QX-Tools 2.0/PageTools 2.0, Killer Transitions 1.0, Street Atlas 3.0, Phone Search 2.0, MovieStar 1.5, Movie Cleaner, Web-Motion, Myrmidon, Spell Catcher 1.5.6, RAM Doubler 2.0, QuicKeys 3.5, KeyQuencer, Zork Nemesis, AMBER: Journeys Beyond, Gabriel Knight II, Voyeur II, Close Combat, IndyCar Racing II, Don't Quite Your Day Job, Catz, Sacred and Secular, Berlitz Think & Talk Spanish 2.0, Michael Jackson's World Beer Hunter, The Ultimate 3D Skeleton, Origins of Mankind, Better Homes and Gardens Remodeling Your Home, Practice Makes Perfect Spanish, Mortimer and the Riddles of the Medallion, and more.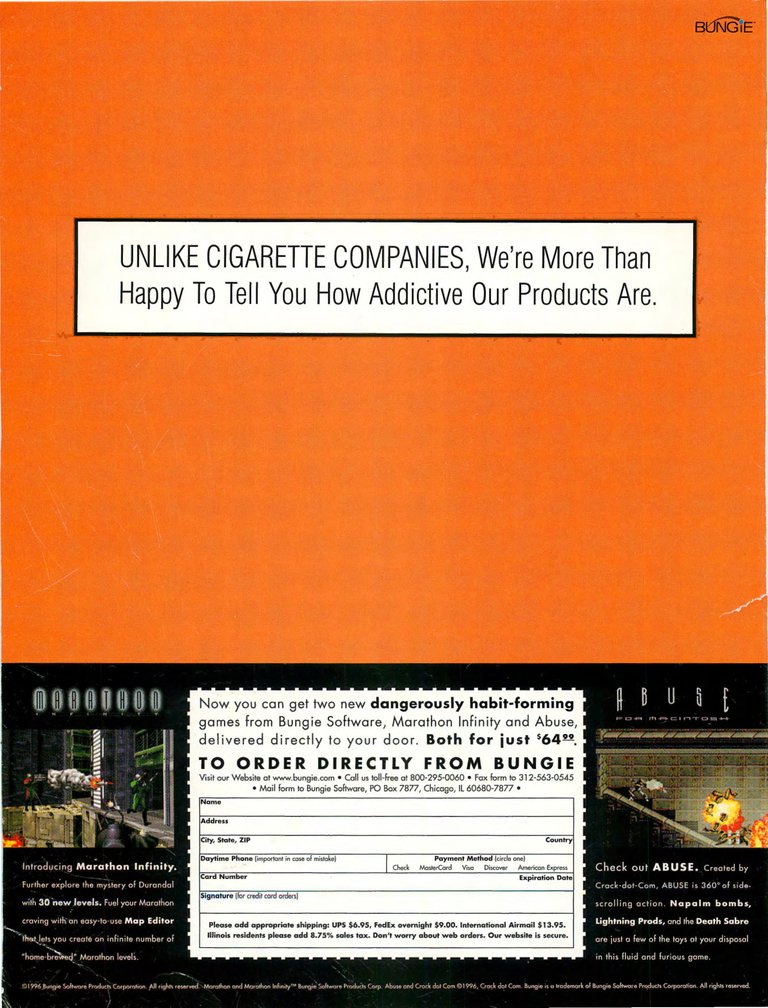 Back cover of the November 1996 issue of MacAddict
Read more: https://www.megalextoria.com/wordpress/index.php/2023/04/27/macaddict-november-1996/
---

Check out my other Social Media haunts (though most content is links to stuff I posted on Hive or reposts of stuff originally posted on Hive):

Wordpress: https://www.megalextoria.com/wordpress
Tumblr: https://www.tumblr.com/blog/darth-azrael
Twitter: https://twitter.com/Darth_Azrael
Blogger: https://megalextoria.blogspot.com/
Odyssee: https://odysee.com/@Megalextoria:b
Rumble: https://rumble.com/c/c-2385054
Daily Motion: https://www.dailymotion.com/Megalextoria
---
Books I am reading or have recently read:
Friends Divided: John Adams and Thomas Jefferson by Gordon S. Wood
The Citadel by Richard A. Knaak
---