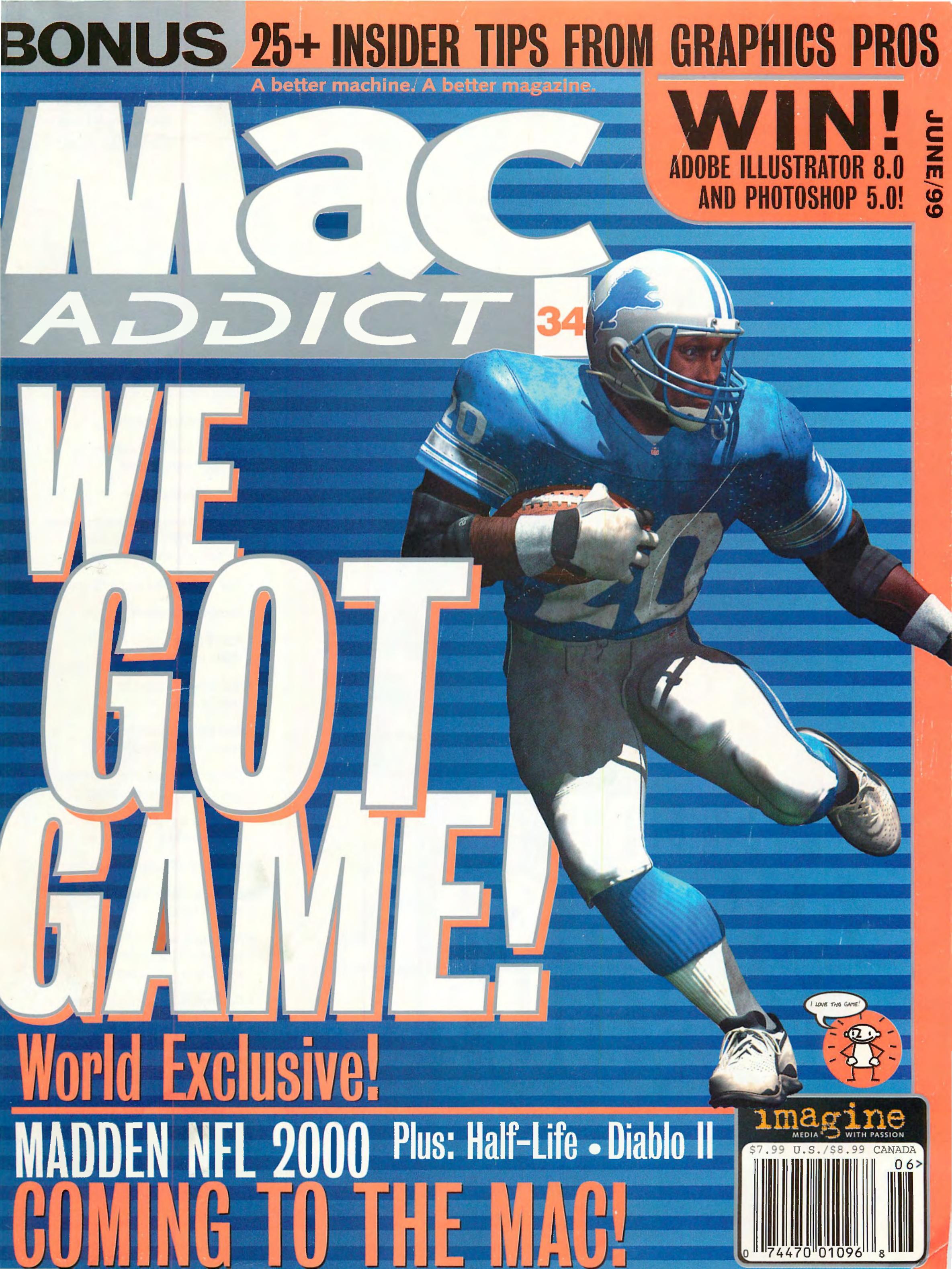 There can be do doubt that the late 1990s/early 2000s were the best of times for Apple's Macintosh line. MacAddict was essentially the Macintosh version of Boot (now Maximum PC). It covered Macs with an almost religious fervor. It was an excellent magazine if you were a Mac lover. The June 1999 issue includes:
Highlights
We Got Game - The Mac gaming market is about to explode with a slew of hot Mac titles, new-to-the-Mac developers, and simultaneous platform releases! In our preseason exclusive report, we give you the stats on all the major industry players and fill you in on their secret game plans.


The Great Graphics Cliche Giveaway - We're such a sneaky bunch! This month we tricked three professional artists into revealing their trademark illustration secrets, then turned around and printed them as step-by-step how-tos complete with screen shots! What else would you expect from a former Prison Guy?


XXIII Reasons You Should Care About Mac OS X Server - OS X Server - why should you give a rat's behind about it? We brief you on Mac OS X Server's selling points, show you how it differs from Mac OS X, and dish all the dirt you need t know about the latest addition to Apple's system software family.
How To
Build Interactive QuickTime Movies - Think you need Macromedia Flash to make cool interactive animations and rollovers for a Web site? Think again, bucko! Couple QuickTime with Totally Hip Software's LiveStage and you're ready to, um, roll.
Every Month
Editor's Note - It;'s been a hell of an issue - we'll tell you all about it.


Letters - Funny? Serious? Funny? Serious? You just can't decide, can you?


Get Info - We perform a little exploratory surgery on the open source movement, voyage into space with Motorola, hail an iCab, and figure out how to turn off all those annoying "helpful" features.


Scrapbook - What's the well-dressed Mac addict reading these days? Peruse our snapshot of an Apple-obsessive bookshelf and pick out some summer reading.
Read more: https://www.megalextoria.com/wordpress/index.php/2021/10/01/macaddict-june-1999/