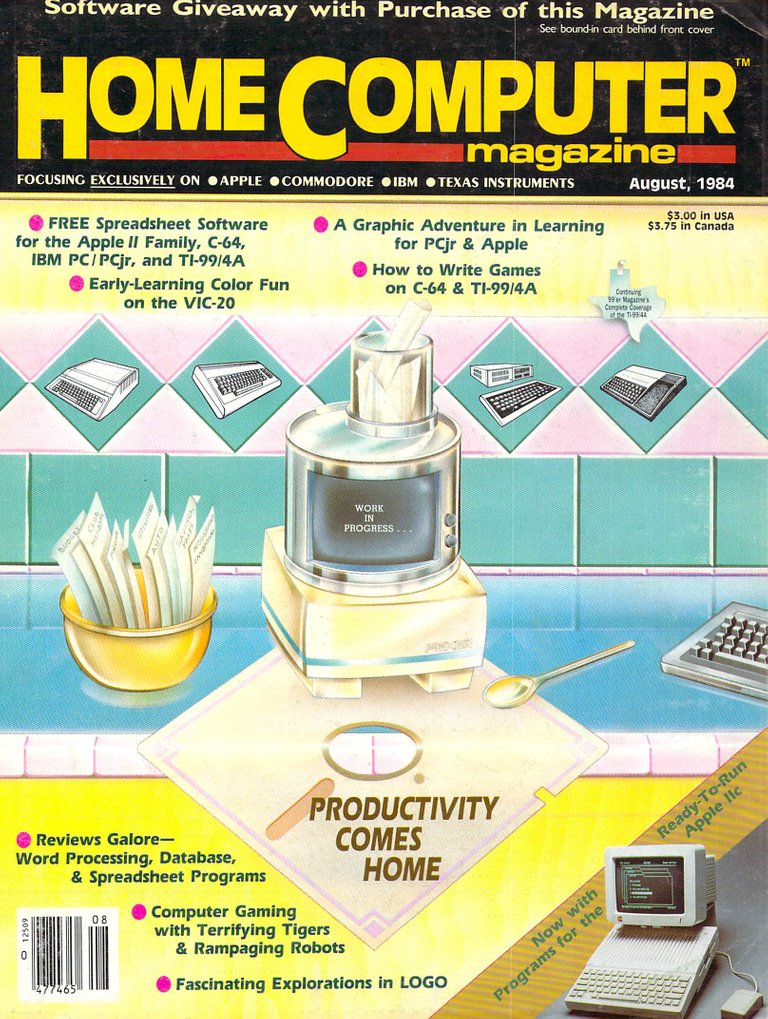 https://megalextoria.blogspot.com/2020/09/home-computer-magazine-august-1984.html
Home Computer Magazine started life as a magazine dedicated to the TI-99/4A under a different name. As it became clear that the TI-99/4A was not going to maintain its success, the magazine branched out to cover other popular systems as well, in particular the Commodore 64, IBM PC and Apple II. The August 1984 issue includes:
Features
Snap-Calc - Creating this mighty math matrix is a snap.
Bars and Plots - Colorful graphs can chart your figures.
Elementary Addition and Subtraction - An educational program for the preschool crowd.
Spider Graphics - Ah, what a tangled (and colorful) web we can weave.
Product Reviews
Personal Editor - Ease of use makes this an outstanding text editor.
EasyWriter II - A powerful word processor for the PC...and Junior.
PFS: File, PFS: Report - Database management without intimidation.
Home Accountant - Financial management comes home.
Count-Sil - A Spreadsheet program for home use.
Doublestuff - Double the Apple's normal color and resolution.
Chivalry - Knights and Ladies abound in this board/video game.
Burgertime - Burger-building in a chaotic kitchen.
Alpha-Pak - Learning the alphabet is as easy as A-B-C.
In Search of the Most Amazing Thing - A nonviolent, educational, fantasy adventure.
Murder by the Dozen - Use your wits to track down "who 'dun' it."
Necromancer - Chasing zombies was never like this.
Logo Times
Binary Forest - 'Branching Out' with Smokey the Bear.
LOGO Flakes - Creative explorations with snowflake desings.
Gameware Buffet
Robochase - Pits you against rampaging robots.
Cyber-Cipher - Break the top-secret computer access code.
Wild Kingdom - Trapping tigers in a jungle maze.
Speeder - A game to make your own.
Deparments
Inside/Outside HCM
On Screen
Letters to the Editor
HCM Review Criteria
Contents
HCM Product News
Program Listing Contents
Program Typing Guide
Industry Watch
Group Grapevine
Home Computer Tech Notes:
...and more!
Read more: https://www.megalextoria.com/wordpress/index.php/2020/09/04/home-computer-magazine-august-1984/