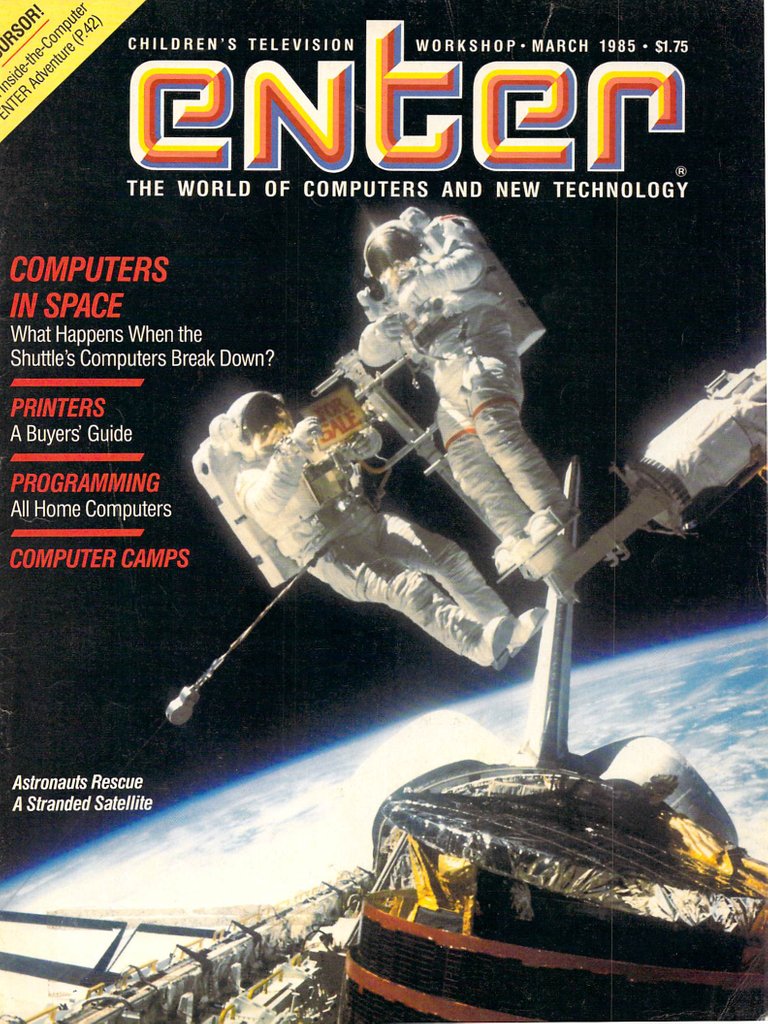 Cover of the March 1995 issue of 'enter'
'enter' was a computer magazine for kids. It covered most of the home computers available at the time including the Commodore 64, Apple II, Atari 400/800, TRS-80 plus several others and included articles, reviews, programming exercises (generally in BASIC) and more. The March 1983 issue included the following:
Features
Computers In Space - A fairly interesting but non-technical article about the computers on board the space shuttle and in mission control.


Games Gone Gonzo - Winners of a contest to come up with crazy game ideas. Titles of these theoretical games include Rockwars, Attack of the Spinach Things, Invasion of the Dirty Dishes, Space Erasers, Thundarr the Barber, Homer, and School Daze.


Cursor, Foiled Again! - A choose your own adventure style type game with a computer theme but played within the pages of the magazine.


Computer Camping, 1985 - All about computer camps. This was a thing in the 1980s and I'm sure I would have loved to have gone to one but sadly missed out (no space camp for me either...) These weren't cheap costing upwards of $1000 for a two week camp. A dozen camps are summarized here.
Digital Dolphins - An article about using computers to help communicate with dolphins. An Apple II is featured prominently.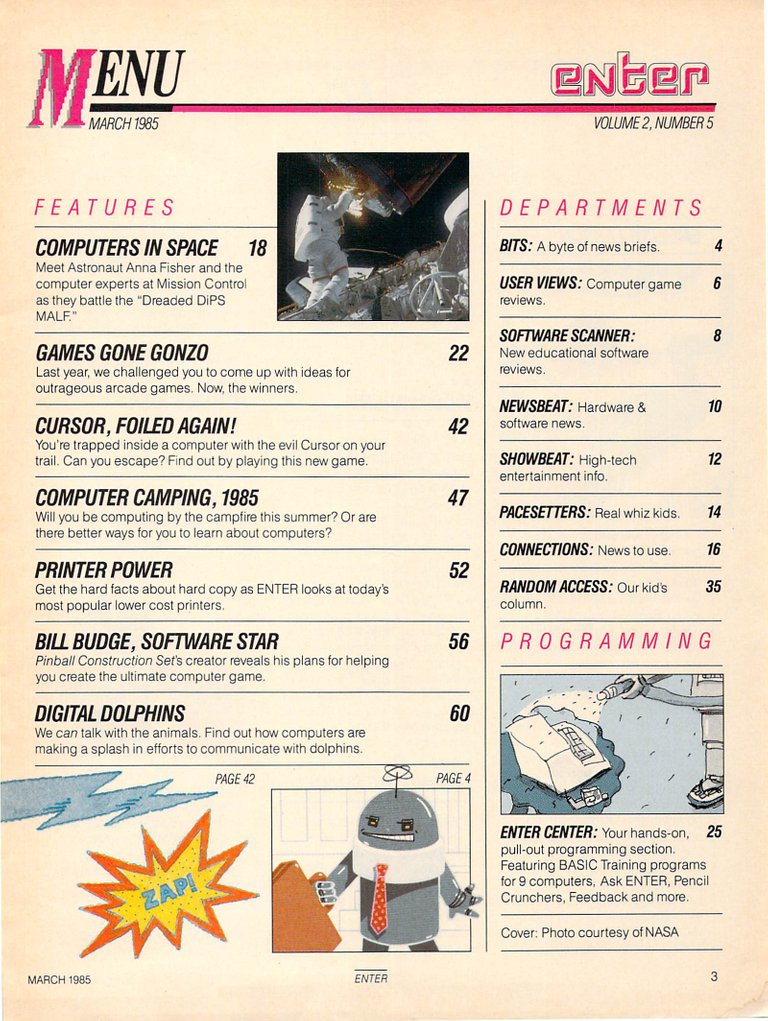 Table of Contents from the March 1995 issue of 'enter'
Departments
Bits - Brief bits of news featuring: new games in the U.K. including Bed Bugs, Metagalactic Llamas, and Bath Time; a 32-player version of BallBlazer; a computer screwing up grades; a robot in congress; automatic faucets and the difficulty of using computers.


User Views - Computer game reviews featuring:

Fahrenheit 451 (Apple II, Commodore 64)
Robot Odyseey I (Apple II)
Ghostbusters (Commodore 64, Apple II, Atari)
Spy vs. Spy (Atari/Commodore 64, Apple II)
Breakdance (Commodore 64)
Cutthroats (Apple II, Macintosh, Atari, Commodore 64, TI 99/4A, DOS)



Software Scanner - Reviews of educational software:

President's Choice (Apple II, DOS, Commodore 64)
Flying Colors (Apple II, Commodore 64)
Dreamhouse (Apple II, Commodore 64)



Newsbeat - News about new and upcoming hardware and software, including coverage of: "Bits & Bytes: The First National Computer Show for Kids"; the new Commodore 128; a re-release of HESGames (called S-Games) and more.


Showbeat - An article about the use of computers when making Disney's Black Cauldron.


Pacesetters - Airport software developed by a group of kids.
Programming
Enter Center - Featuring type-in programs including: Mouse Maze for the Commodore 64 and Atari, Break Dancing for the TI 99 4/A, Melt Away for the TRS-80, Star Destroyer for the Timex Sinclair series, plus various hints and tutorial for programming in BASIC.
Read more: https://www.megalextoria.com/wordpress/index.php/2013/09/11/enter-march-1985/