The Toshiba Satellite L355 was available from a number of retailers in slightly different configurations. My particular model is the L355-S7905. As far as I can tell, the numbers are pretty random but that seems to be the case with most model numbers like this.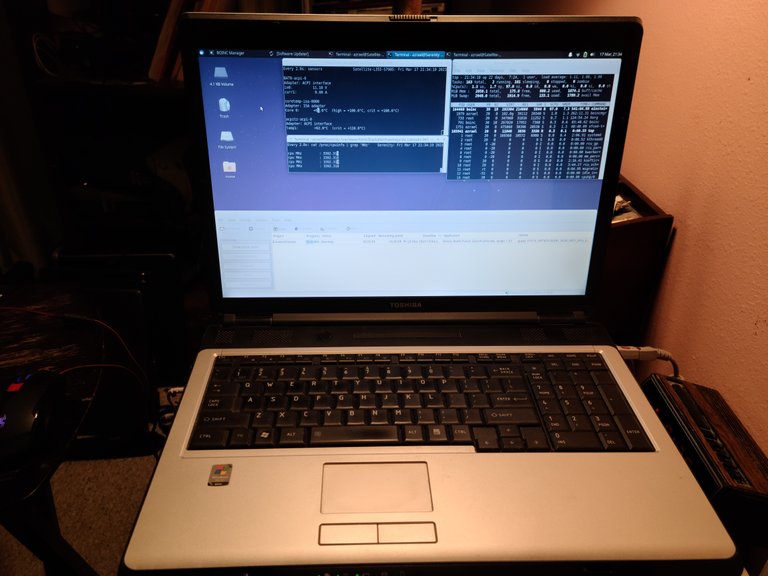 This particular model includes the following hardware:
CPU: Celeron 585 @ 2.16 GHz
Memory: 3 GB DDR2-667 (PC2-5333)
Graphics: Intel Mobile 4 Integrated Graphics
Hard Drive: ATA WDC WD1600BEVT-6, Western Digital Scorpio Blue 160GB 5400RPM
For more detailed specs, see https://www.megalextoria.com/DigitalArchaeology/da_Satellite-L355-S7905/hardinfo_report.html
This was a low-end laptop when released but it has some interesting features for a low-end laptop. First off is the large screen. With a 17-inch screen, this laptop was definitely on the large side. While the resolution is not full HD, it is a respectable 1440x900. The other somewhat interesting features is the CPU. It is a single-core Celeron which was pretty low end for the time as most CPUs by this point were dual core. However, it ran at 2.16GHz which was a good clock rate for the time. I would imagine this would have been a decent CPU for games at the time since most games still weren't optimized for multiple threads. It also had 3 GB of RAM.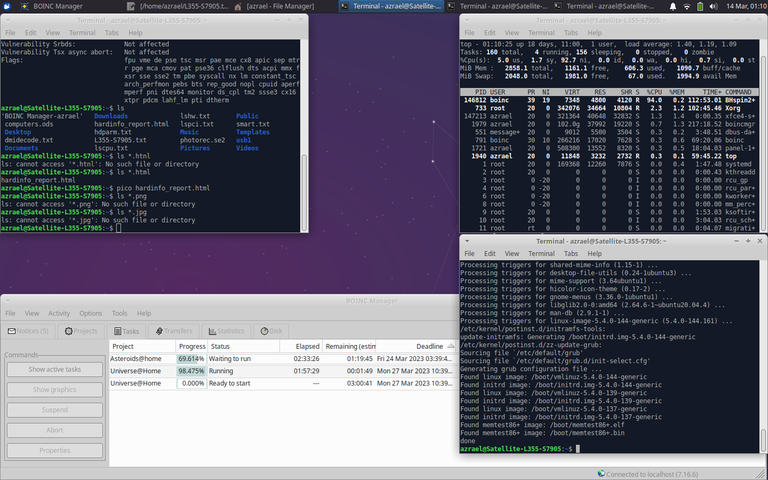 Since this laptop shipped with a 32-bit version of Windows Vista, 3 GB is pretty close to the max it could use. The max that this particular model supports is in fact 4GB but it's only worthwhile to move from 3GB to 4GB if you are running a 64-bit operating system.
The rest of the features were pretty typical of a low end laptop. The DVD burner, 160GB hard drive and integrated Intel graphics would have been fairly common. While the CPU probably would have been sufficient for the games of the time, the lack of a dedicated 3D accelerator would have made it pretty useless for major releases at the time.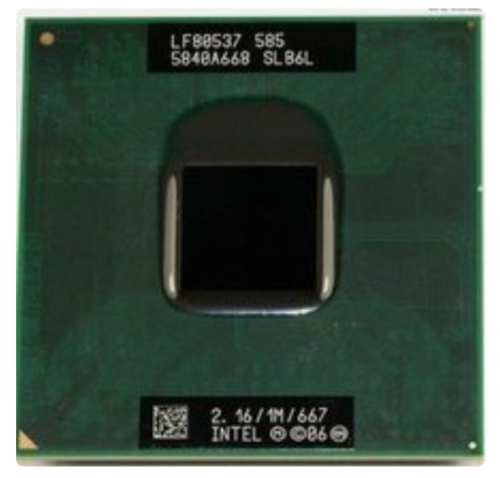 The large physical size is a mixed blessing or at least it comes down to personal preference. Obviously, it is large and bulky so it isn't the greatest choice to lug around. On the other hand, the large screen is a nice feature and it has a full size keyboard including numeric keypad that is nice to type on. The large size also helps it to run cooler and therefore quieter as well. Overall, from a retro usage perspective, I would say the large size is definitely a plus.
As with every machine I own, this one runs BOINC and does work for various projects, including Einstein@home, MilkyWay@home, Asteroids@home, Universe@home and World Community Grid. You can check out how this machine is doing at the links above or how it is doing overall at BOINCStats or FreeDC.
Read more: https://www.megalextoria.com/wordpress/index.php/2023/05/30/digital-archaeology-toshiba-satellite-l355-s7905/
---

Check out my other Social Media haunts (though most content is links to stuff I posted on Hive or reposts of stuff originally posted on Hive):

Wordpress: https://www.megalextoria.com/wordpress
Tumblr: https://www.tumblr.com/blog/darth-azrael
Twitter: https://twitter.com/Darth_Azrael
Blogger: https://megalextoria.blogspot.com/
Odyssee: https://odysee.com/@Megalextoria:b
Rumble: https://rumble.com/c/c-2385054
Daily Motion: https://www.dailymotion.com/Megalextoria
---
Books I am reading or have recently read:
Friends Divided: John Adams and Thomas Jefferson by Gordon S. Wood
The Citadel by Richard A. Knaak
---