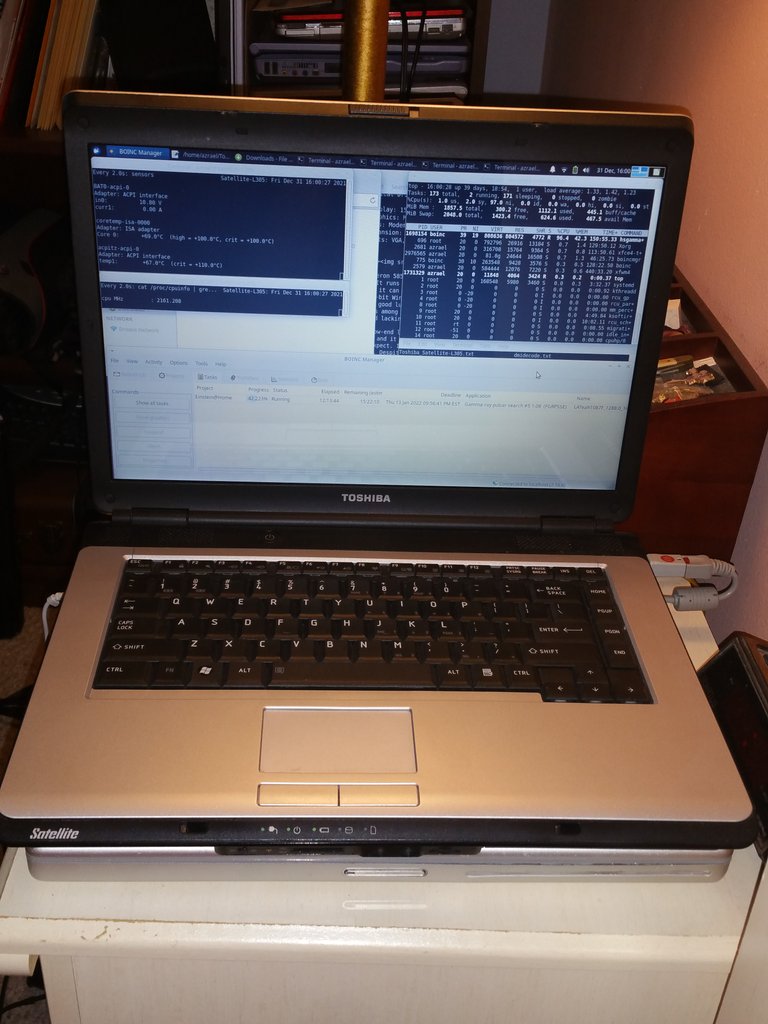 The Toshiba L305 was a low-end laptop series sold in the 2009 timeframe. This particular one, the L305-S5919 is possibly the very lowest end model. It was already obsolete when it was released and was compared to netbooks more than other laptops.
Specs include:
CPU: Celeron 585 (Merom, 64-bit, single core)
Chipset: Mobile Intel GL40 Express
Memory: 2 GB PC6400 DDR2 (supported max 4 GB)
Hard Drive: 160GB 5400 RPM Serial ATA
Optical Drive: DVD SuperMulti +/-R double layer (supporting 11 formats)
Display: 15.4" TruBrite TFT LCD at 1280x800 (WXGA)
Graphics: Mobile Intel Graphics Media Accelerator 4500M (128MB-830MB)
Coms: Modem, 10/100 Ethernet, Atheros 802.11 b/g
Expansion: 2 Memory Slots, ExpressCard Slot, SD/Memory Stick/MMC Slot
Ports: VGA, Microphone, Headphone, USB 2.0 x 3, RJ-45, RJ-11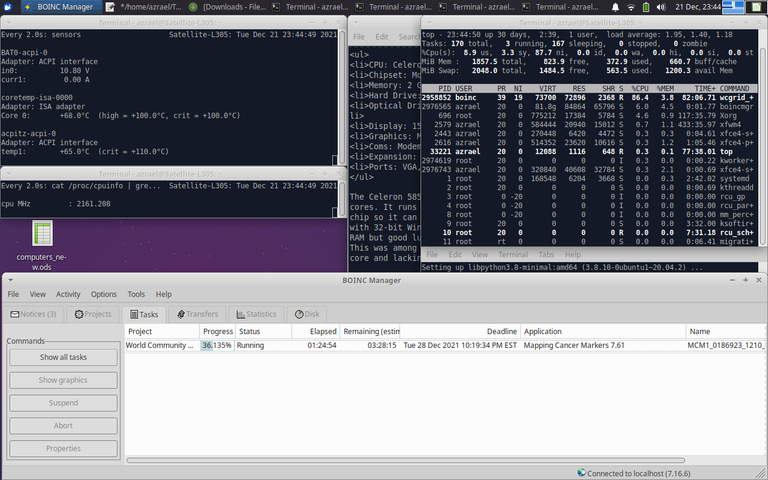 The Celeron 585 is essentially a Core 2 Duo with half the cache and half the cores. It runs at 2.16 GHz which was pretty fast at the time. It's a 64-bit chip so it can run a 64-bit OS but with Windows it is probably better to stick with 32-bit Windows XP. It can also theoretically address more than 4 GB of RAM but good luck finding a laptop that actually supports that with this chip. This was among the lowest end chips of the time, consisting of only a single core and lacking even multithreading.
For a low-end laptop the build quality really isn't too bad. Everything is plastic and it has a very utilitarian design but the keyboard is nicer than I would expect. I would take this over a similarly priced netbook of the time any day. Despite the low-end CPU, in some ways it is better than the newer AMD E-300 series.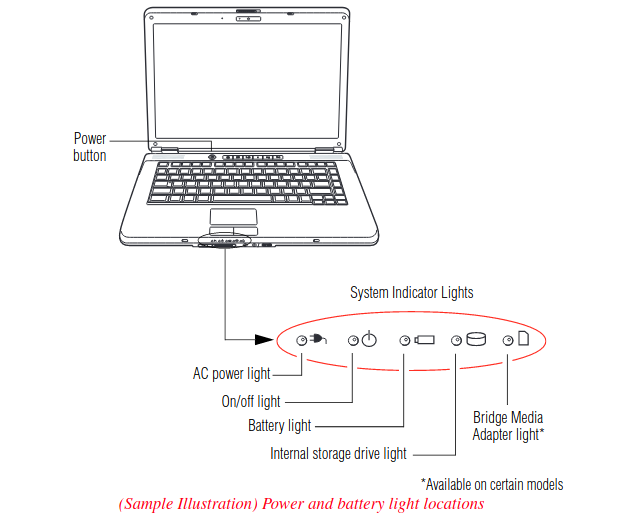 Speaking of upgradeability, there is good news and bad news. The bad news is that the RAM is limited to a maximum of 4 GB. This is a limit of Intel's bottom of the barrel GL40 Express chipset. The news on the CPU front is better. Theoretically, you should be able to stick in any 800 MHz bus Core 2 Duo so up to a T9500 which would give you a significant MHz bump as well as doubling your core count to two.
Check out the full hardware specs as reported by hardinfo here.
Read more: https://www.megalextoria.com/wordpress/index.php/2022/01/10/digital-archaeology-toshiba-satellite-l305/