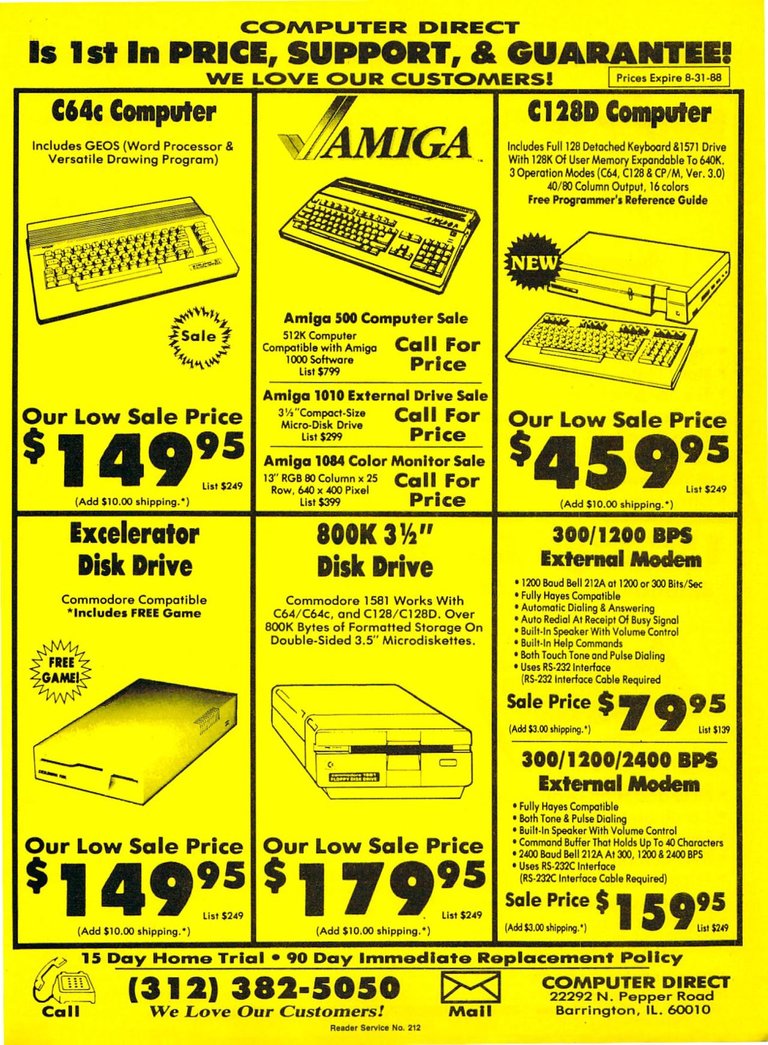 https://megalextoria.blogspot.com/2021/03/computer-direct-november-1988.html
It seems like in the 1980s there were more mail order places for computer equipment then there are internet sites today. This ad is from a popular (it seemed so to me at the time anyway) mail order business called Computer Direct that sold various computers and accessories.
Computer Direct was where most of my Commodore stuff came from. While my Commodore 64c itself probably did not come from here, my 1541-II disk drive, monitor, printer, printer interface, my first modem and even a replacement power supply for my Commodore 64 all came from Computer Direct. Their prices were great and support was superb. You could return anything within 15 days for any reason and they offered a 90-day replacement policy. They even provided technical support if you gave them a call.
Computer Direct's ads were hard to miss. They were typically a multi-page affair and in bright yellow. This particular ad happens to be from the November 1988 issue of Ahoy!'s AmigaUser but I was still getting stuff for my Commodore 64 at that time. I think Christmas 1988 was when I got a Magnavox monitor to replace my crappy tiny color TV that you had to smack every once in a while to unscramble the picture.
I'm not sure whatever happened to Computer Direct. I know they were founded in 1979 and I found ads for them through at least 1993. There seem to be a bunch of businesses out there with the name "Computer Direct" but none of them appear to be related to the original.
Read more: https://www.megalextoria.com/wordpress/index.php/2021/03/12/computer-direct-november-1988/