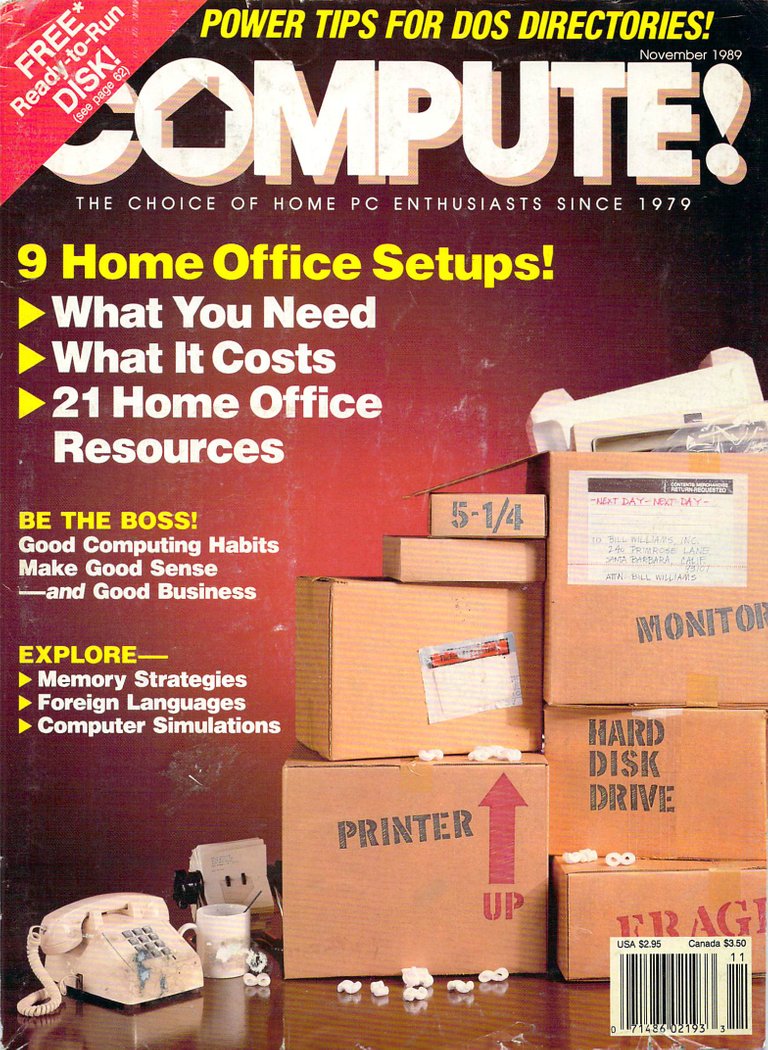 Cover of the November 1989 issue of Compute!
Compute! was one of the earliest home computer magazines and probably one of the last to cover multiple systems other than the PC standard. It was still going pretty strong in 1989 and covering at least the Commodore 64, Apple II, Amiga and Macintosh in addition to the PC (DOS). The November 1989 issue includes:
In Focus: Your Home Office
Your Home Office: Dressed for Success - In 1989 26 million people were working from home and the idea of a "home office" was becoming popular. As far as computer equipment, Compute! recommends starting with an XT-class computer with two floppy drives, 256K of RAM, a decent word processor and a 9-pin dot matrix printer and expanding from there based on your specific needs.


My View - Work at home pioneers and authors of "Working from Home" discuss...working from home.


Take Five - Working from home vs. running your own business. While the equipment may be important, it ultimately isn't what makes a business successful.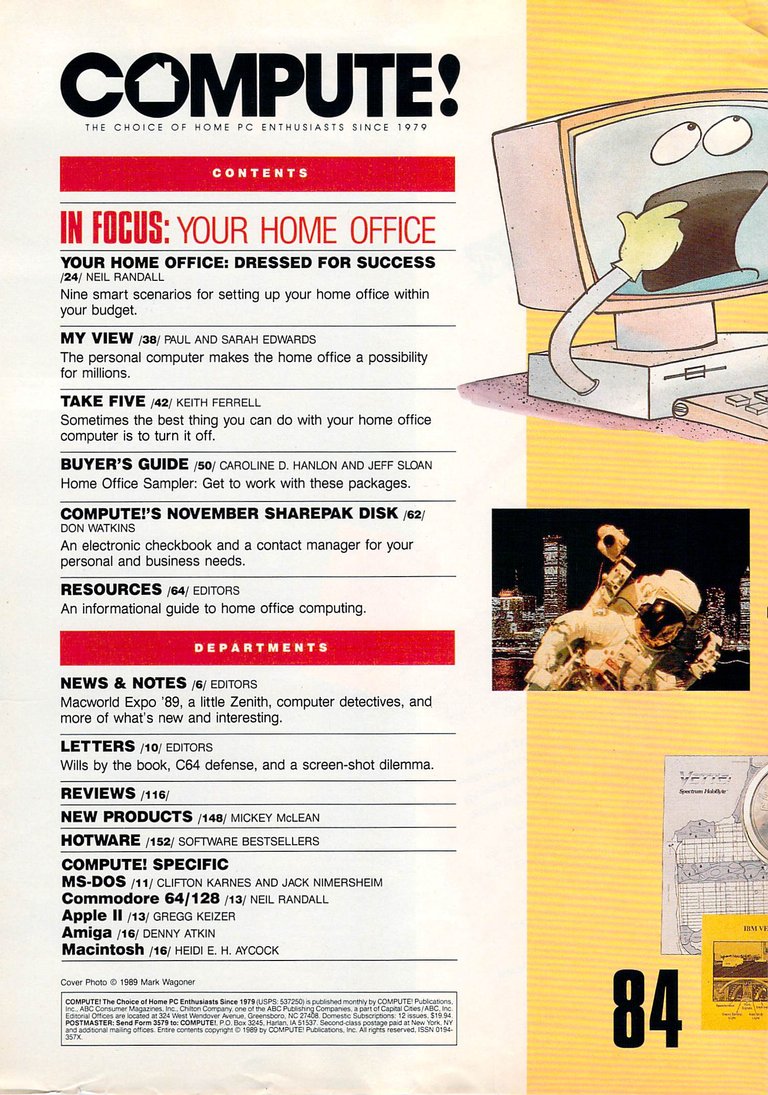 Table of Contents from the November 1989 issue of Compute!
Departments
News & Notes - Zenith releases six pound laptop for under $2000; Macworld Expo features multimedia, WordPerfect 4.1 released for the Amiga, new technique for "aging" photos of missing children, GPA interface board released for PS/2 computers featuring support for two joysticks, and more.


Letters - Letters from readers about the legal implications of using WillMaker software to create wills for others, the Commodore 64 vs. the NES, identifying screen shots, and more.


Reviews - Reviews of Dr. Doom's Revenge (PC, Commodore 64, Amiga), PC Paintbrush IV (PC), Super Story Tree (Apple II), Echelon (PC), Wealthbuilder (PC), Space Quest II: The Pirates of Pestulon (PC), Barbarian (Atari ST, PC), Ultravision (PC), Children's Writing and Publishing Center (Apple II), and Mastering the LSAT (PC).


Compute! Specific

MS-DOS - A look at the Seagate 251 hard drive (40MB for $400 or less), PC Tools Deluxe, Viruscan from McAfee, and SpinRite.
Commodore 64/128 - A look at the games Fire King, Total Eclipse, Darkside, and Curse of the Azure bonds.
Apple II - A look at educational software featuring Stickybear, SuperPrint II, and an external battery for the IIgs.
Amiga - A look at NewTek's DigitPaint 3 and Falcon from Spectrum Holobyte.
Macintosh - A look at the DataStor 8000 (a PIM that works with the Mac), WorkMaker and Publish It!.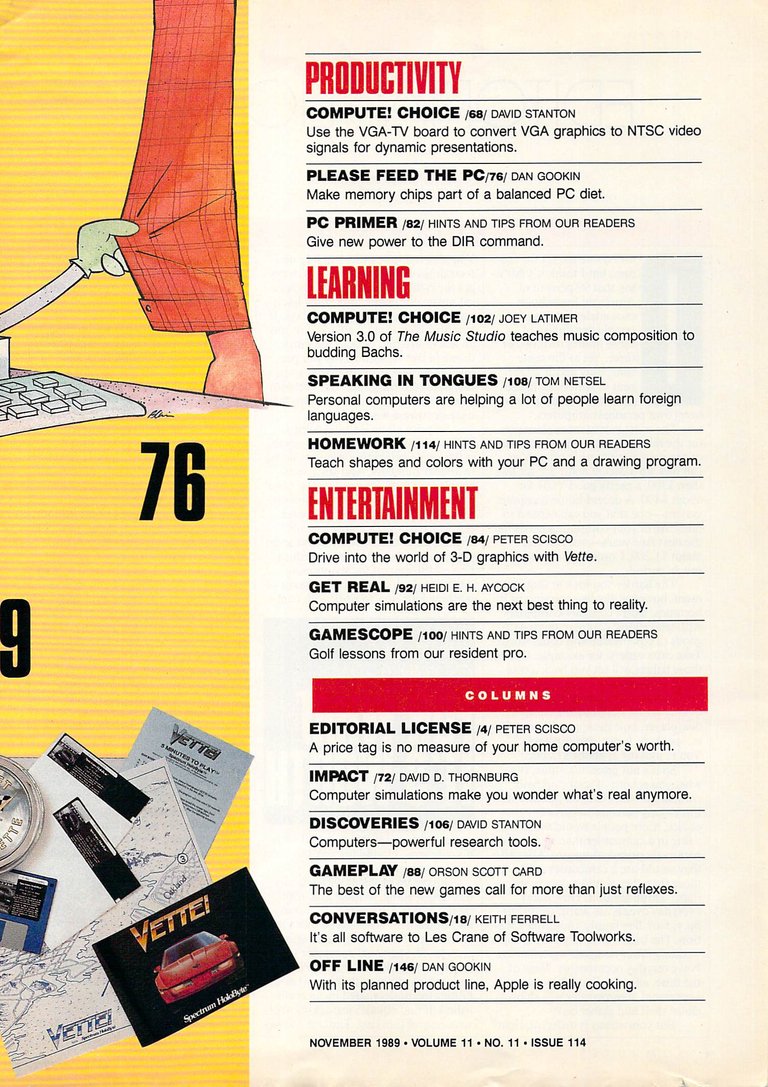 Table of Contents from the November 1989 issue of Compute!
Productivity
Compute! Choice - A look at VGA-TV, an 8-bit VGA board with 256K of memory that converts VGA graphics to television signals.


Please Feed the PC - A guide to expanding the memory and drive space of your PC.


Learning
Compute! Choice - A look at The Music Studio 3.0 from Activision.


Speaking in Tongues - Learning a new language using your PC.


Entertainment
Compute! Choice - A positive review of Vette! from Spectrum Holobyte. Minimum requirements include an 8-MHz IBM PC, and 512K of RAM.


Get Real - A look at various simulations from F-19 Stealth Fighter to Pirates!.


Columns
Editorial License - Some advice for buying a computer, including not just buying what is most expensive.


Impact - An article on computer simulations and how they work.


Discoveries - Computers start replacing books and other media in education and research.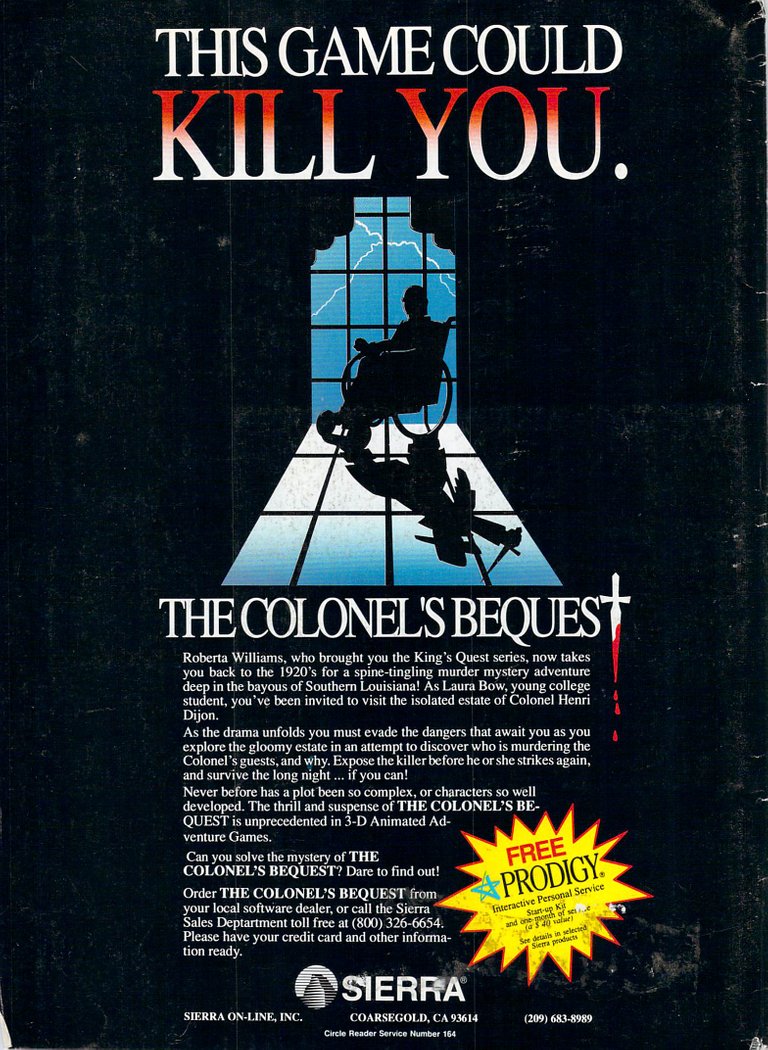 Back cover of the November 1989 issue of Compute!
Read more: https://www.megalextoria.com/wordpress/index.php/2023/04/24/compute-november-1989/
---

Check out my other Social Media haunts (though most content is links to stuff I posted on Hive or reposts of stuff originally posted on Hive):

Wordpress: https://www.megalextoria.com/wordpress
Tumblr: https://www.tumblr.com/blog/darth-azrael
Twitter: https://twitter.com/Darth_Azrael
Blogger: https://megalextoria.blogspot.com/
Odyssee: https://odysee.com/@Megalextoria:b
Rumble: https://rumble.com/c/c-2385054
Daily Motion: https://www.dailymotion.com/Megalextoria
---
Books I am reading or have recently read:
A Most Inconvenient Curse by J. H. Fleming
Friends Divided: John Adams and Thomas Jefferson by Gordon S. Wood
The Citadel by Richard A. Knaak
---