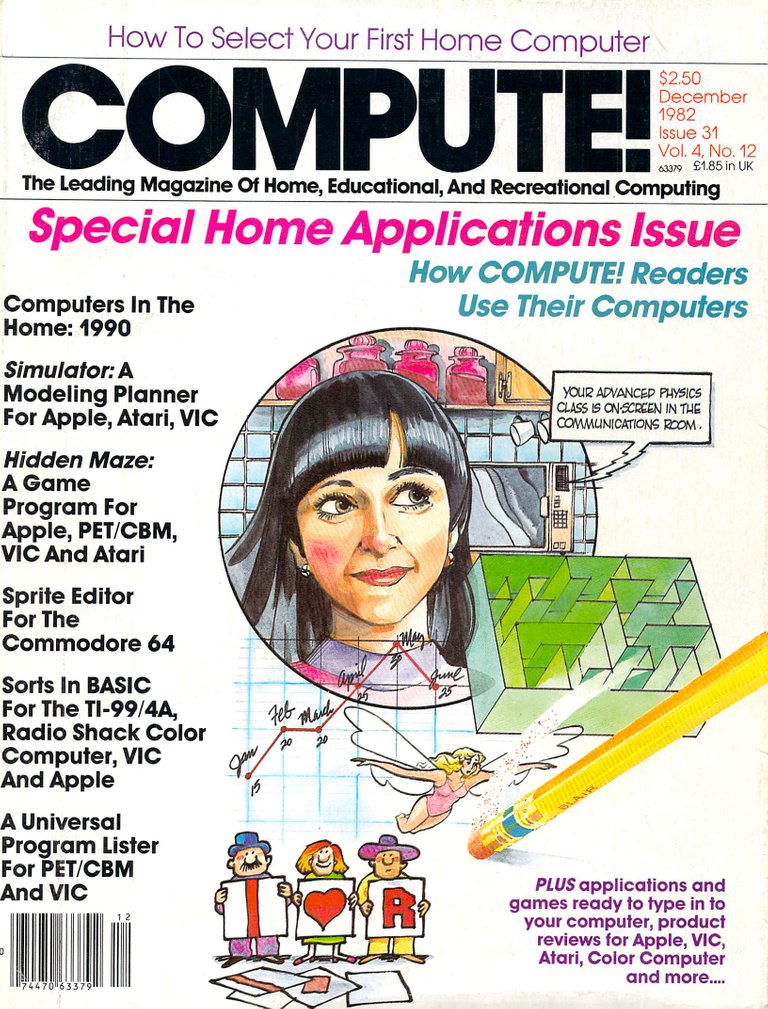 https://www.megalextoria.com/wordpress/index.php/2016/08/11/compute-issue-number-31-december-1982/
Compute! was an early and long running multi-format computer magazine. In 1982 it was covering systems such as the Apple II, Commodore PET, Commodore 64, VIC-20, Atari 400/800, TI-99/4A, Radio Shack Color Computer and other machines of the time. The December 1982 issue includes:
Features
Computers In The home: 1990
How COMPUTE! Readers Use Their Computers
How To Select Your First Home Computer
Simulator: A Modeling Planner
CalCalc: Computerize Your Diet
Education and Recreation
How To Use SYS: Part 2
Name Play
VIC And PET PILOT Interpreter
An Atari For Christmas: Part 2
Hidden Maze
Reviews
Supergraphics For PET
TRS-80 Color Programs Book Review
Apple Adventures
The VIC "Cardboard"
Columns And Departments
The Editor's Notes
Ask The Readers
The Beginner's Page: Easy Changes
Learning With Computers: Computer Literacy
Friends Of The Turtle
The World Inside The Computer: Software, Sexism, And Other Topics
Computers And Society
The Journal
A Universal Program Lister
Renumber
VIC Block SAVE And LOAD
TextPlot II
Commodore 64 Sprite Editor
Tiny Aid For VIC-20
Atari PEEK And POKE Alternatives
Paper Monitor Switch For 2022 Printer
A Floppy With A Strange Device
VIC File Clerk
Undeletable Lines, Revisited
Atari Moving Message Utility
Restore (N) In Applesoft
Codemover
New Products
CAPUTE!: Modifications Or Corrections To Previous Articles
COMPUTE!'s Listing Conventions
Read more: https://www.megalextoria.com/wordpress/index.php/2016/08/11/compute-issue-number-31-december-1982/