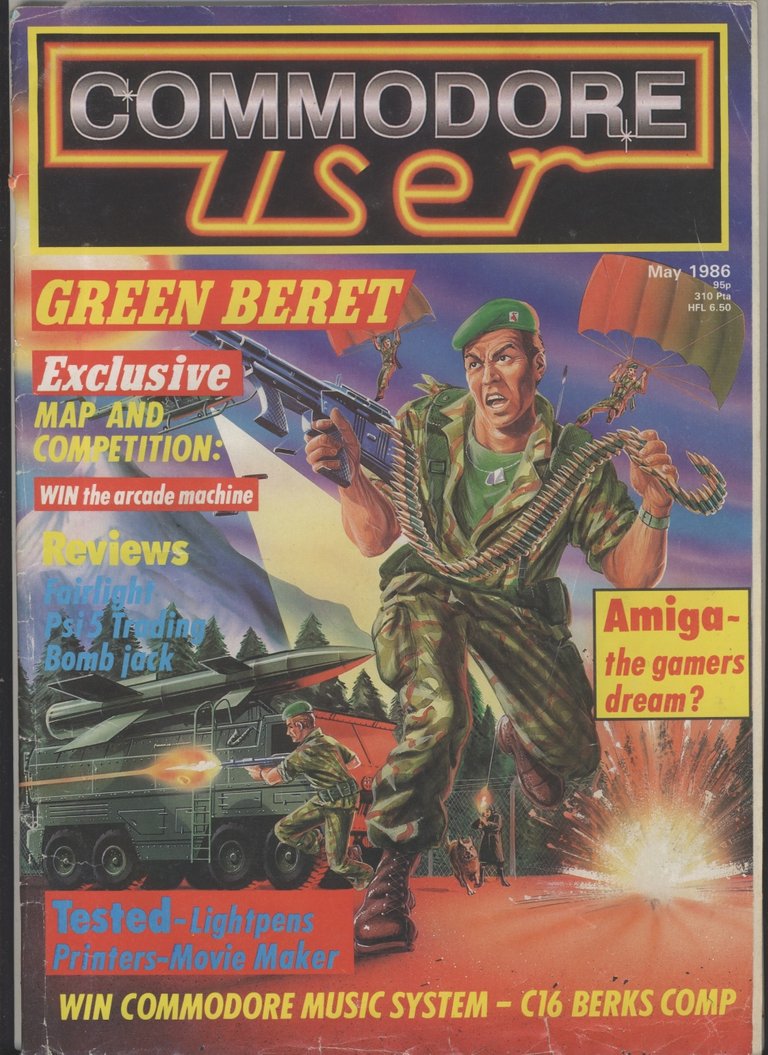 Cover of the May 1986 issue of Commodore User
The U.K. was lucky enough to have not one gaming magazine for the Commodore 64 but multiple. In the U.S. we had several excellent Commodore 64 magazine and they, of course, covered games but none were dedicated to games. Commodore User had non gaming coverage as well but the emphasis was definitely on games. It covered other 8-bit Commodore computers like the Commodore 16 and later it switched over to the Amiga but it was covering the Commodore 64 into at least 1990. The May 1986 issue includes:
Features
What's Going On - MicroProse plans to bring more games to the U.K.; Datahits releases cassette with game music; Argus Software releases Load 'N' Go series of productivity software for the C64; plus a preview of the 7th Annual Commodore Show and much more.


Movie Maker - A detailed review of Ariolasoft's Movie Maker. This software allows you to create mini animated movies with sprites, sound, music and animation.


Complete Music System - A review of this Commodore product which includes a keyboard, Sound Expander (which uses FM synthesis), and Sound Studio software.


Regulars
Feedback - Letters from readers about joystick durability, Elite, gaming on a black and white TV, the Commodore 16 and speeding up loading, tips for the Plus/4, and more.


US Hotline - A look at what is going on in the U.S. market. This month, the emphasis is on the online service for Commodore Users called QuantumLink (incidentally, this would later become AOL).


Uncle Jim - A look at a prototype Super Quick User Interface Device (SQUID).


Happy Hacker - Connecting directly with another Commodore 64 user via modem to communicate and/or transfer files. In the example given, they transferred 100K (yes that's kilobytes) worth of files in about half an hour...or so. Plus a look at the various MUDs Commodore users can access and some info on the Miracle Technology's 64 Multimodem.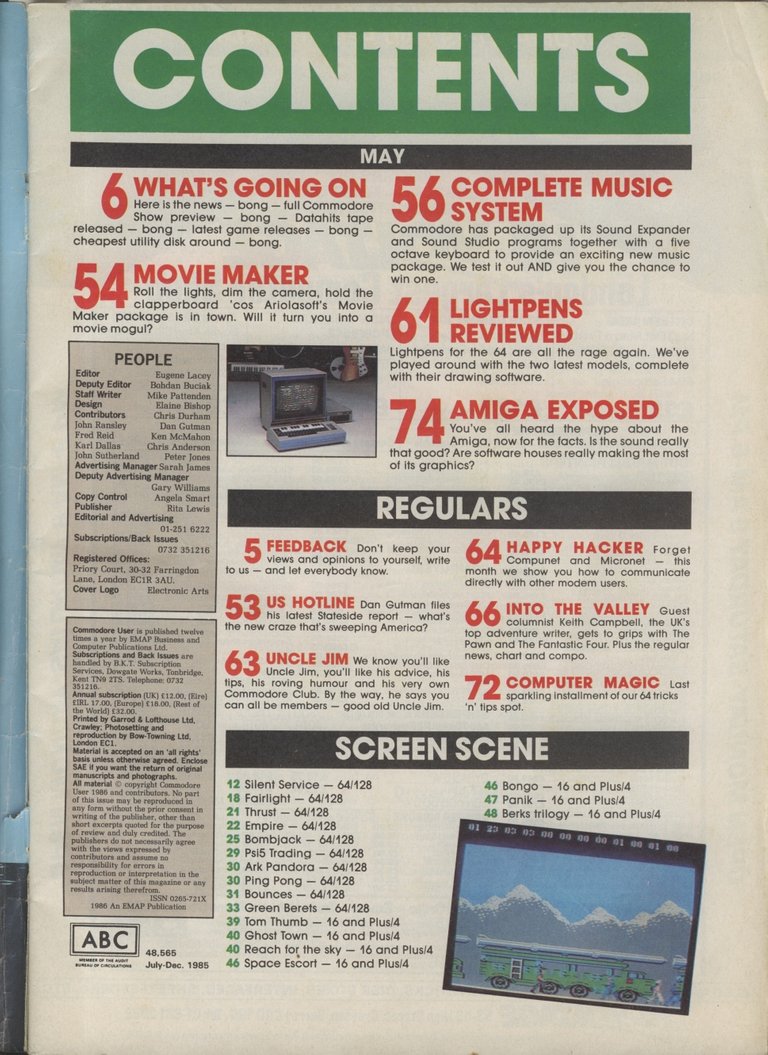 Table of Contents from the May 1986 issue of Commodore User
Screen Scene
Silent Service (Commodore 64/128) - The famous submarine sim for the Commodore 64.


Fairlight (Commodore 64/128) - A port of an isometric arcade adventure game from the Spectrum.


Thrust (Commodore 64/128) - A sort of more advanced version of asteroids in which you must navigate tunnels, pick up fuel, collect crystals and destroy obstacles.


Empire (Commodore 64/128) - A sci-fi strategy game featuring 60 star systems to explore.


Bombjack (Commodore 64/128) - A port of the arcade game of the same name.


Psi5 Trading (Commodore 64/128) - Assemble a crew to deliver supplies to the Parvian Frontier while battling enemies and maintaining your ship.


Ark Pandora (Commodore 64/128) - An arcade adventure in which everything is controlled by icons.


Ping Pong (Commodore 64/128) - A good version of computerized ping pong.


Bounces (Commodore 64/128) - A futuristic sports game in which you must sling your ball into the opponents goal...or just at your opponent.


Green Berets (Commodore 64/128) - A side scrolling shoot-em-up also known as Rush'n Attack and was adapted from the arcade game.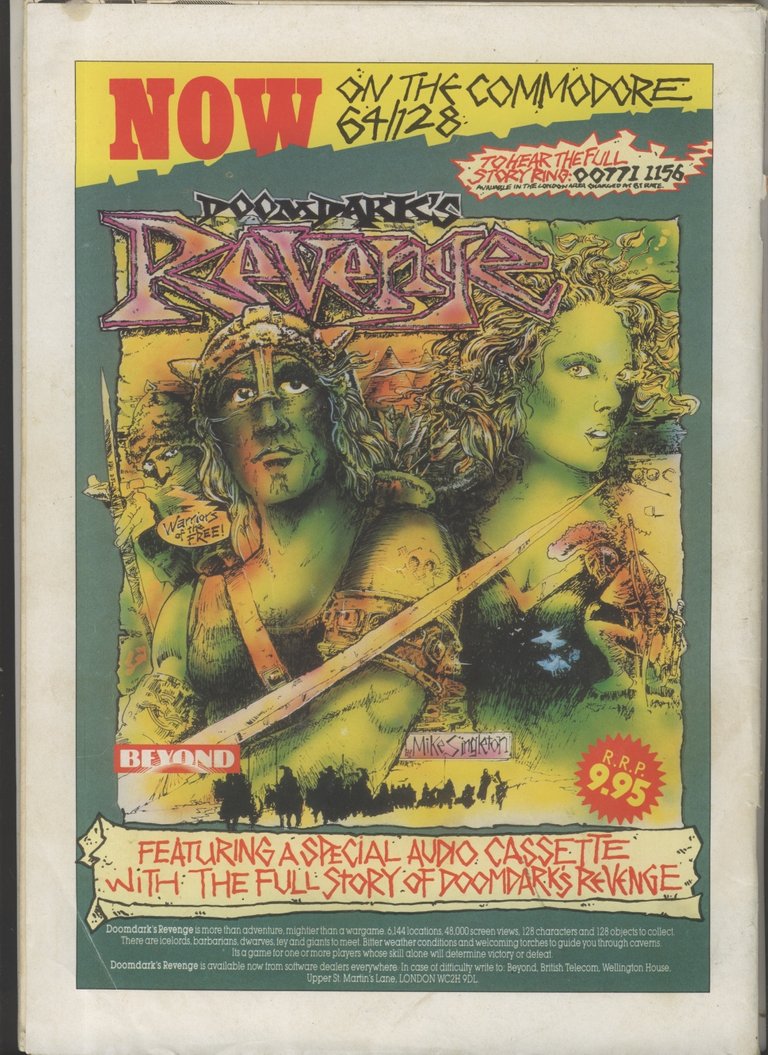 Back cover of the May 1986 issue of Commodore User
Read more: https://www.megalextoria.com/wordpress/index.php/2023/01/11/commodore-user-may-1986/