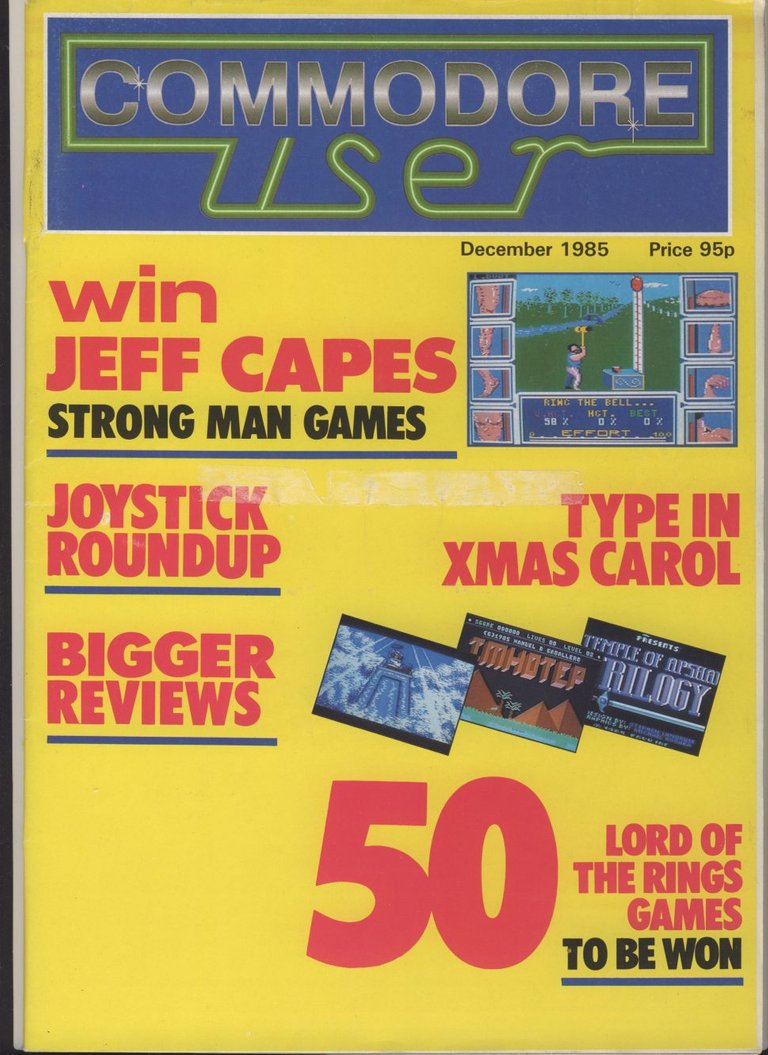 Cover of the December 1985 issue of Commodore User
Commodore User was one of a multitude of Commodore computer related magazines that were published in the U.K. There were a few good ones in the U.S. but there was definitely more variety in the U.K. The December 1985 issue of Commodore User includes:
Features
What's Going On - Assembler and program development system released by JCL for the Commodore 128; Domark gets license to develop Friday the 13th game; Hardball from Accolade due out in January; Ultimate announes two new games - Dragon Skulle and Outlaws; and much more.


Hot Shots - Domark talks about budget cuts and Friday the 13th.


Christmas with the Stars - Brief Christmas themed interviews with Jeff Minter, Mike Singleton, Wild Bill Stealey, Tony Pomfrett, Neil A Bate, Chris Harvey, and Tony Crowther.


Screen Scene - Reviews and previews of games, including Quake Minus 1, Imhotep, Codename Mat II, Harvey Smith's Show Jumper, Goonies, Little Computer People, Fighting Warrior, A.C.E., Dynamite Dan, Magic, Capers (preview), Wizard, Scarabaeus, Zyto, Doriath, Space Hunter, The Young Ones (preview), Battle of Britain, Crusade in Europe, Crazy Comets, Rambo, and Enigma Force.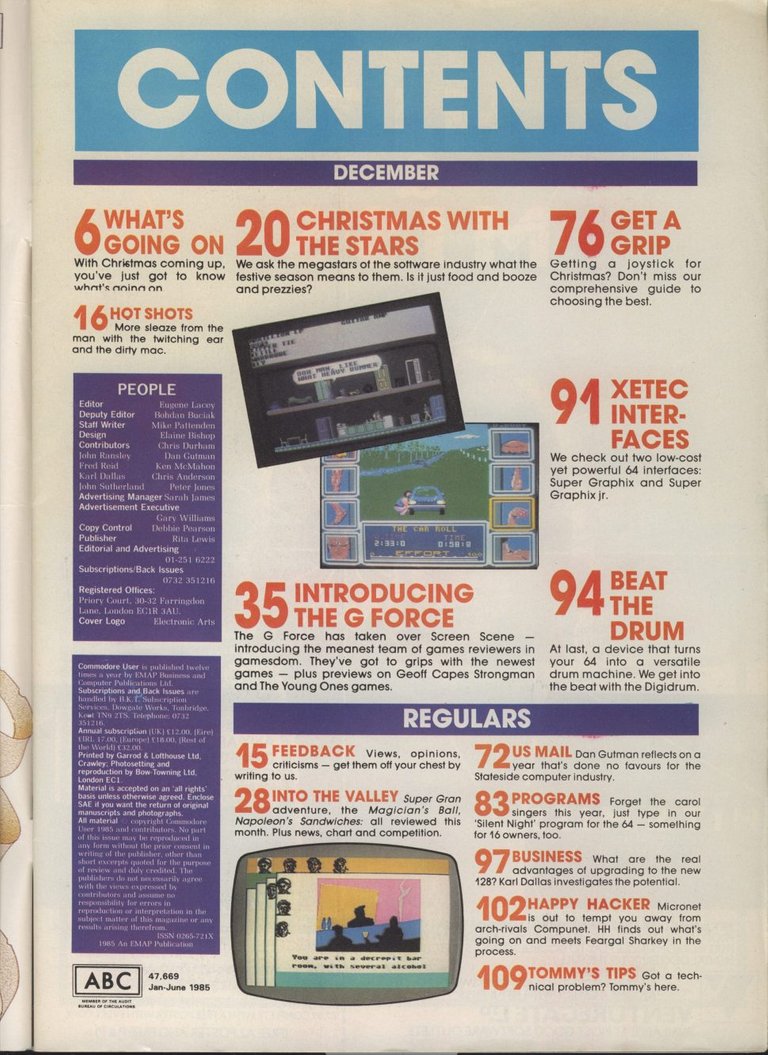 Table of Contents from the December 1985 issue of Commodore User
Regulars
Feedback - Letters from readers about Cuthbert, Commodore 16 software, Space Invaders, and more.


Into the Valley - A chance to win Lord of the Rings, plus a look at The Magician's Ball, Wizard and the Princess, Lucifer's Ball, and more adventure games.


US Mail - A look at what is going on in the U.S. computer market, including Coleco pulling the plus on the Adam, IBM discontinuing the PC Jr., the New York Public Library computerizing their card catalog, the lateset in artificial intelligence, and much more.


Programs - Type-in programs including Silent Night (plays Silent Night on your C64) and Golf for the Commodore 16 and Plus 4.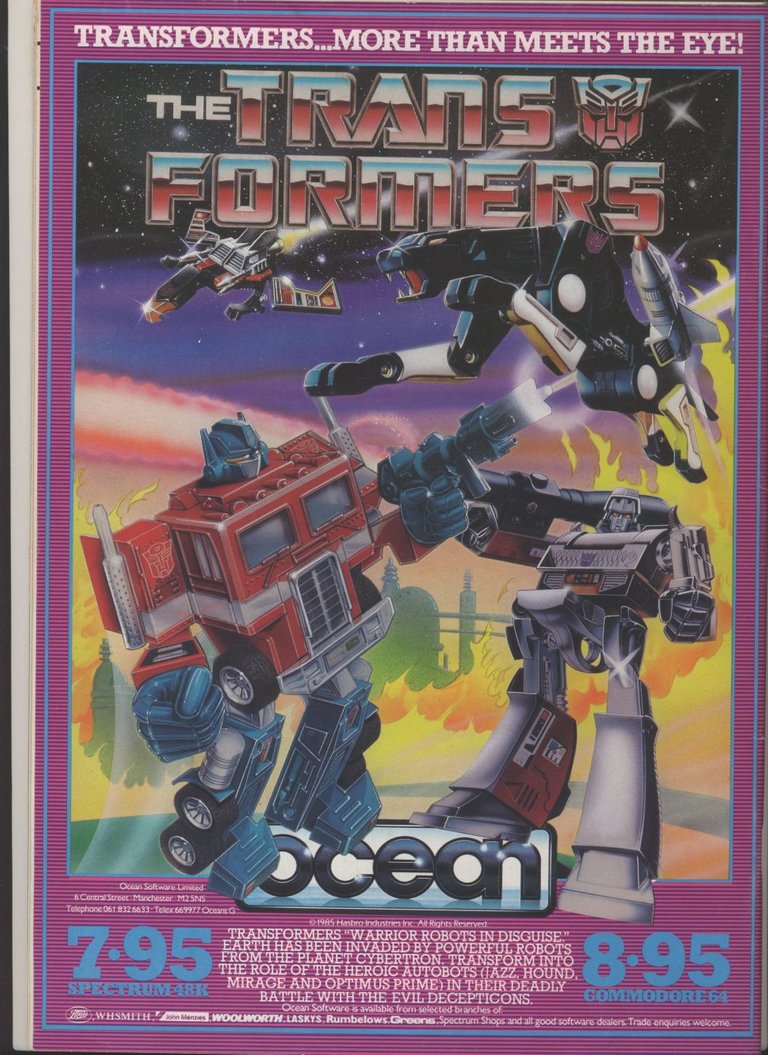 Back cover of the December 1985 issue of Commodore User
Read more: https://www.megalextoria.com/wordpress/index.php/2023/04/19/commodore-user-december-1985/
---

Check out my other Social Media haunts (though most content is links to stuff I posted on Hive or reposts of stuff originally posted on Hive):

Wordpress: https://www.megalextoria.com/wordpress
Tumblr: https://www.tumblr.com/blog/darth-azrael
Twitter: https://twitter.com/Darth_Azrael
Blogger: https://megalextoria.blogspot.com/
Odyssee: https://odysee.com/@Megalextoria:b
Rumble: https://rumble.com/c/c-2385054
Daily Motion: https://www.dailymotion.com/Megalextoria
---
Books I am reading or have recently read:
A Most Inconvenient Curse by J. H. Fleming
Friends Divided: John Adams and Thomas Jefferson by Gordon S. Wood
The Citadel by Richard A. Knaak
---