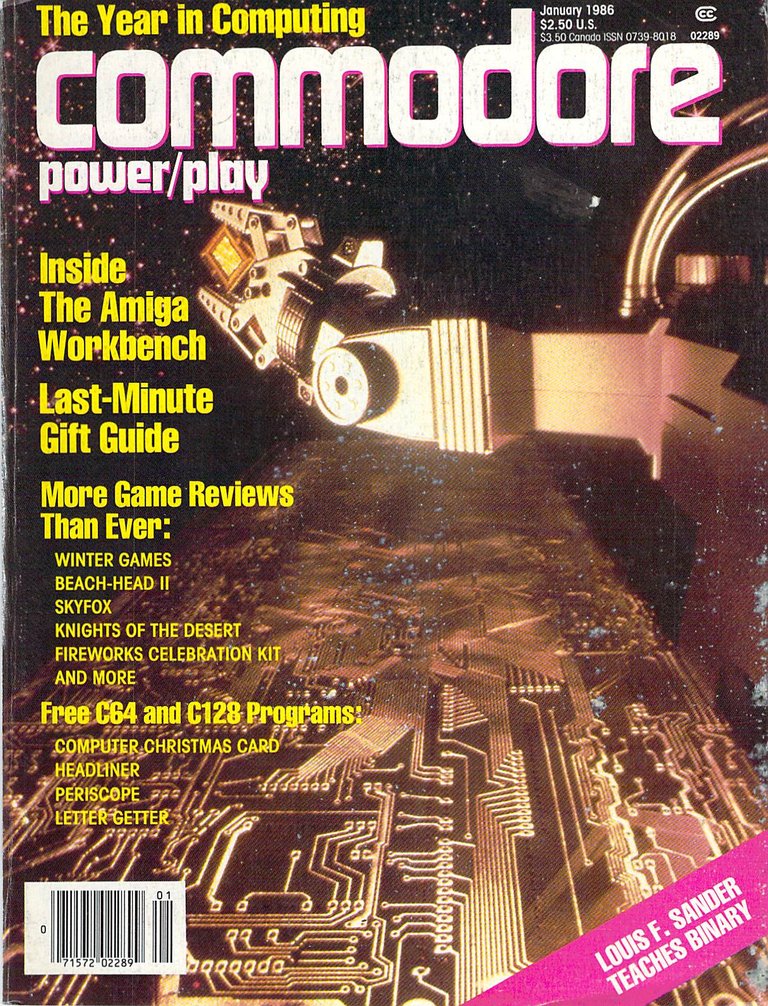 http://megalextoria.blogspot.com/2013/08/commodore-powerplay-december.html
Commodore Power/Play was one of Commodore's official publications in the 1980s. The January 1985 issue includes:
Departments
Letters
Adventure Road - Infocom introduces 128K Adventures
Game Reviews

Master of the Lamps
Racing Destruction Set
Six Gun Shootout
Winter Games
Maxwell Manor
Speller's Duel
Questron
Summer Games II
Combat Leader
Fireworks Celebration Kit
Skyfox

Computer Wizard - Computer Counting, Part 1
Jiffies

Computer Christmas Card
Headliner
Top Shooter

The Computer Scientist - A Very Simple Computer
Game Programs
User Groups
Book Reviews - The Printer Book
How To Enter Programs
In Power/Play

Tom Snyder is Hands-On for Kids
The Jazz Scats

Advertiser's Index
Features
Last-Minute Gift Guide for the Computerist Who Has Everything - From beeping keyrings to "sound" pens to diskette ties, you'll find something here that will surprise and delight your computing friends.
Amiga Update: The Workbench User Interface - Thanks to the Workbench software that comes with Commodore's new Amiga personal computer you can start putting the machine through its paces as soon as you take it out of the box and plug it in.
The Year In Computers - Great moments (or at least memorable ones) in computing this past year, as high-tech continued to make headlines and history.
Read more: https://www.megalextoria.com/wordpress/index.php/2013/08/01/commodore-powerplay-december-1985january-1986/