Commodore Magazine (March 1989)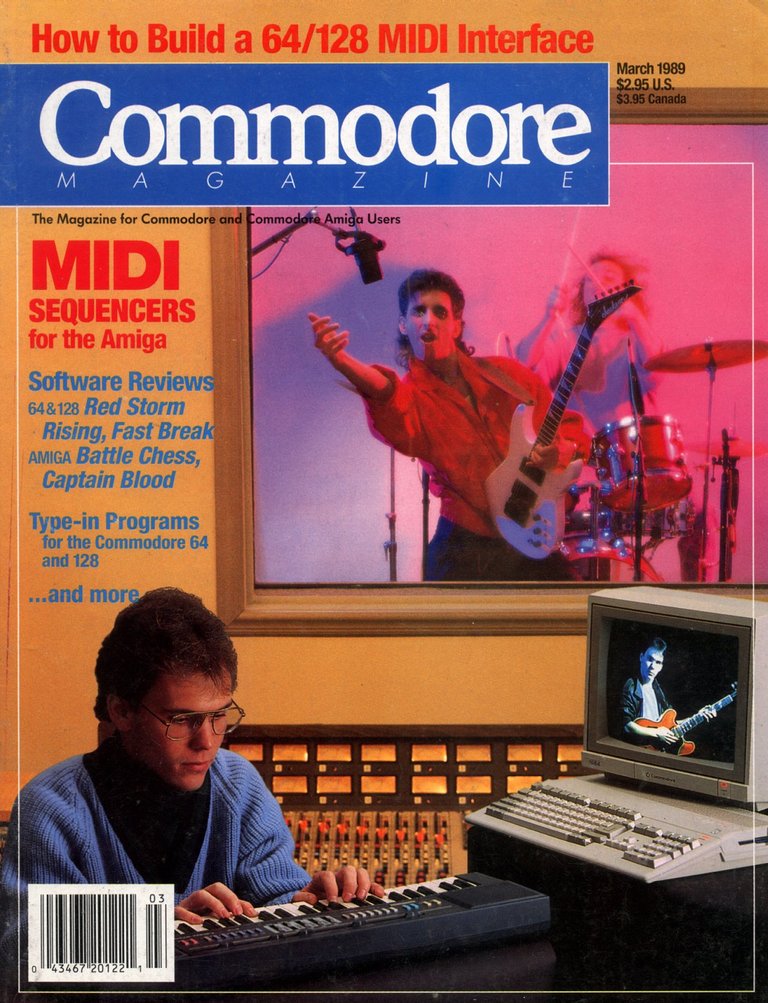 Cover of the March 1989 issue of Commodore Magazine
Commodore published a number of official publications over the years with Commodore Magazine being the final one. It covered the Commodore 64, Commodore 128 and Amiga. They did a pretty good job covering all three systems as opposed to reducing Commodore 8-bit coverage in favor of the Amiga. However, at the end of 1989 they ceased publication with some of the Commodore 64 columns being absorbed by RUN magazine.
The March 1989 issue of Commodore Magazine includes:
Features
Impressions of The World of Commodore - A look at the first World of Commodore show in the U.S. (previous shows had all been in Canada). It was held in the Philadelphia Civic Center on the last weekend in November, 1988. There were nearly 70 exhibitors selling Commodore related hardware and software.


Cover Story: MIDI Sequencers for the Amiga - While the Atari ST became the preferred machine for MIDI related stuff, the Amiga was quite capable as well. This article gives an overview of some of the MIDI sequencers available at the time, including KCS, Texture, MIDI Magic, Dynamic Studio and Soundscape.


Reviews
64 and 128 Software Reviews

Red Storm Rising - Participate in World War III from the comfort of your Los Angeles Class nuclear submarine. Based on the Tom Clancy book of the same name.
Fast Break - A pretty good basketball game from Accolade.
Monopoly - A computerized version of the classic board game.
Typhoon of Steel - A detailed World War II strategy/war game from SSI.
Alcon - A nice arcade conversion from Taito of this vertical shooter.



Amiga Software Reviews

Battle Chess - Perhaps the first chess game that was fun to play even if you didn't like chess.
Captain Blood - A sci-fi graphics adventure game from Mindscape in which you get sucked into the universe you created.
WordPerfect Library - A collection of five utilities designed to make you more productive, including a calculator, calendar, file manager, notebook and program editor.
Torch 2081 - An action strategy game in which you must build a barrier with your Star Defense Glider to protect the planet from fireballs. It plays a bit like Qix.
Global Commander - A difficult strategy game in which you play the role of something akin to the head of the U.N. as you try to keep the world from going to war.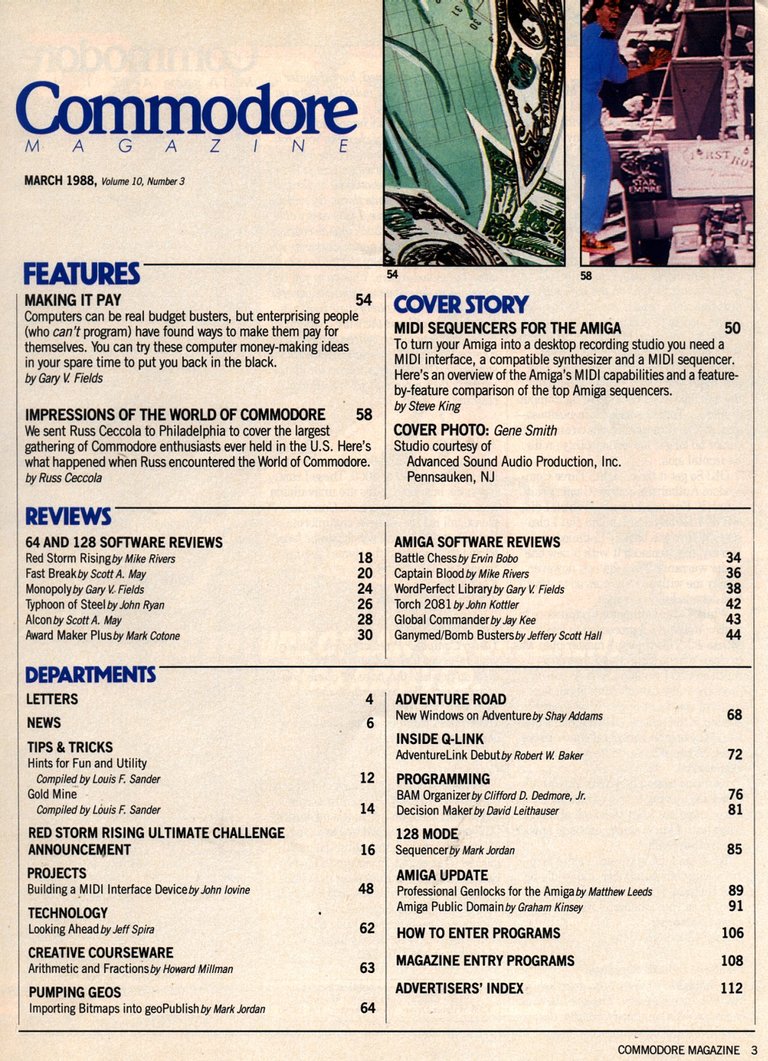 Table of Contents from the March 1989 issue of Commodore Magazine
Departments
Letters - Letters from readers about mouse cleaning and where to buy Amiga related hardware in Saudi Arabia.


News - Commodore announces the Amiga 2000HD and Amiga 2500; the second U.S. World of Commodore show is announced for May 19-21, 1989 at the Los Angeles Convention Center; Commodore and Moniterm Corp. release a high-res monochrome monitor for the Amiga called the Viking 1; Accolade releases Grand Prix Circuit for the Commodore 64 (I spent many hours playing this game); Paragon announces Spider-Man and Captain America in Dr. Doom's Revenge; Titus Software releases Galactic Conqueror for the Amiga, Electronic Arts releases MacArthur's War, a Koran War strategy game for the C64; Arcadia releases Double Dragon for the C64; Commodore releases the PC40-II, a 80286 based PC compatible computer; and much more.


Projects - Detailed instructions for building a MIDI Interface Device for the Commodore 64 and 128.


Technology - A look ahead to the future of malware (a word not yet in use at the time) and the difference between Viruses, Worms and Trojan Horses.


Creative Courseware - A look at some educational software for the Commodore 64, including Piece of Cake Math (for ages 7-13) and Fraction Factory (for ages 8-14).


Pumping GEOS - A guide to importing images into geoPublish plus other tips and tricks for creating and printing newsletters with geoPublish.


Programming

BAM Organizer - A type-in disk utility program that lets you easily perform various disk management tasks such as deleting files, renaming files, and locking/unlocking files among other things.
Decision Maker - A type-in program designed to help you make decisions between, for example, two different products.



128 Mode - A type-in educational game for the Commodore 128 that helps you learn "sequences" such as the order of presidents, etc.


Amiga Update

Professional Genlocks - Genlocks are devices designed to perform a variety of functions related to using the Amiga with TV video, including converting RGB to composite video, locking the timing of Amiga generated video to an external video signal and overlaying Amiga generated graphics on top of an input video signal. A summary of several professional Genlock devices are given here, including: SuperGen by Digital Creations, Magni 4004 by Magni Systems, and GEN/ONE by Communications Specialties Inc.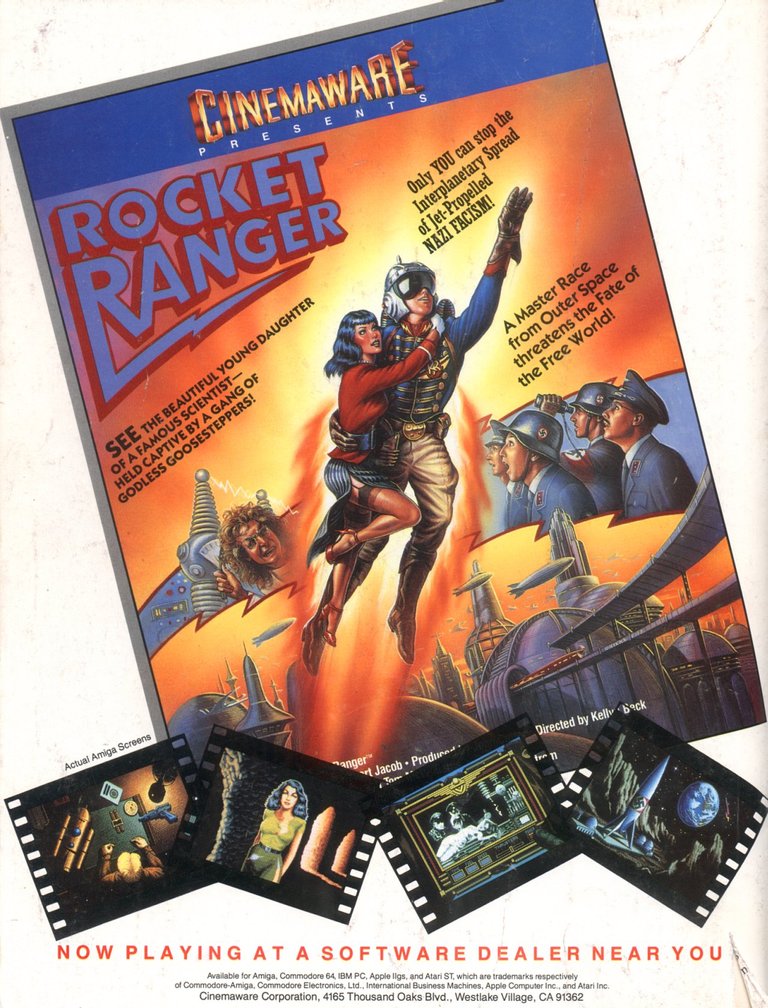 Back cover of the March 1989 issue of Commodore Magazine
Read more: https://www.megalextoria.com/wordpress/index.php/2013/10/11/commodore-magazine-march-1989/
---
---