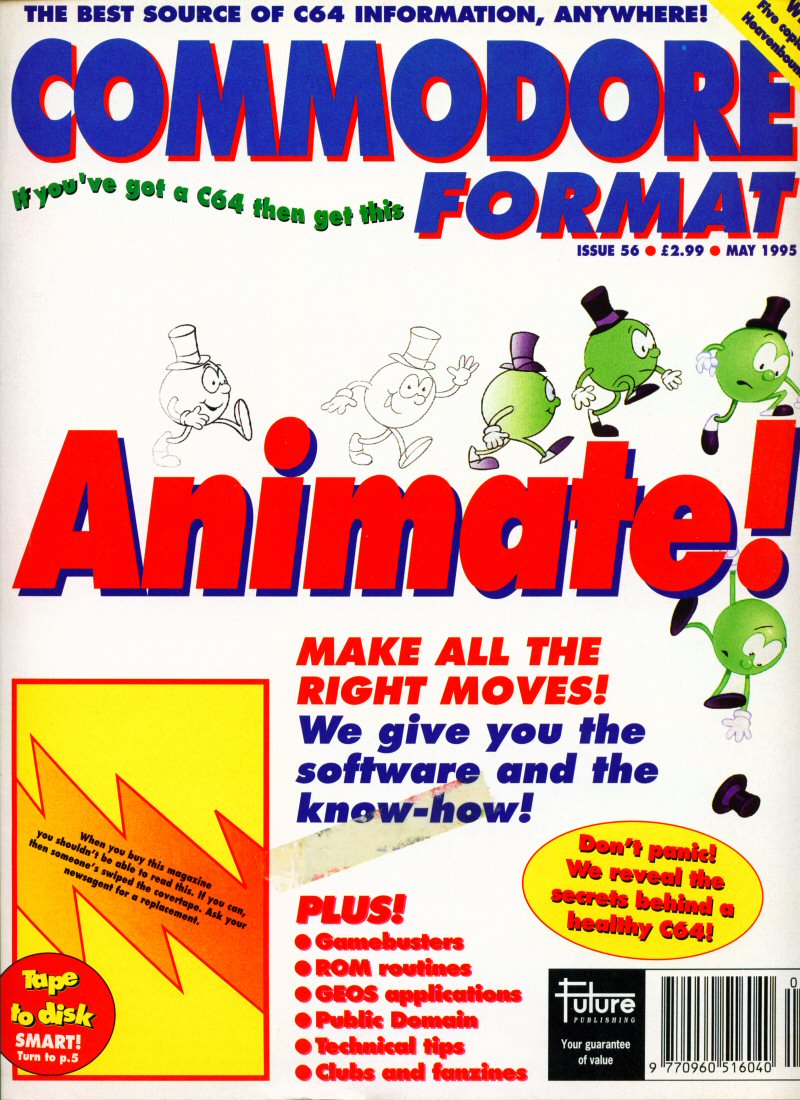 Commodore Format was a popular but very late magazine dedicated to the Commodore 64 published in the U.K. The first issue was not published until late 1990. However, despite this, it had a relatively long life lasting well into the mid 1990s. The May 1995 issue includes:
Features
Get animated! - Inside everyone there's a budding Walt Disney. Untap your hidden potential


Grin and repair it! Part II - Do you run to the casualty department with a cold? Do you ignore gaping, gushing wounds? Course not! Jason Finch talks you through diagnosing a sick C64, assessing the gravity of the situation and suggests remedial action - where appropriate.
Reviews
Games arena - Andy Roberts straps on his ungainly yet protective reviewer's helmet to visit the unpredictable world of the latest C64 games.
Games
Games round-up II - Andy Roberts sorts the wheat from the chaff, and eventually sees the wood for the trees.


Public Domain - The world of all-you-can-get-for-almost-nothing. Andy Roberts goes in and returns, triumphant.
Serious
True ROM-antics - Baffled by the error messages. Read this.


Techie tips - Problem plus Jason Finch equals solution.
Regulars
C64 News - Info from the around the C64 world, presented in bite-sized chunks just for you.


The Mighty Brain / C64 Directory - Your letters, TMB's replies. Also your one-stop guide to whom to contact, C64-speaking.


Well 'ard III - RAMLink - store/load/access data quicker.


On The Powerpack...

Frost - Learn to animate with this powerful, yet easy-to-use utility. It's neat, fast and your imagination is the only limit, almost.
Harrier - Flying a jump jet has never been such fun, especially during war.
Space War - 3D blasting action is all yours in this fun game.
Superstrike - Trigger finger not tired yet? Then try this manic shoot-'em-up for size. But wait a minute - no one's saying it's going to be easy.
Read more: https://www.megalextoria.com/wordpress/index.php/2021/08/18/commodore-format-may-1995/