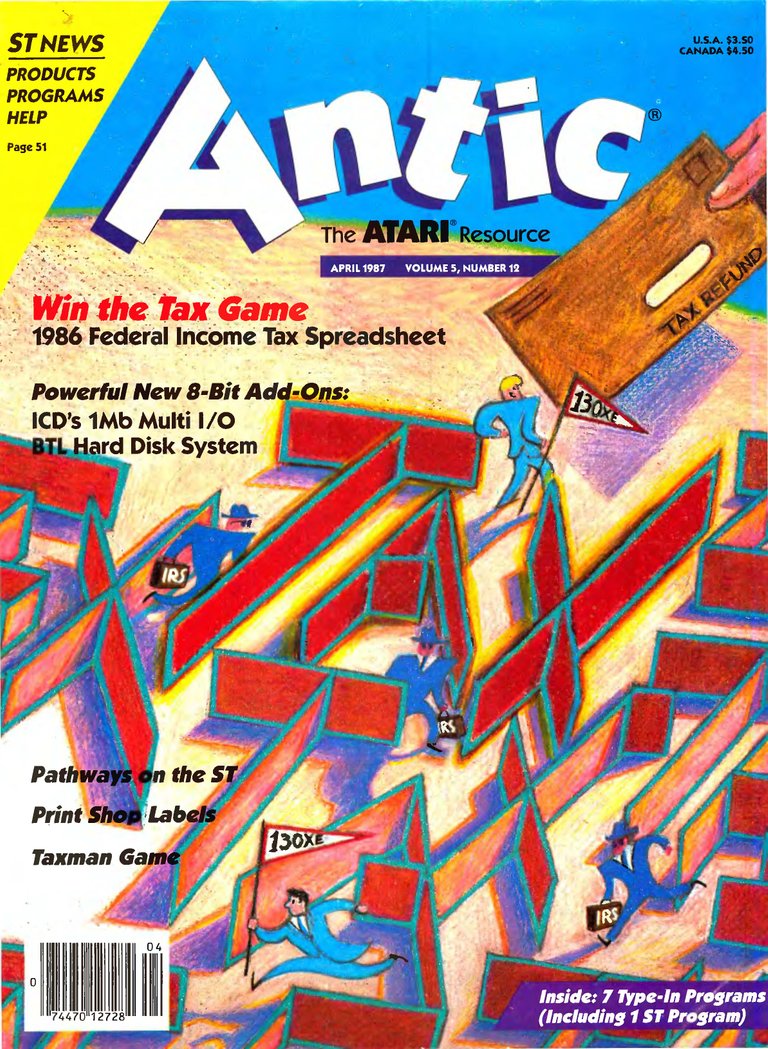 Cover of the April 1987 issue of Antic: The Atari Resource
Antic was primarily an Atari 8-bit magazine though it did also cover the Atari ST. In 1987 it was nearing the end of its life. The April 1987 issue includes:
Features
Designer Labels - A type-in program that lets you combine Print Shop graphics with your text to create custom labels.


Page 6 Grab-Bag, Part 2 - Two short and useful type-in programs. The first gives you the ability to pause or slow down program listings with the press of a button and the second makes it easy to insert sounds into your own programs.


All About [Break] Disabling - Pressing the break key normally interrupts whatever program you are running. If you do it accidentally, it can be a real time waster as well as cause you to lose data. This type-in program provides a way to disable this functionality.


ICD Boosts 8-Bit Atari Power - ICD is a company that produced high powered upgrades for the Atari 8-bit. Some of these include the 1MB Multi I/O Board, 256K RAMBO XL memory upgrade, R-Time 8 Cartridge (real-time clock/calendar), SpartaDOS 3.2, hard drive interface and more.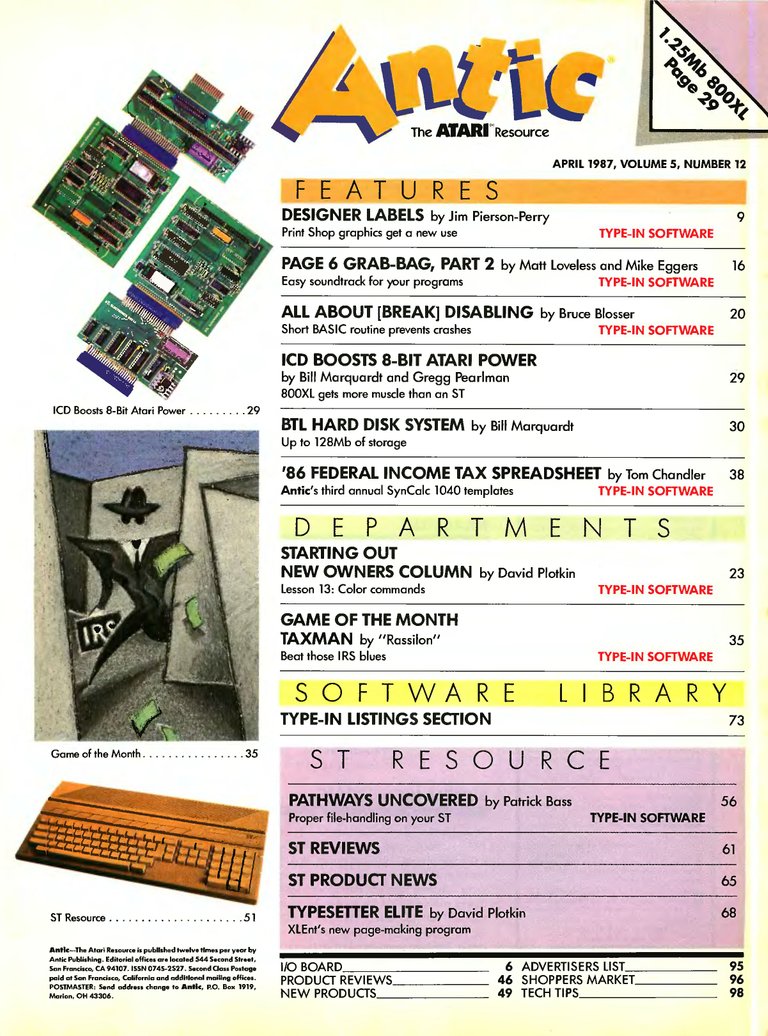 Table of Contents from the April 1987 issue of Antic: The Atari Resource
Departments
Starting Out: New Owners Column - Part 13 of a BASIC programming tutorial. This part goes over the various ways to use color.


Game of the Month: Taxman - Keeping with the April income tax theme, this type-in game is a maze game in which you must collect interest from your accounts while evading the IRS agents. If they catch you, you must declare the interest. If they catch you 10 times, you get audited and the game is over.


I/O Board - Letters from readers about Son of Infobits database, the Star NX-10 printer, Bumblebee high scores, modems and the hearing impaired, the Atari 800 attract mode, databases that work with the 10MB SupraDrive, and more.


Product Reviews - Reviews of video Vegas from Baudville, Mercenary from Datasoft, Wizard's Crown (an RPG from SSI), Fight Night from Accolade, and Gettysburg from SSI.


ST Resource
Pathways Uncovered - File handling on the Atari ST, including creating folders or sub-directories.


ST Reviews - Reviews of The Pinball Factory from Michtron, Silent Service from MicroProse, Black Cauldron from Sierra On-Line, and Universe II from Omnitrend Software.


Typesetter Elite - Software that enables you to create and print high resolution pages.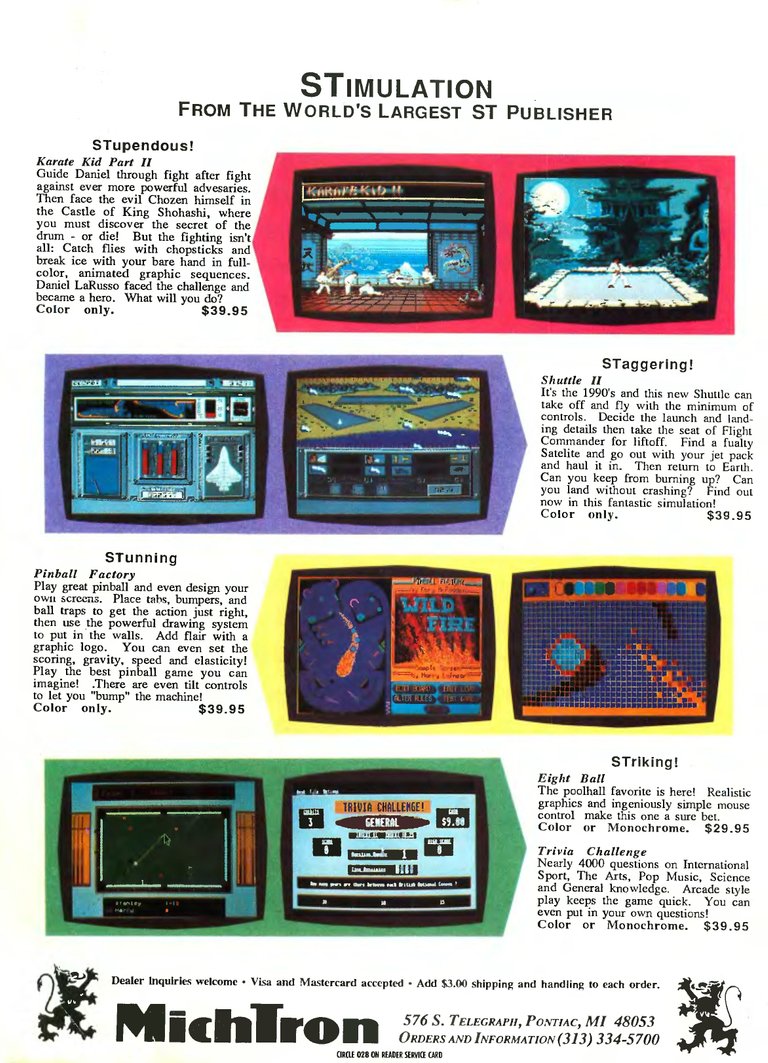 Bacl cover of the April 1987 issue of Antic: The Atari Resource
Read more: https://www.megalextoria.com/wordpress/index.php/2023/01/09/antic-the-atari-resource-april-1987/