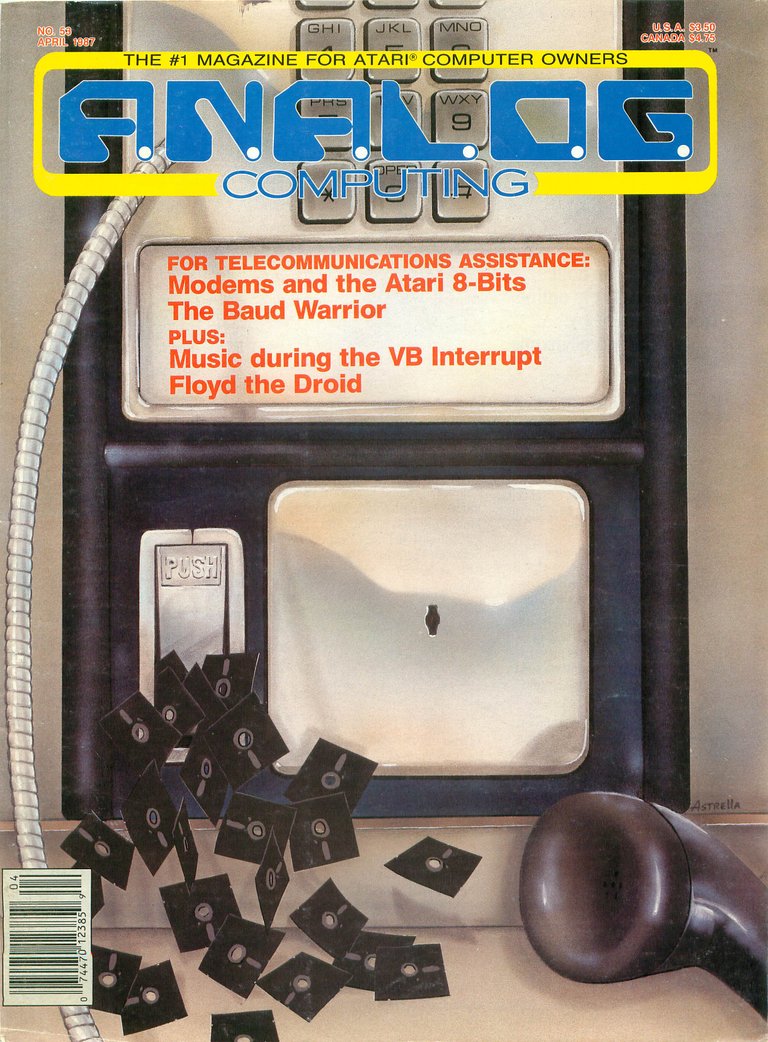 https://megalextoria.blogspot.com/2019/07/analog-computing-april-1987.html
ANALOG Computing was probably the most successful magazine dedicated to Atari 8-bit computers. If you watch closely, you can see at least one issue lying around in Ready Player One which I just watched the other day. By 1987 the last generation of Atari 8-bits (the XE series) had already been around a couple years and ANALOG was also giving some coverage to the Atari ST. The April 1987 issue of ANALOG Computing includes:
Features
Music during the Musical Blank Interrupt - Part 3 in our series details what's involved in accomplishing music during the VBI.
Background Printer -= A device handler which lets your printer do its thing while you are doing yours.
Floyd the Droid Goes Blastin' - Wipe out the mutants just for kicks in this new machine-language game.
HardCopy and CheckWriter - Adding these two programs to MicroCheck (from issue 27) lets you prepare multiple copies and print checks.
Multicopy - A versatile utility for copying files, made even easier by keyboard or joystick use.
Bits & Pieces - The BSR home controller is just an article away from your Atari.
Reviews
Lightspeed C - A detailed look at this structured language.
Soundwave 1 and Soundwave 8 - Two sequencers for the ST - do they live up to their claims?
The Learning Phone - Check out the Atari Plato cartridge.
Screens - Tricky screen formats are yours with this inexpensive, useful utility.
The New Technology Coloring Book - Hi-tech coloring for children.
Nite Lite - A close examination of one of the popular BBSs for the 8-bit and the Atari ST, too.
The Atari ST User's Guide - How worthy is the new ST Logo guide?
Blazing Paddles - Is this recently introduced art program an 8-bit DEGAS?
Columns
Editorial
Reader comment
M/L Editor
Scheduled Atari Fairs
ST notes
Atari Users' Groups
Read more: http://www.megalextoria.com/wordpress/index.php/2019/07/22/analog-computing-april-1987/
---
Sponsored ( Powered by dclick )