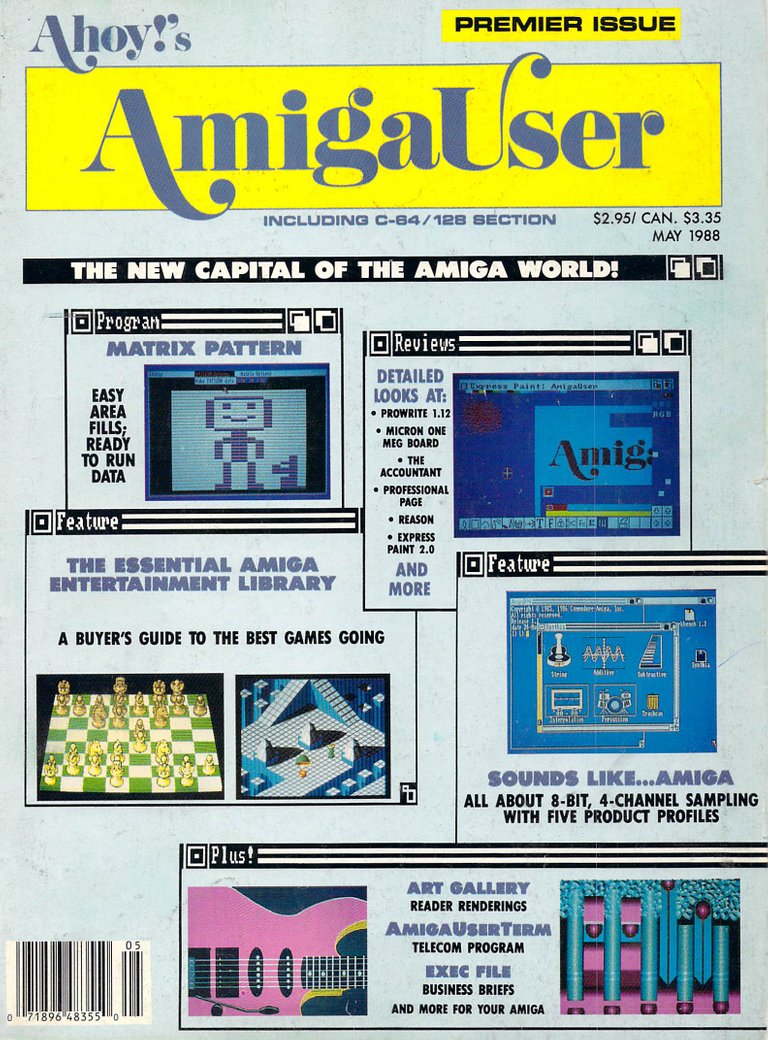 Cover of the May 1988 issue of Ahoy!'s Amiga User
Ahoy! was originally a Commodore 8-bit magazine, mostly covering the Commodore 64. Later it also covered the Amiga. However, it's not surprising Ahoy! wasn't a more successful magazine. Their transition to Amiga coverage was a bit confusing. For a while, they were alternately publishing Ahoy! and Ahoy!'s Amiga User. Both included coverage of the Commodore 64 and the Amiga but I suppose with a different emphasis. The premiere issue of Ahoy!'s Amiga User from May 1988 includes:
Departments
A View from the Bridge - The editor tries to explain Ahoy's publishing decisions.


Scuttlebutt – G.O.M.F. 2.0 released, software designed to help gracefully recover from Guru Meditation errors; New game releases include Ports of Call, Questron II, Roadwar Europa, Centerfold Squares, The Big Deal!, Return to Atlantis, Alien Fires, Interceptor, World Tour Golf, Ferrari Formula One, The Bard's Tale II, Land of Legends, Galactic Invasion, and more; New music software for the Amiga, including The Roland MT-32 Editor/Librarian, Keyboard Controlled Sequencer V1.6, Dr. T's Music Software, and The Music Studio 2.0; MicroFlyte Joystick released; ProWrite 2.0 released, new 1 to 2MB memory expansion released for the Amiga 2000; and more.


Flotsam – Lettes from readers about software piracy.


Entertainment Software Section – An overview of some of the best games for the Amiga so far, including Chessmaster 2000, Shanghai, Archon, Balance of Power, Defender of the Crown, Marble Madness, Indoor Sports, Championship Baseball, Earl Weaver Baseball, One on One, Bard's Tale, Seven Cities of Gold, Roadwar 2000, King of Chicago, Shadowgate, Alien Fires, and more.


Art Gallery – A look at art created with the Amiga and submitted by readers.


Reviews – Reviews of Dataretrieve (a database program), Prowrite V1.12 (a word processor), Express Paint 2.0 (art program), Reason (grammar, spelling and style checker program), Memory Expansion Board (from Micron for the Amiga 500, 1000, and 2000), The Accountant (accounting software), Professional Page 1.0 (desktop publishing software), and The Calligrapher (font editor).


C-64/128 Section – A look at some recent games for the Commodore 64, including 4th & Inches, Coil Cop and Might and Magic. Plus a detailed review of Super Graphics Gold, a printer interface from Xetec.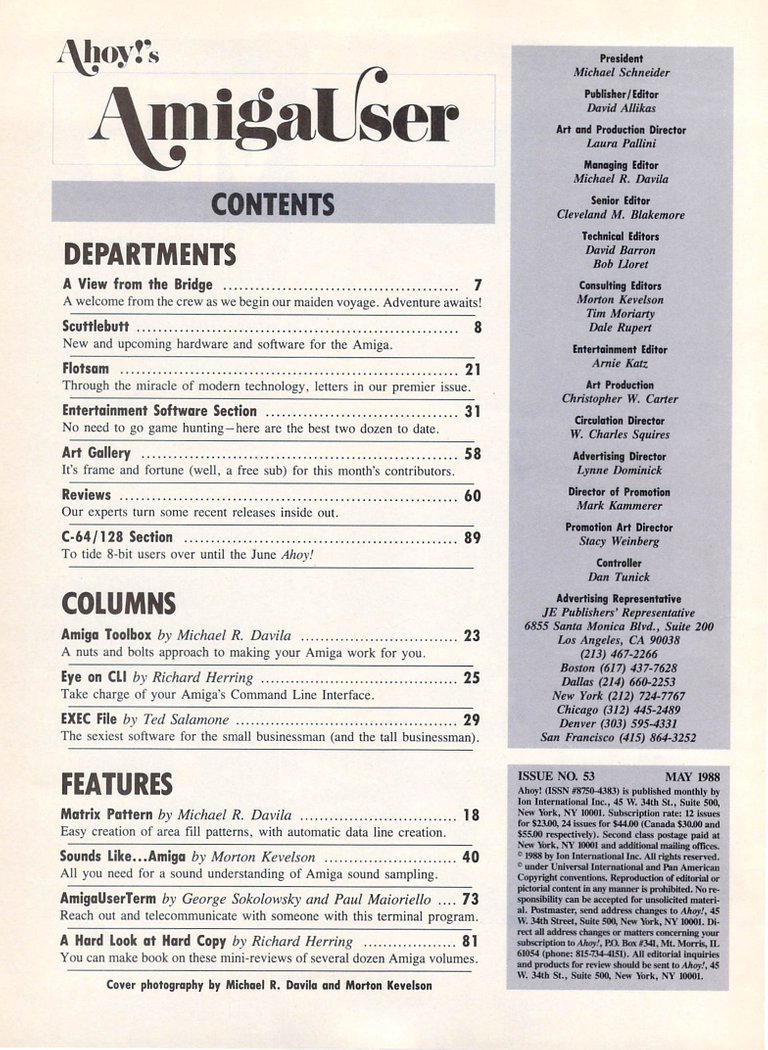 Table of Contents from the May 1988 issue of Ahoy!'s Amiga User
Columns
Amiga Toolbox – Short programs and tips, including a quiz program, a program to extract image information from IFF files, and a print spooler that speeds printing out source code.


Eye on CLI – A guide to the various commands and options for getting a disk directory.


EXEC File – A look at business related software for the Amiga, including the B.E.S.T. Business Management System, dbMAN, and MicroFiche Filer, as well as some tips and tricks.


Features
Matrix Pattern – Using Amiga BASIC to create graphics.


Sounds Like…Amiga – A look at the Amiga's sound sampling capabilities as well as the products that take advantage of it.


AmigaUserTerm – A free Amiga BASIC terminal program for you to type in.


A Hard Look at Hard Copy – An overview of some of the many books available for the Amiga, including Commodore's reference manuals, Compute!'s First Book of Amiga, Amiga Programming Guide, Inside the Amiga, Elementary Amiga BASIC, Inside Amiga Graphics, The AmigaDOS Manual, Programming the 68000, The Book of Adventure Games, and many others. A total of 33 books are listed.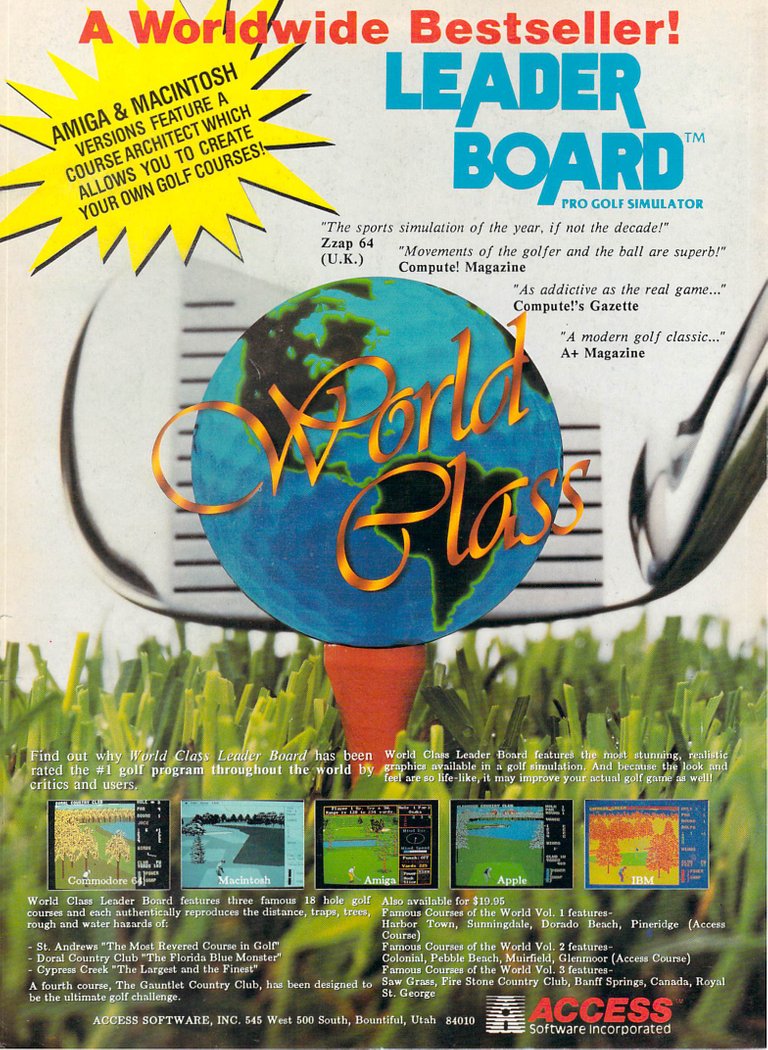 Back cover of the May 1988 issue of Ahoy!'s Amiga User
…and more!
---
Check out some of my other recent posts!
Gauntlet (NES)
https://ecency.com/retrogaming/@darth-azrael/gauntlet-nes
Vintage Photos - eBay Set #2 (369-372)
https://hive.blog/photography/@darth-azrael/vintage-photos-ebay-set-2-44a32519b4e88
S.O.S. (Super Nintendo, 1994)
https://hive.blog/hive-140217/@darth-azrael/sos-super-nintendo-1994
Info, Issue Number 6
https://hive.blog/retrocomputing/@darth-azrael/info-issue-number-6
Vintage Photos - eBay Set #2 (365-368)
https://hive.blog/photography/@darth-azrael/vintage-photos-ebay-set-2-56a4169640488
---

Check out my other Social Media haunts (though most content is links to stuff I posted on Hive or reposts of stuff originally posted on Hive):

Wordpress: https://www.megalextoria.com/wordpress
Tumblr: https://www.tumblr.com/blog/darth-azrael
Twitter: https://twitter.com/Darth_Azrael
Blogger: https://megalextoria.blogspot.com/
Odyssee: https://odysee.com/@Megalextoria:b
Rumble: https://rumble.com/c/c-2385054
Daily Motion: https://www.dailymotion.com/Megalextoria
---
Books I am reading or have recently read:
Friends Divided: John Adams and Thomas Jefferson by Gordon S. Wood
The Citadel by Richard A. Knaak
Republic of Thieves by Scott Lynch
---