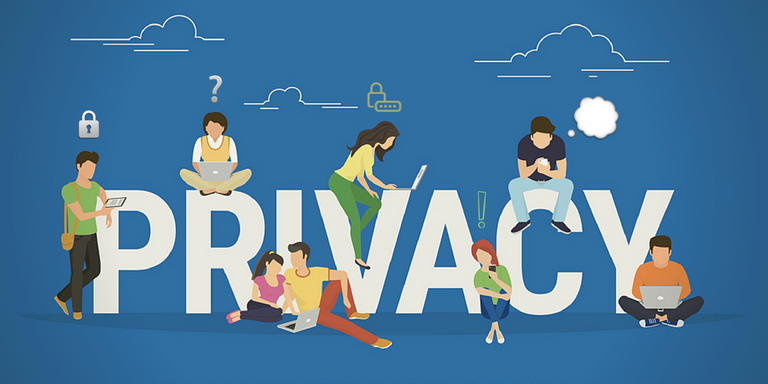 Introduction - Privacy - A Fundamental Human Right?
How much privacy do you think a human being is entitled to have? Or better still, how much privacy are you entitled to have as a human being? The matters of privacy is a big deal and it is one of the most important fundamental human rights in existence. One may easily think our privacy only encompass matters behind closed doors, but the concerns of privacy goes way beyond that and the hard but simple truth is that our privacy is continuously being invaded everyday. With the blockchain ushering in the age of decentralization, we are beginning to have tools to take back our privacy and data.
The right to privacy is an element of various legal traditions to restrain governmental and private actions that threaten the privacy of individuals. Over 150 National constitutions mention the right to privacy according to Wikipedia. It is universally declared that no one shall be subjected to arbitrary interference with his privacy but as of 2013 an ex NSA employee Edward Snowden disclosed that in fact government agencies such as the NSA, CIA and GCHQ are engaged in mass global surveillance which led to various debates and questioning of the existence of the universal privacy rights. Source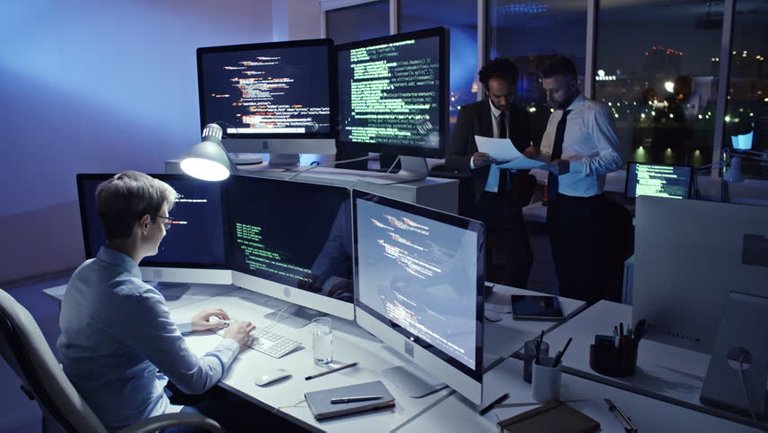 The issue of privacy invasion is a serious matter, the law defines Invasion of privacy as the intrusion into the personal life of another, without just cause, which can give the person whose privacy has been invaded a right to bring a lawsuit for damages against the person or entity that intruded. It encompasses workplace monitoring, Internet privacy, data collection, and other means of disseminating private information, yet, in 2018 a second incident occurred where the NSA went against the law and collected private data.
It was revealed in a paper released on June 25 2019 that "The National Security Agency collected records about U.S. calls and text messages that it wasn't authorized to obtain last year, in a second such incident, renewing privacy concerns surrounding the agency's maligned phone-surveillance program, according to government documents and people familiar with the matter." Read more here
Security wise, mass surveillance programs are carried out to help control and uncover terrorism activities, prevent crime and social unrest and protect national security, but the extent to which these actions are being done is appalling, subjectively violating our human rights and even worse the data they lay hands on can be lost, manipulated and exposed. Almost daily, we keep seeing reasons to take the issue of our privacy personal, when it is not being threatened by the government or private security agents, it is threatened by Hackers.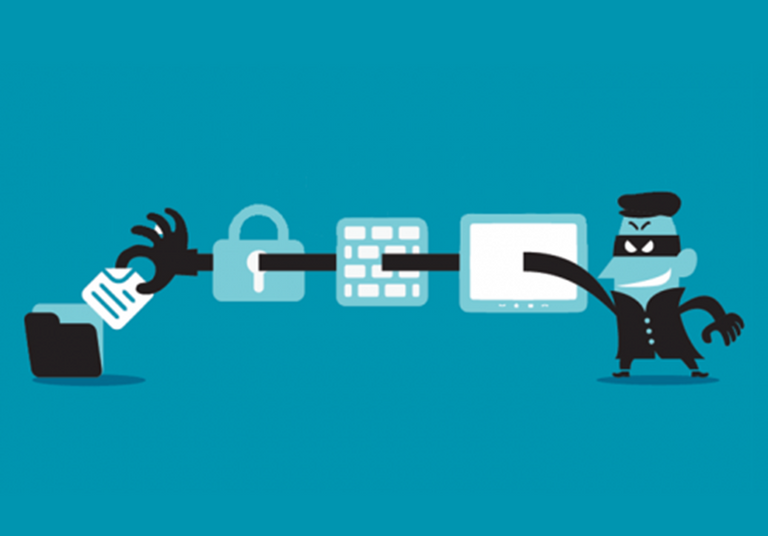 Our privacy and data has gone beyond the matter of trusting organisations to keeping them safe, this is the time we have to take ownership and secure our data while keeping our life private. This is the era the blockchain has brought upon us, we now have protocols that enable the creation of tools/applications operate with no central authority or central storage server with the capability of applying high-end encryption mechanisms to secure and ensure the only person with access to their personal data is the owner.
One of those tools worth discussing is the dPhone application. dPhone is a mobile phone call application that is secured by high-grade, authenticated, end-to-end encryption. The dPhone application is open source and it is built on the Blockstack blockchain.
With dPhone, a user does not need sim cards or phone number to put a phone call through to another dPhone user, so it does not store any users phone identity nor is it susceptible to sim swap attacks. The only ID needed is the Blockstack ID.

dPhones infrastructure is built with a specific end-to-end p2p encryption technology so the company does not have access to the users log or phone data nor can a call be intercepted and spoofed. Everything is encrypted on the blockchain with only the user having access to it.
dPhone was featured on Product hunt 16 days ago and given a rating of 2.8/5. dPhone boasts of being the most secure call app till date.
How To Use
dPhone is available for free download on the Google playstore.
Once downloaded and installed, the application is ready for use as soon as its been launched.
Note: A Blockcstack account is needed to be able to operate on the Blockstack blockchain, so if you don't own one, you need to sign up for one, it is easy and fast.
After launching, the user is welcomed with a series of introduction images which are shown in the image below.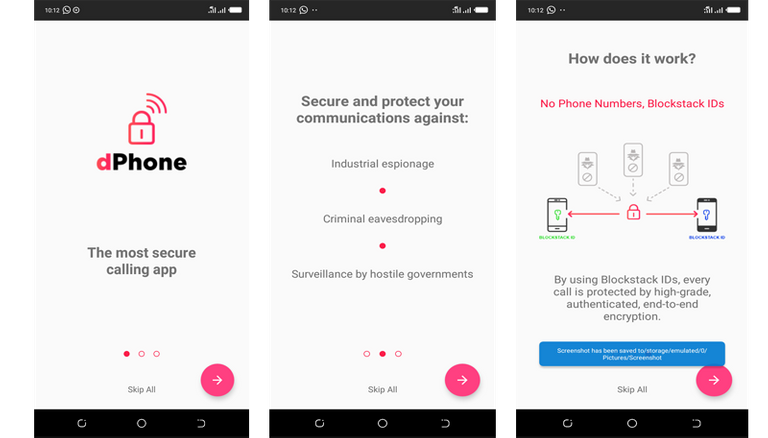 The interface is very user friendly, after the series of pages explaining how the application works in summary I was expecting to see a whole different interface with different keys and settings but to my surprise it had just few functions.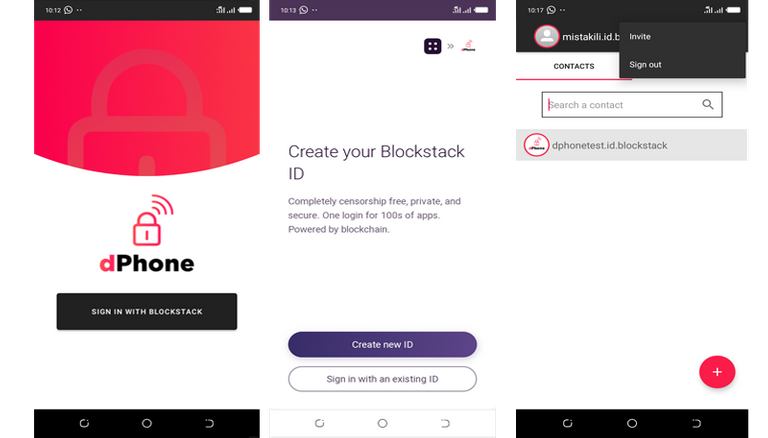 It first asks for the users Blockstacks ID, if the user doesn't have, then it registers one from the same page and then moves on to the next screen which displays the existing blockstack ID of a dPhone contact you have. If you wanted to invite an existing non dphone contact, all you have to do is click the plus sign then it automatically generates a link you can choose to share to either of the application holding contact on your phone, the recipient receives the link which installs the application and proceeds to connect the encrypted call in a secure way.
Comparing dPhone to Similar Apps
A similar calling application that functions with end-to-end encryption mechanism is the Whatsapp, owned by Facebook. However, as of March 15 2019, a security flaw discovered in Whatsapp allowed attackers to bypass its end-to-end encryption.
The attack could even allow a hacker to spy on a user's day to day activities as it turns on their device's microphone and camera and even allows them to eavesdrop on calls. To make matters worse, an attacker can also alter an infected device's call logs to hide the fact that it has been compromised. More on the news here
Conclusion and recommendation
After all these evidence of incompetent data handling by the big data companies and enlightenment about what transpires with our privacy, I find it difficult not using these decentralized apps and surrounding myself with tools that ensure my privacy is priority and my data is within my control.
The dPhone application is a much better alternative to privacy conscious people for making their calls without worries of being monitored, hacked or intruded. It contains no ads and it is free and available on only Android OS. Such a useful app should extend beyond just one mobile interface, I believe its a tool everyone should consider having. I rate the dPhone application a 3/5 star dapp.
Thanks for reading. I leave you with this eye opening documentary everyone should see.
dPhone Twitter
dPhone Producthunt
dPhone.com
All images are edited from my usage of the application, others are duly sourced.
---
Posted from my blog with SteemPress : https://steemhosting.com/kilimanjaro/?p=25
---