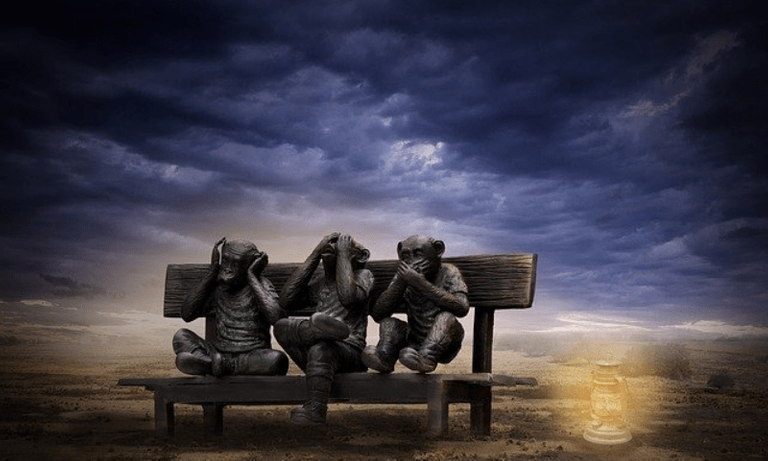 I've been meaning to discuss this topic on the platform for quite a while now. But I've always been put off by the understanding that this is a subject people don't really want to talk about. Of course not. It's unpleasant and sad. Nonetheless, similar to so many issues in life, one of the reasons they exist as they do it's partly because we have a tendency to cover our eyes and block our ears and voices to it.
So, here we go.
I've written this piece with the intention to raise awareness as well as debunk some misunderstandings about paedophilia. This is a delicate topic and although I have not included any detailed case study to illustrate the discussion, it still contains triggers.
If you are someone who might be triggered by this discussion, this is the time to stop reading the post.

What is Paedophilia?
At present, in the world of research, paedophilia is seen as a sexual preference Ref.. Like, for example: heterosexuality or homosexuality. It so happens that the focus of sexual interest here rests on (pre-pubescent) age rather than on gender, as in hetero/homosexuality, for instance. In this way, psychiatric guidelines (the DSM-5) only considers paedophilia to be a mental disorder – Pedophilic Disorder – when the actual sexual interest causes distress and lifestyle impairment for those who experience it Ref..
But then paedophilia rarely manifests itself in isolation.
In other words, paedophilic individuals more often than not have a history of mental health issues that range from mood + anxiety and personality disorders to addiction and OCD, just to name a few Ref.. Further, research found that among a population of sexual offenders, those who engaged in child sexual offending present significantly higher levels of psychopathology and emotional instability than those who sexually offended against adults and adolescents Ref..
Please bear in mind that researchers arrived at these sort of findings after carrying out studies in individuals who actually have assaulted children.
It Gets More Complicated than That.
These research findings do not directly connect the offending behaviour with paedophilia. You've read it right. Sadly, there is a variety of factors - other than paedophilia, that lead children to being sexually abused. Namely, sexually curious uninformed adolescents (and individuals with mental disabilities) who decide to explore on a younger child Ref., criminals with antisocial personality disorders Ref., and traumatized people with a history of violence, abuse and impulsive behaviour Ref..
You see, the notion that all perpetrators of child abuse are paedophiles is a mistaken one, as assault against children also results from reasons other than sexual attraction/preference towards them.
This is a good opportunity to debunk further misconceptions surrounding the topic:
Understandably, some of our beliefs are guided and shaped by media representations and the entertainment industry, which often stereotype people and dangerously pigeon-hole them.
Whilst we're pushed to be over concerned about the "peculiar" older man who lives down the street. We tend to overlook the reality that nearly one third of children are abused by adolescents under 17 years of age Ref.. Or, we dismiss the possibility of women engaging in such misconduct.
During his time as a prison officer, criminologist D. Wilson came to understand how often mothers, aunts, sisters and female cousins introduced male family members to sexual activities.
From his dialogues with Dean (an inmate), Wilson says (p. 33):
[…] she [Dean's older sister] continued to touch him inappropriately when she was certain no one else could see. It was a game to her […]
How Widespread is Paedophilia?
It appears that there is no agreement as to whether paedophilia actually exists among women in the way that it's currently defined Ref. (as a sexual preference).
Still, 24% of abused boys and up to 14% of abused girls revealed their abusers to have been a woman Ref.. These female perpetrators share similar psychopathologies to those seen in male perpetrators. But in addition, females involved in cases of child abuse frequently have male counterparts Ref..
Among men in the general population, the existence of paedophilia as an exclusively sexual preference is estimated to be around 1% Ref.. However, the number goes up to 5% when sexual fantasies featuring children are included Ref.
It was after extrapolating findings obtained from studies conducted in groups of offenders (see, for example, Ahlers et al., 2011) and of non-offenders, that researchers arrived to this conclusion Ref..
When Briere and Runtz Ref., for example, surveyed 193 healthy male college students through anonymous self-report, they saw 21% of respondents admitting to have a certain level of sexual interest in children.
This piece of info leads me to highlight the fact that not all paedophilic individuals are offenders or criminals. Contrarily to what's generally believed.
What Prompts Paedophilia, then?
In terms of the neurobiology and neuropsychology of paedophilia a complex interplay of phenomena including the influence of genetics, external factors, brain function and formation have been explored. Going into each one of them is beyond the scope of this write-up. Besides, it's useful to keep in mind that important limitations permeate the findings of overall research on paedophilia, chief among them being the recruitment of both child sexual offenders and paedophilic individuals for study groups Ref..
We've discussed before these are not necessarily the same thing.
Hence, many aspects that are seen in the criminal population in general are also associated with paedophilia. For example: reduced amygdala volume, head injuries, lower IQ and so forth Ref..
However, I'm drawn to studies relating paedophilia to dysfunction on the prefrontal and temporal cortexes. As it's been additionally found that offending paedophilic individuals have a decreased glucose metabolism in these very brain regions Ref.., which further explains both their poor impulse control and the over sexual preoccupation with the object of their desire Ref..
What About Family & Social Environment?
It goes without saying that children need to feel constantly loved and safe throughout their upbringing. So then, they can form a functional and healthy view of the world as well as a well-developed sense of morality, which in turn, enables their decision making processes to be guided by empathy and self-control.
Yet, research reveals that the overwhelming majority of child psychological and physical abuse is caused by parents or primary caregivers Ref.. And, over and over again studies demonstrate a strong relationship between criminal behaviour and adverse childhood events. Fortunately, opposite to popular belief, research also shows that the majority of abused children do not go on to prey on children later on in life Ref.. In fact, 8.2% of sexually abused individuals report being sexually attracted to children and young teens Ref..
What About Non-Offending Paedophilic Individuals?
describe their experience as aging while their attractions did not age with them.
(Cantor & McFail, 2016, p.23)
By now I trust you understand these individuals are those who feel sexually drawn to children but have not acted upon their desires and impulses. To my knowledge there isn't a large body of research on these individuals (greatly due to the huge stigma surrounding the topic, even when there is no offense involved).
However, through anonymous self-reports non-offenders confess they become aware of their unusual sexual interest as they step into adulthood and 'describe their experience as aging while their attractions did not age with them'. A small number of non-offender paedophilic individuals also report having romantic feelings towards children and fantasise having a romantic relationship with them Ref..
A few studies have repeatedly seen these individual's paedophilic preferences highly correlate with great time invested in: the use of adult pornography, the pursuit of sexual pleasure and the realisation of sexual fantasies Ref..
Based on such findings, treatment programs are beginning to be developed to help non-offenders to remain as such and to provide them with psychological support in order to alleviate the mental distress that permeates their lives (e.g. guilt, shame, suicidal ideation and so on) Ref..
The Impact of Child Sexual Abuse.
Child sexual abuse is not to be taken lightly as it's associated with a wide range of mental health difficulties that go from substance dependence to post-traumatic stress disorder (PTSD).
As adults, we're responsible for the protection of our children. And protecting children also entails having a deeper understanding of whatever and whoever can cause them harm. But we cannot gain understanding about something if we close our eyes, mouths and ears to it.
Neither can we understand something by looking at it through the lens of discrimination and disgust. Approaching the topic of paedophilia and paedophilic individuals from a non-judgemental perspective – this is tricky even for psychologists! - does not mean to hold less regard for those who fall prey to it.
Quite the contrary. Through courageously informing ourselves about this difficult topic not only do we obtain a greater sense of what victims go through, but we're also more prepared to make our children less vulnerable.
---
Sexual activities without consent is sexual assault and consent is only obtained if a person agrees by choice and has the freedom and capacity to make that choice.
(Sexual Offenses Act, 2003)
---
Image source : 1
Reference List:
Heterosexual male perpetrators of childhood sexual abuse: a preliminary neuropsychiatric model.
How do you treat very young sexual offenders?
How unusual are the contents of paraphilias? Paraphilia-associated sexual arousal patterns in a community-based sample of men.
Serial rapist Joseph McCann given 33 life sentences.
Sexually assaulted children: National estimates and characteristics.
The neurobiology and psychology of paedophilia: recent advances and challenges.
University males' sexual interest in children: predicting potential indices of "pedophilia" in a nonforensic sample.
Wilson, D. (2019), My life with murderers, Sphere, London.


Thank you my dear reader, for once again taking the time to read my writings :)
I wish you all a wonderful week ahead!
All the best,