Disclaimer: In this post words such as lunacy, insane, madhouse, among others, have been adopted to communicate the ways psychological distress has been regarded and expressed across history.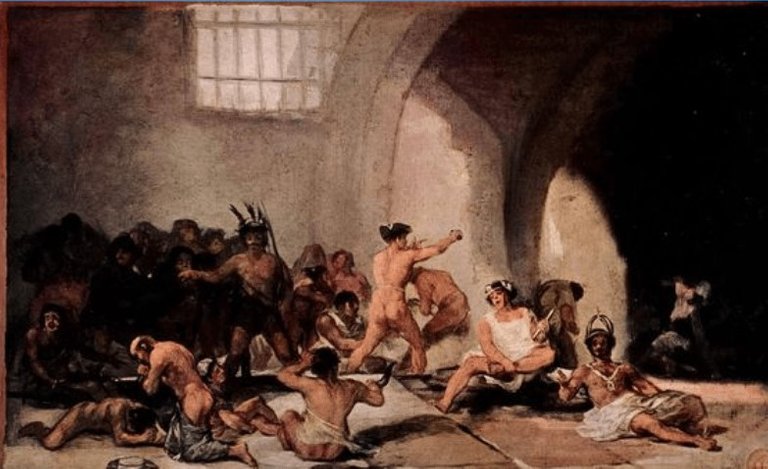 In a previous post of mine I briefly discussed mental illness through looking into some of the criteria that defines it and discussed the way with which the general public perceives it at present. I then thought it would be interesting to take you on a journey across history and have a quick glimpse of how psychological distress was understood and treated in bygone times. This maybe a journey dotted by the suffering of the vulnerable and powerless, but it is also one that shows how far we've come with regard to the knowledge of psychological distress.
One thing that we humans sure do is to observe the behaviour of others, but it doesn't stop there. For, people also have a knack for finding causes for these behaviours. Thanks to this sort of approach it has always been understood that mental disorders don't simply emerge spontaneously. Rather, they result from something that caused them to occur. There are accounts from the 16th century, for instance, of unfulfilled erotic desires being one such cause [1]. A dangerous one indeed that led to the devastating 'lovesickness'.
[…]intense unfulfilled erotic desire is classified as a species of melancholy, with mental and physiological aetiologies and cures […] a burning in the blood and liver, as a humoral imbalance, as an image fixed in the mind[…]
(Dawson, 2008, p. 2)
---
The humoral imbalance mentioned in 16th century literature as a reason for mental illness dates back to ancient Greece, when Hippocrates proposed that the human body is comprised by 4 vital different types of 'humours' (fluids). These were: blood, choler (yellow bile), phlegm and melancholy (black bile). The belief was that while healthy people owed their psychological stability to a fine-tuned balance between the different humours; mentally distressed individuals either had their fluids in disarray, or one of them in excess [2].
How to treat such issue, then?
A popular treatment prescribed for "humour imbalance" was purging and/or removal of an amount of blood (bloodletting). Later termed Depletion Therapy, this mode of treatment for "lunacy" was still popular in the 1700's and was largely adopted by the great names of psychiatry of the day. A famous enthusiast of Depletion Therapy was the American psychiatrist Benjamin Rush, who practised it not only on asylum patients, but also patients with diseases such as yellow fever [3].
I saw no inconvenience from the loss of a pint and even 20 ounces of blood at a time. I drew from many persons 70 and 80 ounces in five days, and from a few a much larger quantity.
(Benjamin Rush)
---
Of course, purging and bloodletting became increasingly popular treatments for the mentally ill in Europe and the U.S at a time when psychological disorders were not so heavily attributed to supernatural forces. When the Catholic faith became predominant in Europe, for example, a number of mental disorders were explained as the taking over of the body by demons [4], with exorcism being the means to cure it (a practice which, worryingly, has made a popular come back in Argentina over recent years [5]).
But as from the 17th century onwards these methods began to seem irrational for the enlightened Europeans, the secularization of madness took place. The 'possessed" were no longer prosecuted, religion was reduced to psychopathology and new scapegoats were found: vagrants, the socially inadequate and beggars – the lunatics [6]. Those who burdened families and society as a whole. Consequently, confinement became the solution. A solution that in the words of Michel Foucault: "hid away unreason, and betrayed the shame it aroused" [7].
The Madhouse.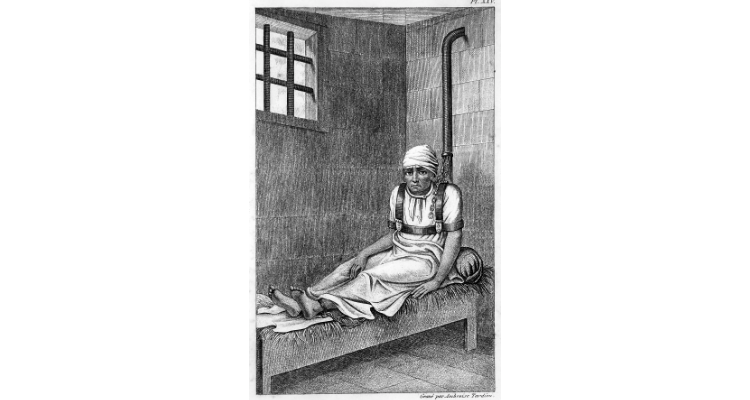 (Depiction of William Norris – A violent man who was kept in Bedlam for decades.)
London was one of the first cities to house a hospital built with the purpose to look after the "insane". Bethlehem (later on Bethlem and then Bedlam) was founded in 1247, but only in 1403 was turned into a "madhouse". Although Bedlam only had a few dozens of in-house individuals its fame became quite widespread. It even featured in the works of William Shakespeare:
The country gives me proof and precedent

Of Bedlam beggars who with roaring voices

Strike in their numbed and mortified arms

Pins, wooden pricks, nails, sprigs of rosemary.
(King Lear, 2.2.169–73)
---
Unfortunately, Bedlam was mostly known for the appalling conditions which it kept its people. In spite of this, in the midst of the 18th century Bedlam opened to the public. Tourists could tour around and gawk at the "mad". One of its most affluent visitors was Charles Dickens [8], another was William Tuke. While the former seemed to have been in search of inspiration for his works. The latter was both horrified and moved by what he found: many of the patients were kept in inhumane conditions: some seemed as if they had just been locked up and forgotten, while others were chained to walls and beds. Tuke was a devout Quaker. He believed that the "insane" should be looked after with kindness not cruelty. He and his family then proceeded to open the York Retreat, an asylum with the aim to reverse the ethos of the other institutions: "to protected the mentally ill from society", rather than the other way round.
The approach adopted in the York Retreat was termed Moral Treatment [9], and it entailed encouraging patients to politely interact with one another, eat at a dining table and occupy themselves with works such as gardening. Although said to be an influential, cornerstone treatment in the early 1800's, the care for the mentally ill was not predominantly under its framework. Particularly through the 1900's when techniques of medical therapies were the ones largely employed in the 100,000 patients housed in the 100 mental hospitals across the United Kingdom[10] , for example.
ICT, ECT & The Talking Cure.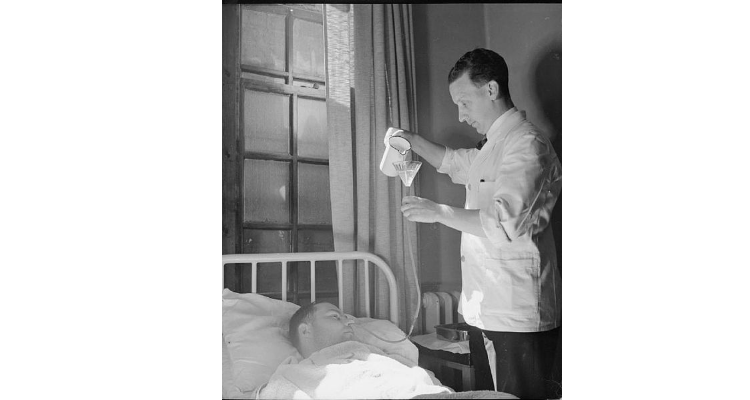 Being able to treat mental health conditions by means of medical intervention brought a much sought after scientific credibility to the field of psychiatry [11]. Some of such interventions included psycho-surgeries like lobotomy, which I wrote about 2 years ago here on my Steemit blog, insulin coma therapy (ICT), and electro convulsive therapy (ECT).
ICT consisted in injecting patients with insulin to the point their blood sugar levels went so low they slumped into a coma. The idea behind it was to completely relax the mind and enable the brain to set its paths anew with the return of consciousness. To achieve this, the procedure was repeated week in week out [12]. ECT regarded inducing seizures in patients through passing electrical current through the brain. This is a treatment still in use today, though, in cases of drug-resistant major-depressive disorders [13].
The early 1900's also saw the works of Sigmund Freud gaining space in the field of psychiatry, Freud proposed that mental illness is a consequence of supressed fears, childhood memories and desires, which could all be unveiled through the free association method and dream analyses. Kent [14]argues that Freud didn't exactly see his method as a means to treat patients confined in asylums, but 'the talking cure' did influence psychiatric treatment in patients housed in mental health institutions [15].
Psychotropic Medication & The DSM.
However, it was only in the 1950's and 1960's that a big shift started to take place in the treatment of psychological and psychiatric disorders. A shift that took place following the development of anti-depressant and anti-psychotic drugs. Despite the adverse-effects this new medication caused in patients, the alleviation of depressive and psychotic symptoms they brought forth enabled doctors to discharge patients from mental institutions. The 1950's also witnessed the development of the Diagnostic Statistical Manual of Mental Disorders (The DSM), a guide used by professionals which contains standard classifications of mental disorders.
Both the DSM and psychotropic drugs are key components in the diagnosis and treatment of psychological conditions nowadays. Moreover, there is now a number of means individuals can turn to to address and treat their mental distress. Family therapy, group therapy and behavioural modification are just a few of several options. Whilst medication helps the symptoms of mental health problems become manageable, therapy aims at helping people to deal with their emotional suffering and uncover the causes that gave rise to their psychological issues (e.g. personal history or patterns of relating to others).
It has indeed been a lengthy, rocky journey. From bloodletting, through lobotomy to the talking cure much has been tested and understood at the expense of the powerless and vulnerable. The dark side of science? Not so fast! Keep in mind each of these procedures were carried out with the objective to ameliorate suffering or reach a cure. Note that the DSM and medication aren't immune to criticism either. Freudians, for example , argue that medication stops individuals from accessing the root of their problems as its effects mask symptoms. And a debate exists linking the rise of psychological disorders diagnosis and drug-prescription with the influence of the pharmaceutical industry [16] . Further, stigmatization and limited understanding still surrounds the lives of those diagnosed with a mental health problem [17].
The journey continues.
---
Refenrence List:
1 Dawson, L (2008) Lovesickness and gender in early modern English literature, Oxford, Oxford University Press.
2 Humour
3 Benjamin Rush, MD: assassin or beloved healer?
4 Making sense of the Supernatural - Demons, possession and exorcism..
5 What I learnt when I met a real life exorcist..
6,15 Porter, R. (2003) *Madness: a brief history. Oxford. Oxford University Press.
7 Foucault, M. (1965) Madness and Civilization. New York. Random House.
8 The most dreadful visitation
10Jones, K. (1993) Asylums and after: a revised history of the mental health services from the early eighteen century to the 1990s. London: Athlone Press.
11,12 Performing a cure for schizophrenia: insulin coma therapy on the wards..
13 Systematic review and meta-analysis of bifrontal electroconvulsive therapy versus bilateral and unilateral electroconvulsive therapy in depression.
14 Kent, D. (2003) Snake pits, talking cures and magic bullets: a history of mental illness. Minneapolis, MN: Twenty-First Century Books.
17 Mental Illness - A Straight Forward Discussion about a Non Straight-Forward Topic..
---


Unreason was hidden in the silence of the house of confinement, but madness continued to be present on the stage of the world.
(Foucault, Madness and Civilization)
---
Thank you my dear reader for taking the time to accompany me on this journey 😊