Hello to you all , i woud like to present to you a clinical case where the Dentistry is combined with Artificial Intelligence through a plateform called AI Diagnosis Vision. I will be presentin this plateform in another post.
But for now , let's start with case :
A 38-year-old patient with no previous history presented to the Department of Surgical Dentistry with an endobuccal swelling of the right mandibular premolar region. The patient reported that this swelling had been progressively evolving for 12 months without any associated pain.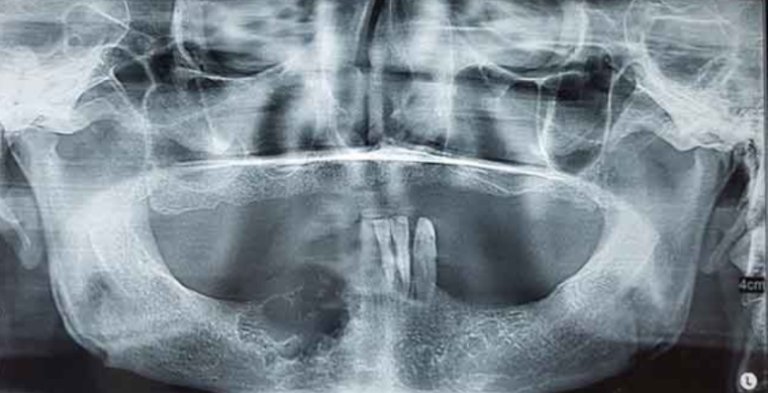 Endobuccal examination reported the presence of the left mandibular incisors (31 and 32) and mandibular canine (33) and a swelling of the right mandibular ridge extending from the site of the right mandibular canine (43) to the site of the right mandibular second molar. The swelling was covered by normal-appearing mucosa, indurated on palpation with a blowing sensation of the vestibular bony cortex in places. Puncture with a single-use 10cc syringe did not yield anything.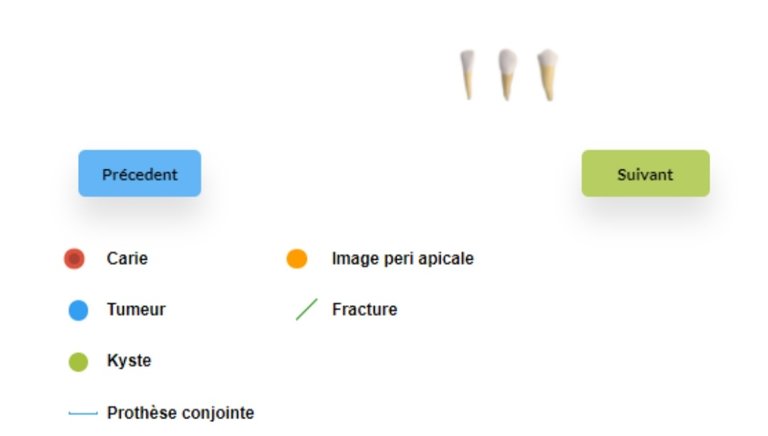 At this stage, after the analysis of the panoramic by the artificial intelligence, the diagnosis of a tumoral lesion was evoked at 61%.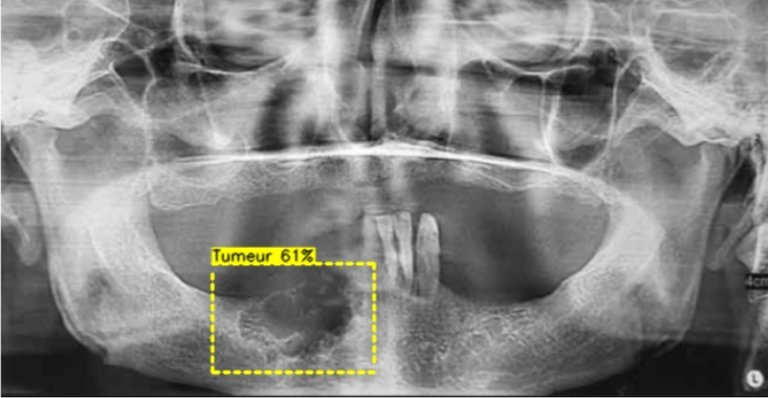 Cone beam computed tomography (CBCT) revealed a well-limited radiolucent lesion, partitioned by bony lamellae, with absent vestibular cortex and very thin lingual cortex. This suggests the diagnosis of a benign tumor lesion.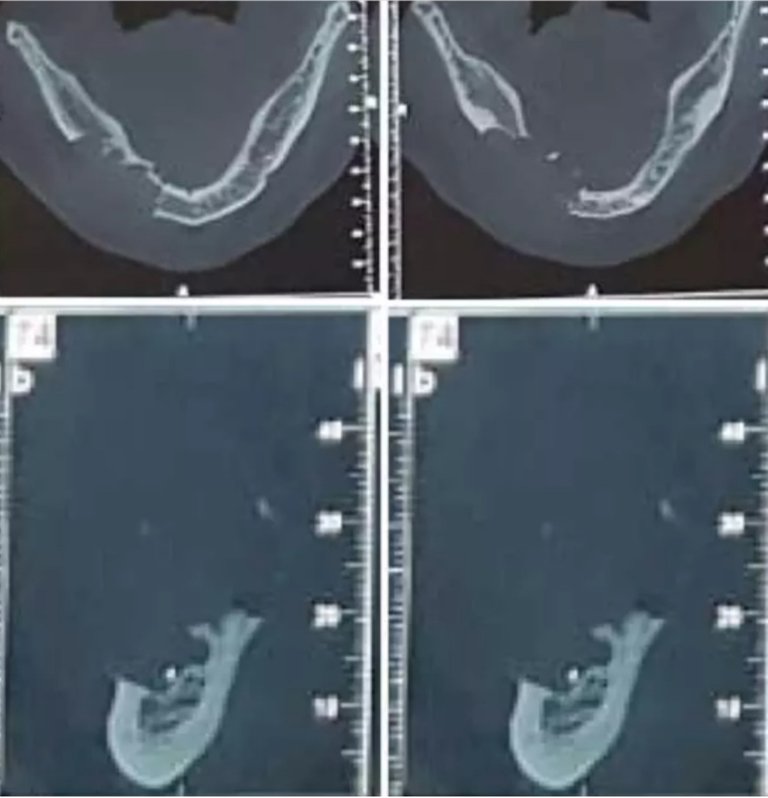 Enucleation and removal of the lesion had been performed under locoregional anesthesia. The histopathological diagnosis was cystic follicular ameloblastoma by place.
Today, these same technologies - predictive analytics, haptic engineering, telemedicine - are just a few clicks away from changing the way you work. But how? We'll tell you. Sit back, relax and open your mind. It won't hurt.
____ #GER
Hallo an alle, ich möchte Ihnen einen klinischen Fall vorstellen, bei dem die Zahnmedizin mit künstlicher Intelligenz durch eine Plattform namens AI Diagnosis Vision kombiniert wird. Ich werde diese Plattform in einem anderen Beitrag vorstellen.
Aber jetzt lassen Sie uns erst einmal mit dem Fall beginnen:
Ein 38-jähriger Patient ohne Vorgeschichte stellte sich in der Abteilung für chirurgische Zahnheilkunde mit einer endobukkalen Schwellung im Bereich des rechten Unterkiefer-Prämolars vor. Der Patient berichtete, dass sich diese Schwellung seit 12 Monaten progressiv entwickelt hatte, ohne dass damit Schmerzen verbunden waren.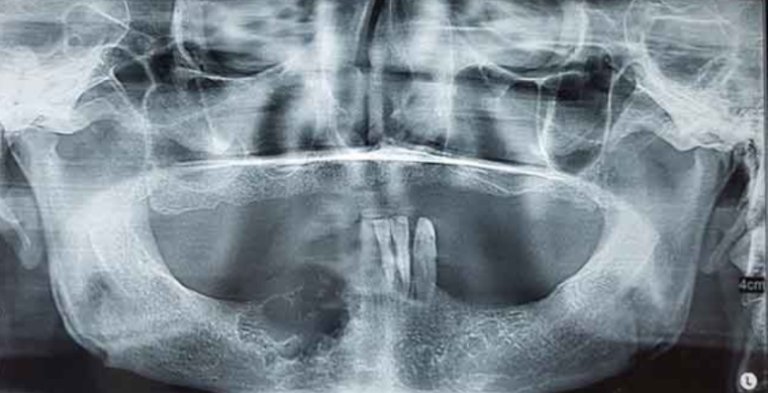 Die endobukkale Untersuchung ergab das Vorhandensein der linken Unterkieferschneidezähne (31 und 32) und des Unterkiefereckzahns (33) sowie eine Schwellung des rechten Unterkieferkamms, die sich von der Stelle des rechten Unterkiefereckzahns (43) bis zur Stelle des rechten zweiten Unterkiefermolars erstreckt. Die Schwellung war von einer normal aussehenden Schleimhaut bedeckt, die bei der Palpation verhärtet war und an einigen Stellen ein Blasengefühl in der vestibulären Knochenrinde aufwies. Die Punktion mit einer 10-ccm-Einwegspritze ergab keinen Befund.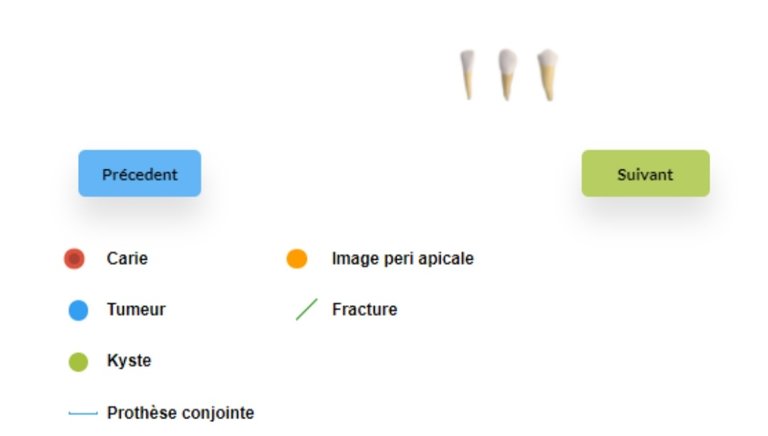 In diesem Stadium, nach der Analyse des Panoramabildes durch die künstliche Intelligenz, wurde die Diagnose einer Tumorläsion in 61 % gestellt.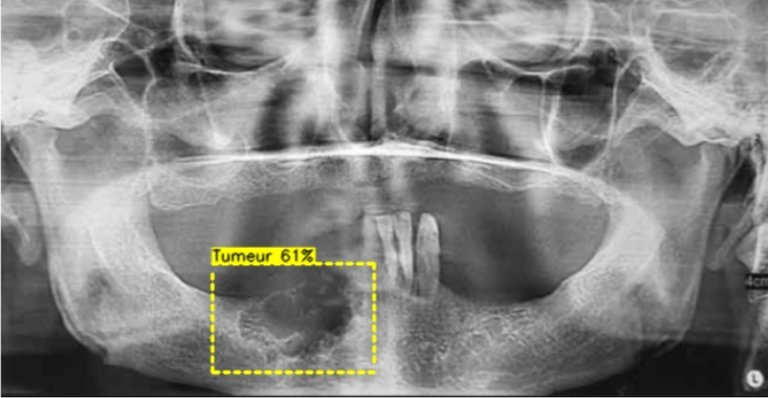 Die Kegelstrahl-Computertomographie (CBCT) ergab eine gut begrenzte, durch knöcherne Lamellen unterteilte röntgensichtbare Läsion mit fehlender vestibulärer Rinde und sehr dünner lingualer Rinde. Dies deutet auf die Diagnose einer gutartigen Tumorläsion hin.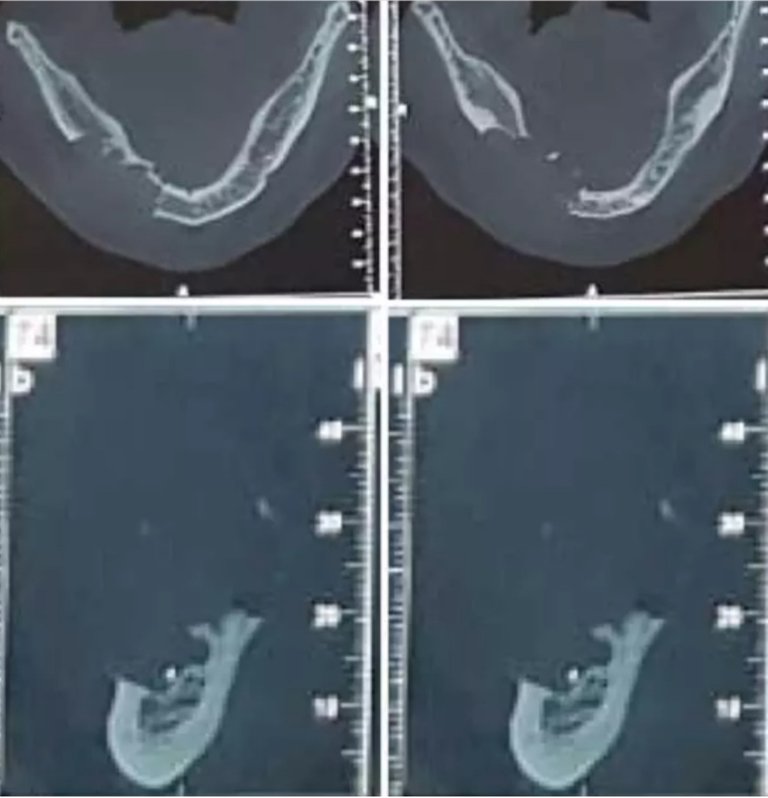 Die Enukleation und Entfernung der Läsion wurde in lokaler Anästhesie durchgeführt. Die histopathologische Diagnose lautete zystisches follikuläres Ameloblastom nach Ort.
Heute sind dieselben Technologien - prädiktive Analytik, haptische Technik, Telemedizin - nur ein paar Klicks davon entfernt, Ihre Arbeitsweise zu verändern. Aber wie? Wir werden es Ihnen sagen. Lehnen Sie sich zurück, entspannen Sie sich und öffnen Sie Ihren Geist. Es wird nicht wehtun.
---