photo
Here's another shot taken at Vienna, by the Danube Canal (Donaukanal).
The bridge on the left on the photo is the Stadium Bridge (Stadionbrücke), which connects the 2nd and 3rd districts of the city.
At the distance, on the other side of the Danube Canal, you can see the Vienna Atomic Institute of the Austrian Universities (Wien Atominstitut der Österreichischen Universitäten).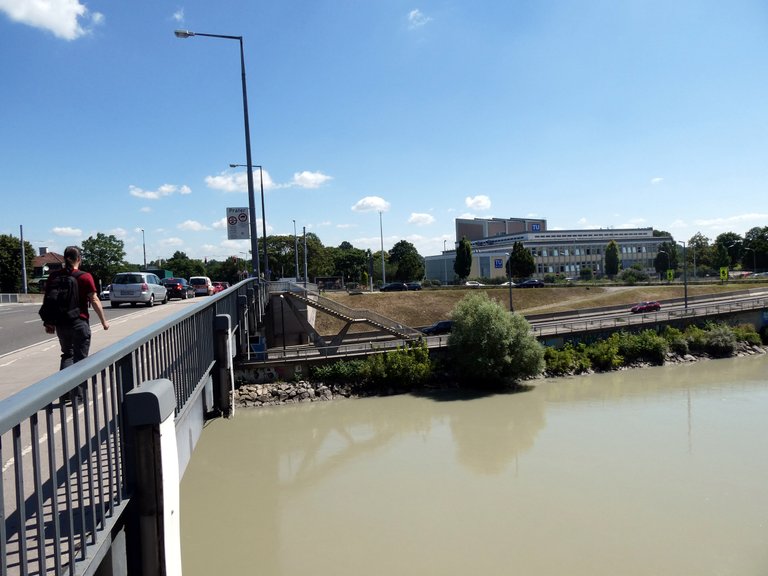 This Institute was created in 1958 as an inter-university institute.
In 2002, as part of the reform of the university system, the Atomic Institute was integrated into the Faculty of Physics at the Vienna University of Technology (TU Wien) and is now dedicated to a broad range of research and education, such as fundamental questions about symmetries and interactions in nuclear and particle physics. 🤓
The research also covers:
neutron, atomic and quantum physics;
quantum optics;
radiation and reactor physics;
applied tasks such as environmental monitoring, radiation protection or the radiation resistance of modern materials.
This shows how modern Vienna is. It's not all fun, games and concerts, they also study a lot, to make the world a better place for all of us.
And yes, this Institute is partly financed by the Tax Payer's money, as almost every Education Institute in Europe is. If you don't like this Socialist model, you can always go study to the USA and cover yourself in a massive amount of debt, which you won't ever be able to repay, no matter how long and how hard you work.
Over this side of the pond, we tend to prefer using our taxes to fund education - instead of waging war on the Middle Eastern and African Countries (in order to snatch their Gold, Diamonds, Oil and Gas reserves.) We must be crazy. Go figure.
---
| | |
| --- | --- |
| Camera | Panasonic Lumix DC-TZ90 |
| Location | Vienna - Austria |
| Photo | Edited with GIMP |
---
This post uses the tag #cc from @commentcoin and, if their bot works, you get 1 CC when you write a nice comment. Enjoy!