Since getting my second GH3, I can now do some split photography experiments using identical cameras... One modded and one stock. Setting my two cameras aperture, aspect ratio and image size to the same values and taking pictures with each camera on a fixed tripod allows me to merge the two photos, giving a cross between visual light photos and infrared photos. My first go at it I failed to set the aspect ratio the same and it made merging the layers difficult. So now with my second round of photos they came out great.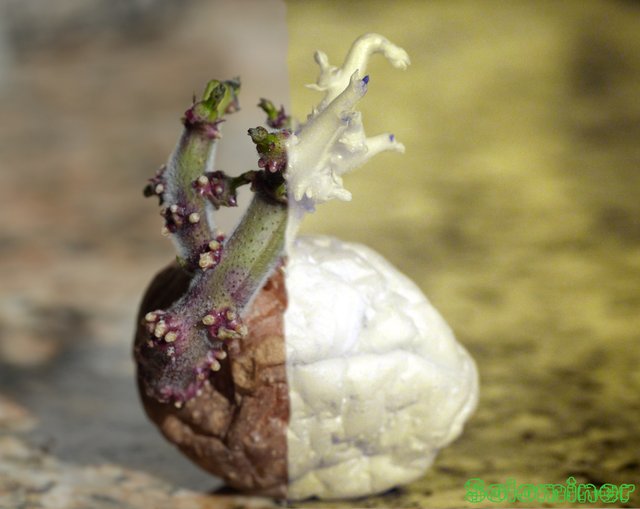 | Camera Model | Lumix GH3, modified by LifePixel for Full Spectrum |
| --- | --- |
| Lens | Olympus MSC ED M. 60mm Macro lens |
| Filter | 720nm Infrared Passthrough filter |
| Aperture | f/5 |
| Shutter Speed | 1/20 sec |
| Film Speed | 800 |
| Spectrum | Infrared (IR) |
| Wavelength | 720 nanometers |
| Location | North Georgia USA. |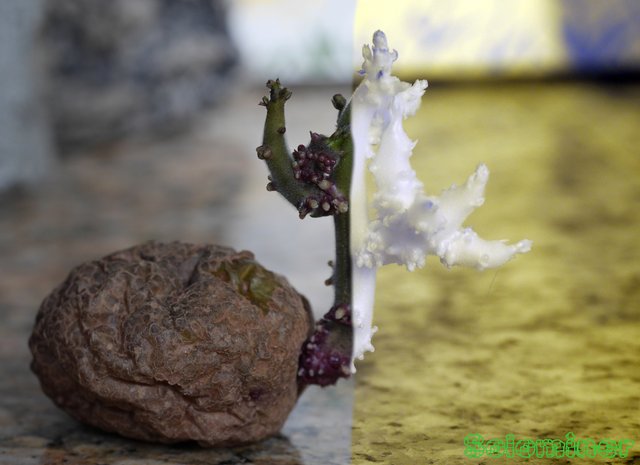 These Potatoes were left at the back of the shelf for a few weeks and started growing "eyes" there are the parts of the plant that rise above the soil when placed in the ground.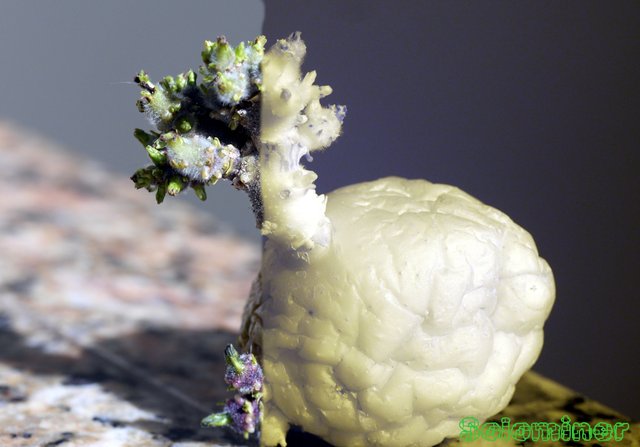 Placing them on a granite table in the sunlight coming through the skylights gives my camera the light it needs to show off the infrared effects.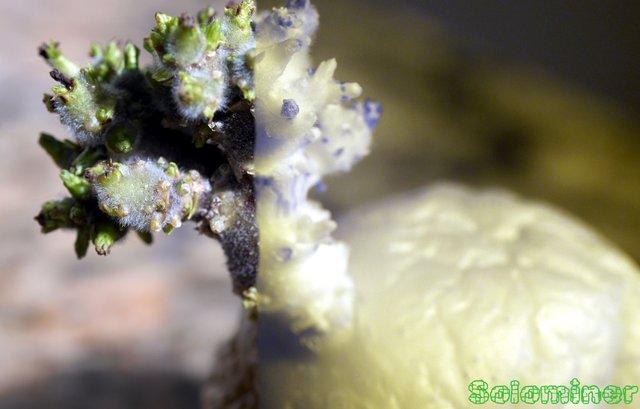 The Potato is getting pretty winkled as its using up all of its stores of energy to produce this eye.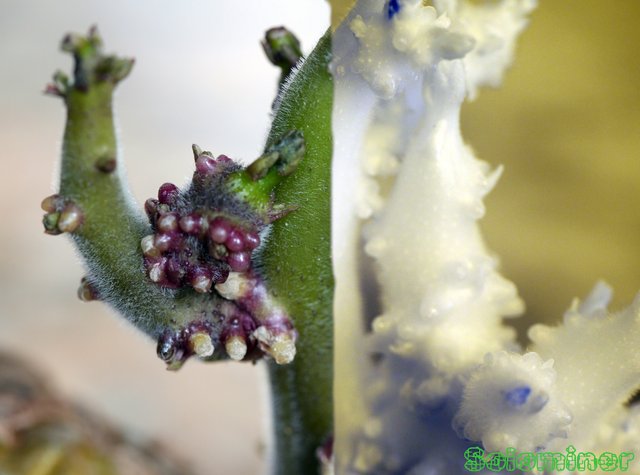 So much detail in the visual light photos that just come off as "smooth" in the infrared spectrum. The nodes on the eyes can easily be seen in the visual light but not so much in the infrared.
A super close up of the tops of the eyes, the hairs forming on the Potato sprouts can be seen in both visual light and infrared.
Planning on doing more of this photography, indoors is the best way, or wait until there is a day without wind so my subjects do move between the two camera exposures. It takes me about a minute to change the lens and removing/adding the filter between cameras. Luckily these spuds did not move at all, but plant leaves tend to move with a slight wind so those may prove to be more difficult of a subject to capture with this technique.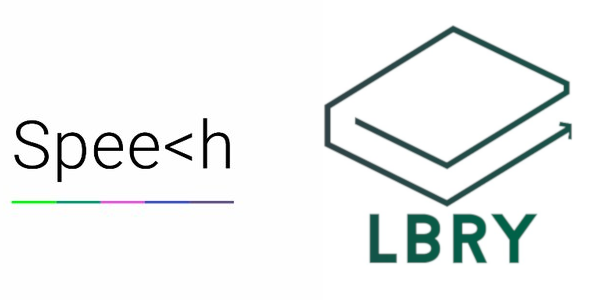 These images are being hosted by Spee.ch
An image hosting service on top of the LBRY protocol.
---
I take pictures with a special camera. Its a Mirrorless DSLR that has been modified by Life Pixel to see light in other wavelengths. This allows my camera to see light in the Infrared [IR] around 1300 NM wavelength, through the visual spectrum and into the Ultraviolet A and B wavelengths roughly into the 300 NM wavelength.
I carry many filters on me to make the photos you see in my blog, these filters screw on my lens and help me isolate certain wavelengths for certain scenes. These filters can be IR / UV pass-through filters to assist me get a natural photo taking out the UV and IR light. Or I may use a Infrared pass-through filter capture just IR light. I can do the same with UV light as well, though I need some better filters which they can cost a few hundred dollars for true Ultraviolet pass through filters. So for right now I have B + W 403 bandpass filters that still allow some IR light in, due to their cheaper material.
There are also exotic glasses made of sapphire and germanium I am open to working with to replace my silica glass hot mirror with a material that allows even longer wavelengths of infrared to enter my cameras sensor. Special sensors, lenses and filters of that material would be needed as well, so it would be a big project but one that may give some even more unique photography results.
Addresses below to help me buy better camera equipment and support me to travel to locations to do photo and video and overall great blogs in new places. I would be happy to list some of the contributors in my posts for donations that help me along the way.
| Coin | Address |
| --- | --- |
| BTC: | bc1qhfmvd2gywg4fvrgy2kkkkyqta0g86whkt7j8r7 |
| LTC: | ltc1qdyzm5cwgt8e2373prx67yye6y9ewk0l8jf3ys9 |
| DASH: | XkSqR5DxQL3wy4kNbjqDbgbMYNih3a7ZcM |
| ETH: | 0x045f409dAe14338669730078201888636B047DC3 |
| DOGE: | DSoekC21AKSZHAcV9vqR8yYefrh8XcX92Z |
| ZEN: | znW9mh62WDSCeBXxnVLCETMx59Ho446HJgq |