Hallo Elektronikfreunde.
Da ich hier recht wenig über Elektronik finde, habe ich mir gedacht einige Beträge über meine Bastelleien zu Veröffentlichen.
Nach etlichen Jahren, habe ich nun wieder Zeit gefunden mich diesem Hobby zu widmen und musste feststellen, dass einiges viel einfacher geworden ist. Deshalb habe ich begonnen meine selbstgebauten Netzteile aus den 80er Jahren zu modernisieren, die meistens einen maximalen Strom von ca. 1,5Ampere und 20 Volt hatten. Heute gibt es diverse digitale Module, die Spannungen bis zu 60 Volt und 20 Ampere ermöglichen.
Bei YouTube findet man dazu diverse Beiträge in vielen Sprachen.
Im Moment habe ich 2 Netzteilprojekte in Arbeit.
Projekt 1 ist ein Netzteil 50Volt und 8,5Ampere (Peak 15A) mit einem Digitalmodul, welches es fertig Bestückt im Handel gibt. Herausforderung hier sind die 15A Peak und der Einbau in ein altes Zeitsteuergerätegehäuse.
Projekt 2 ist ein Netzteil 30Volt bei ca. 4Ampere nach der bekannten Schaltung von Hiland, welche modifiziert wurde.
Heute erstmal ein Bild von meiner neu eingerichteten Elektronikwerkstatt, die sich noch im Ausbau befindet.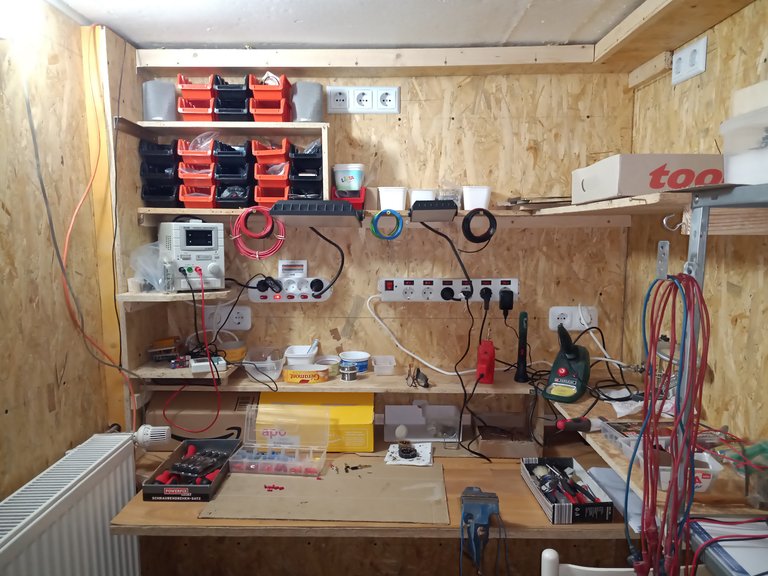 Hier noch ein Bild von meiner bisherigen Werkstatt für die groben Sachen mit verschieden Kleinprojekten auf dem Basteltisch.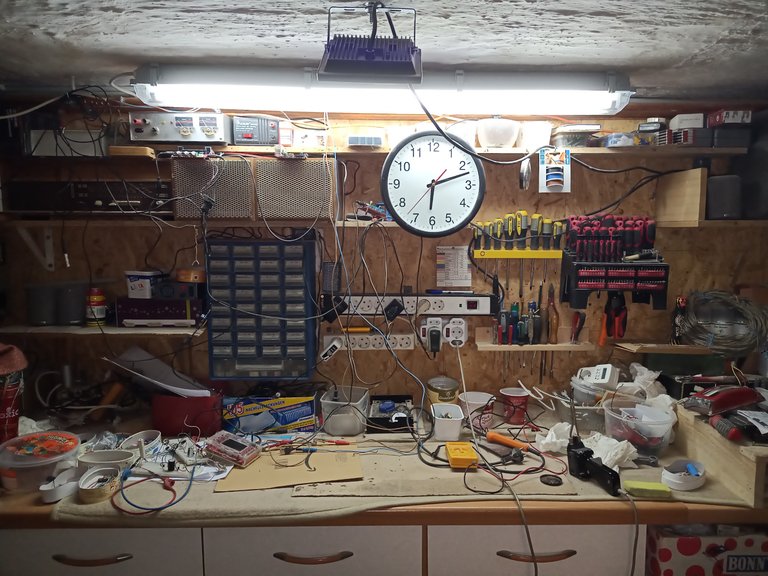 Und noch eines der älteren Netzteile, in diesem Fall schon ein Schaltnetzteil, aufgebaut aus einem Bausatz der 80er Jahren mit diversen Modifikationen.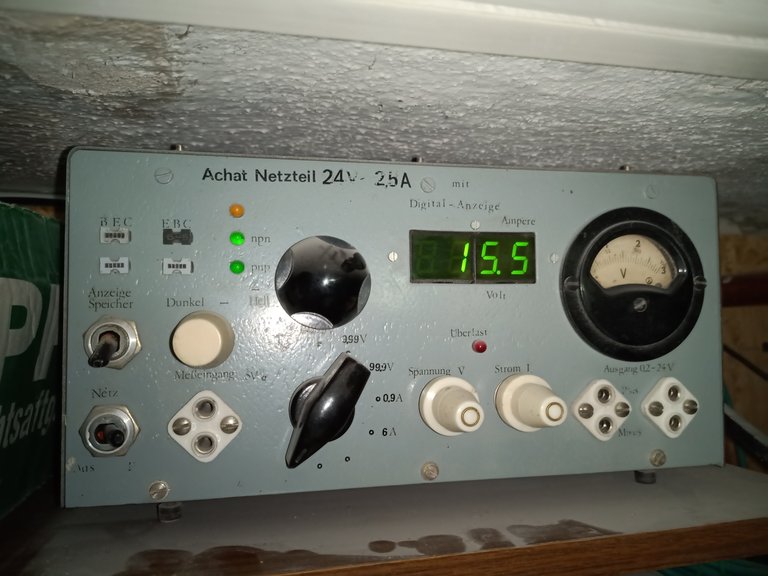 Für Heute genug.
Fortsetzung folgt………
english version (google translate)
Hello electronics friends.
Since I find very little about electronics here, I thought to publish a few amounts about my handicrafts.
After several years, I have now found time to devote myself to this hobby and found that some things have become much easier. That's why I started to modernize my self-made power supplies from the 80s, which mostly had a maximum current of about 1.5 amps and 20 volts. Today there are various digital modules that enable voltages up to 60 volts and 20 amps.
You can find various contributions in many languages ​​on YouTube.
I am currently working on 2 power supply projects.
Project 1 is a power supply 50Volt and 8.5Ampere (Peak 15A) with a digital module, which is already available in stores. The challenge here is the 15A peak and installation in an old timer housing.
Project 2 is a power supply 30Volt at approx. 4Amper after the well-known circuit from Hiland, which was modified.
Today a picture of my newly established electronics workshop, which is still under construction.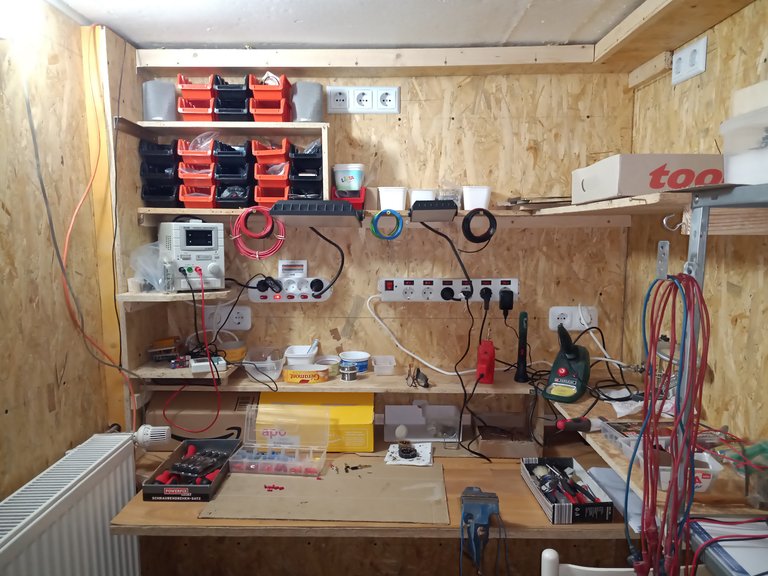 Here is a picture of my previous workshop for the rough things with various small projects on the craft table.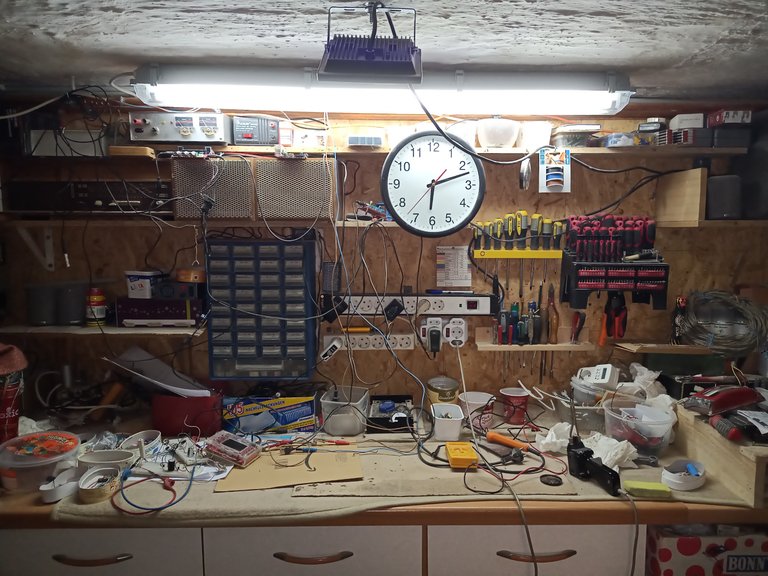 And one of the older power supplies, in this case a switching power supply, built from a kit from the 80s with various modifications.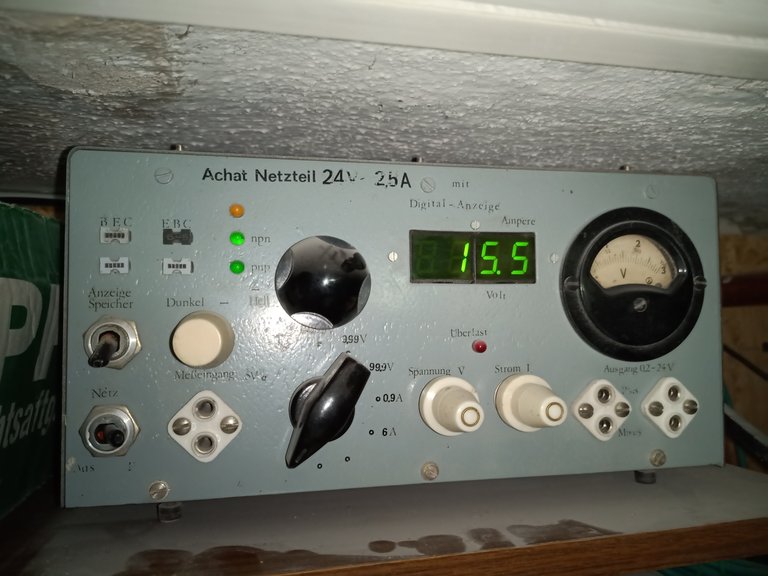 Enough for today.
Sequel follows………